Rivals100 Five-Star Challenge: Five who could flip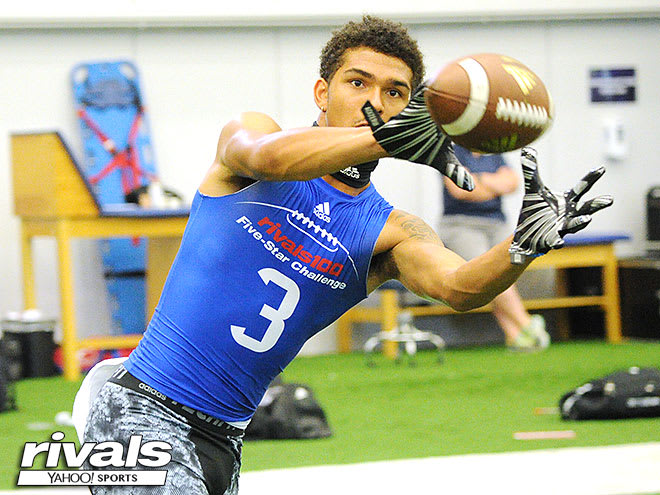 The longtime Georgia commit has taken his share of visits in 2018, but Haselwood has said in several interviews that there's no need to read into the visits. After playing for Cam Newton's 7-on-7 team all spring and developing a bond with Auburn quarterback commit Bo Nix and Tigers wide receiver commit George Pickens, Haselwood is a name to watch in this category.

This one is a bit of a stretch as Mertz has insisted that he has shut down his recruitment and will head to Wisconsin as originally planned. But that doesn't mean schools have completely written him off. Several coaches from around the country view Mertz as one of the top quarterbacks in the class and in a year where there aren't many quality signal-callers to go around, he will remain a target, even if he's not answering the phone for other coaches at the moment. Programs like Texas A&M and Ohio State both covet Mertz, but both have also picked up quarterback commitments in the last few weeks, so chances are good that Mertz lands in Madison but we are keeping the door slightly cracked.
Herron might be the most likely player on this list to end up elsewhere as rumors have persisted for months that it's a matter of when, not if, he will back off his pledge to Michigan. Stanford has long been rumored as the destination for Herron, who stars in the classroom as well as on the field. He has stuck to the company line that things are going great between him and the Wolverines, but the Cardinal like their chances and programs like Purdue and Louisville also aren't giving up.

The Baton Rouge native has been committed to LSU since his freshman year and also made the proclamation in the past that he was shutting down his recruitment. He's since backed off that stance and recently took an unofficial to Miami, after which he said he would be returning to Coral Gables for an official visit in the fall. Thomas intends to take several official visits to other programs, with USC among those on his list as well. While it would take quite a sequence of events for him to end up anywhere but LSU, we are still watching what he has to say this week.

Lucas committed to Florida State in the spring over a national list of offers, but that hasn't kept those schools from continuing to pursue him. Originally from South Florida, Lucas remains a target of Miami, but it's the Gators that could be the biggest threat to the Noles when it comes to Lucas' commitment. It's not unusual so see players from the Sunshine State take turns fielding overtures from the state's Big Three and while Lucas is solid to the Noles, expect him to take a look around and at least take a few visits before making things official with Florida State.