Ask Farrell: Who has had the best Five-Star Challenge performance ever?
It's a big week at Rivals.com, with the annual Rivals100 Five-Star Challenge presented by adidas set to take place at the Mercedes-Benz Stadium in Atlanta. The event will feature 100 of the nation's top players from the Classes of 2019 and 2020 and is always a star-studded affair from start to finish.
The week's activities include extended media availability, on-field drills and one-on-one competitions as well as a lineman challenge and a 7-on-7 tournament. Since the event started in 2012, many former participants have gone on to stardom at the college level and beyond. But which player had the most dominant performance in Five-Star Challenge history?

In our weekly feature on Rivals.com, we ask Rivals.com National Recruiting Director Mike Farrell to weigh in on the topic and give his opinion on which player turned in the best overall performance at a Five-Star Challenge in years past.
This week's question is: "Which player had the most impressive performance in Five-Star Challenge history?"
FARRELL'S TAKE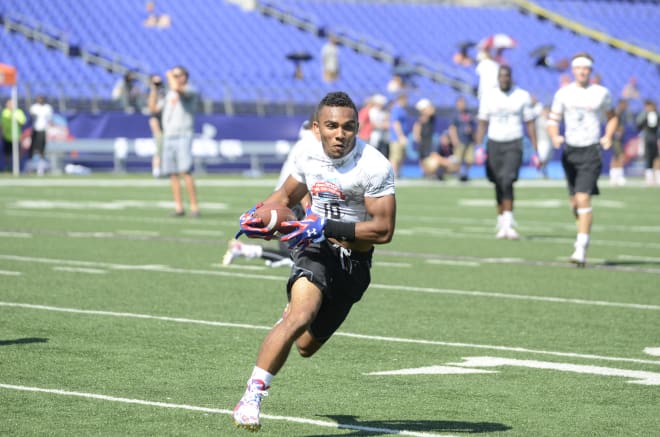 Choosing one player is going to be very tough here because there have been so many great performances. The ones that come to mind are Jalen Ramsey our first year, Christian Kirk in Chicago, Derwin James the first year in Baltimore and Amon-Ra St. Brown last year in Indianapolis.
Choosing one doesn't seem fair but if I'm forced to I will go with Kirk who teamed up with Kyle Allen and just dominated that 7-on-7 competition. Heading into the event, we weren't sure if Kirk was a five-star prospect because of size, but he proved to all of us that he was worthy of that status and his college career at Texas A&M lived up to that.
But Ramsey was dominant our first year in Atlanta and had numerous interceptions, James played both ways in Baltimore and was amazing for his short-handed team and last year St. Brown was head and shoulders above the rest. But in the end, I'll go with Kirk.
NOTABLE PARTICIPANTS BY YEAR