Bradford impresses in winning Big Man Bench contest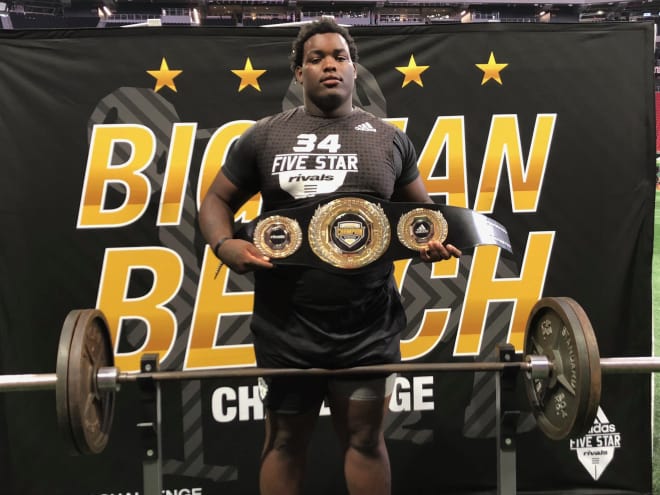 ATLANTA - Anthony Bradford even impressed himself.
The massive four-star offensive tackle from Muskegon, Mich., was crowned the Big Man Bench winner after pumping out 31 reps on the bench press at the Rivals100 Five-Star Challenge presented by adidas.
Even Bradford didn't think he would do that many.
"Oh, no," Bradford said. "I did 30. I knew I was going to do 30. I was actually pushing it though."
Thirty-one is the most ever for Bradford, a gigantic 6-foot-5, 325-pound standout who looked good at right tackle during one-on-one drills. That number of reps would have placed the LSU commit fifth overall at this year's NFL Scouting Combine. That's right - he would have been top five against NFL-ready players at his position.
Only UTEP's Will Hernandez (37), Notre Dame's Quenton Nelson (35), Auburn's Braden Smith (35) and Appalachian State's Colby Gossett (32) did more reps in Indianapolis.
"For a high school kid, that's pretty impressive especially since he doesn't have short arms," Rivals.com National Recruiting Director Mike Farrell said.
"Short arms is usually the advantage kids have. It's not like he has the longest arms but he's not a short-armed kid so for him to put up reps like that which would place him fifth at the combine is amazing. You could see maybe 40 reps from him in five years."
Entering the competition, Bradford knew he could do a lot of bench press reps. Thirty was not out of the question. But besting that number was a shock even to him, an even bigger surprise that it would place him so high among players at the combine.
"I had confidence but it says a lot," Bradford said. "I'm only 17 so I have a long journey to go so we'll see where it takes me."
Farrell said: "He can play right tackle. He doesn't have the agility or footwork to be a left tackle but he's just a monster. He reminds me of a D.J. Fluker-type except he has a little bit more bad weight to him. He's more powerful than Fluker at the same stage. He's just a massive kid, very, very strong, good recovery speed for a big guy, average feet but he can work on that."
As for his recruitment, heading from a town on Lake Michigan to Baton Rouge, La., is not common but once Bradford visited LSU's campus he knew it was the right place. With an aunt in town, a family connection at least, the Tigers became a major contender and won out for his services.
His very big services.
"LSU was the right choice for me because I felt the connection right when I got there," Bradford said. "All the coaches were cool, I felt the player-coach bond right when I got there. With the players and the school, I loved it and I felt I could fit right in there."