West Spotlight: Five best performances seen this offseason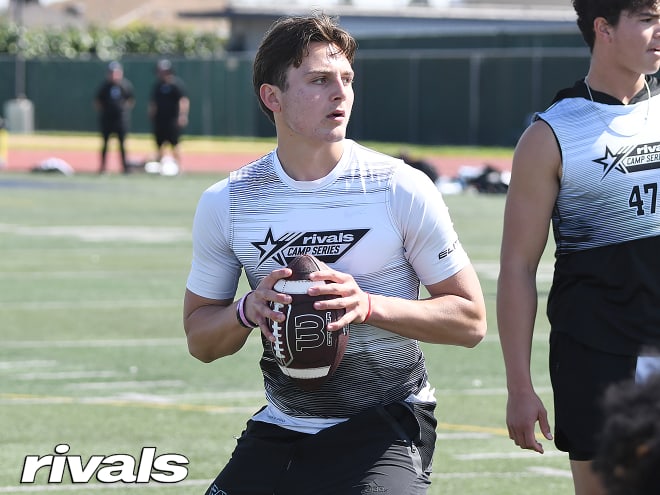 The four-star receiver who's now at Newport Beach (Calif.) Newport Harbor has been excellent at numerous events this offseason, but he was completely unstoppable at the first stop of the Rivals Camp Series in Los Angeles. Anderson showed off phenomenal speed to burn defensive backs. They knew he was going deep and they could do nothing about it, and then the four-star would haul in some very difficult catches time and again.
An Oregon commit since December, Anderson is going to give the Ducks a lethal deep threat who plays tough and motivated on every rep and never backs down to any competition. He continues to make an argument as one of the top receivers not only in the West but nationally.
*****
Over the two days at OT7 in Phoenix, there was no wide receiver as consistent or as productive as the new Chatsworth (Calif.) Sierra Canyon standout. He's not the most physically impressive or even the fastest receiver in this class, but Jordan gets open against anybody and catches everything. Jordan, who was wearing USC gloves, is reliable, runs great routes, finds a soft spot in the defense and has excellent hands.
Currently rated as the No. 33 prospect in the California state rankings, an easy case could be made for Jordan to move much higher based solely off the OT7 event because it was loaded from top to bottom.
*****
As has been the case for years, almost every single ball Sayin throws is perfectly placed and right on time. It's almost uncanny how consistent and technically sound the five-star Alabama commit is when he throws the ball. At the Rivals Camp in Los Angeles, Sayin showed why he's one of the most elite players in the class.
The Carlsbad, Calif., standout is now also up to 195 pounds, so he's more solid. While he's never going to look like Tim Tebow or Cam Newton physically, Sayin is more than capable from a talent perspective to head to Tuscaloosa and make a tremendous impact in that offense.
*****
Last recruiting cycle, Smith played second fiddle to five-stars Brandon Inniss and Carnell Tate on the South Florida Express 7on7 team, although he mixed in some highlight-reel catches along the way as an underclassmen. He has more than blossomed into the No. 1 receiver there and is now drawing some really heady comparisons because of his size, speed, pass-catching ability and his way of being unstoppable as an outside receiver.
I asked whether he's the best top-rated receiver since Julio Jones in 2008. Some other names come to mind (Amon-Ra St. Brown was unstoppable at the high school level as well) but Smith has the size of Jones and the ability. When he wants to turn it on, the Ohio State commit can do as he pleases like he did at the OT7 in Phoenix.
*****
Utu does not say much on or off the field, but the Las Vegas Bishop Gorman 2025 four-star offensive tackle is just like a brick wall. He stymies every single defensive lineman that gets in his way.
For someone who's already 6-foot-5 and 280 pounds, Utu mixes incredible athletic ability, technique and power to continually show he's one of the best offensive linemen – whether it's playing tackle or guard – in the country. He was awesome at the Rivals Underclassmen Challenge last summer and won basically every rep at the Rivals Camp in L.A.
Oklahoma and a host of others are all involved.