Tuesdays with Gorney: Thoughts after four days in Louisiana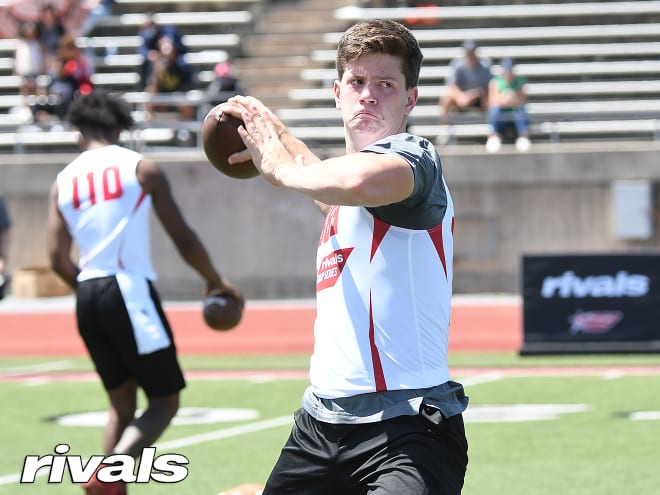 RIvals national recruiting director Adam Gorney spent four days in Louisiana talking to coaches, top prospects and getting a feel for the recruiting landscape there. Here are some of his takeaways.
HEAVY INTEREST IN ARCH MANNING
It cannot be lost just how much interest there is on where five-star quarterback Arch Manning will end up because everybody is talking about it from prospects to coaches to other media members to parents of current recruits. All the while, the same refrain happens from the people who know him best: He's really just trying to be as normal a kid as possible.
It's really an interesting situation. After sitting in coach Nelson Stewart's office at beautiful New Orleans (La.) Isidore Newman, it really feels like Georgia, Texas and Alabama have taken the edge in his recruitment for various reasons and that LSU, Ole Miss and others are not out of the running yet.
All different kinds of timetables have been floated as Manning could have made an early decision and then after a crazy coaching carousel he wanted to possibly wait to take trips through the fall. Now it feels like following his recent Georgia and Texas visits and after his upcoming trip to Alabama this weekend, a decision could be close.
*****
LOUISIANA QB SITUATION INTRIGUES
Alabama has made a serious move to pursue four-star QB Eli Holstein from Zachary, La., who recently decommitted from Texas A&M and he was back on campus this past weekend. But are the Crimson Tide in a holding pattern until Manning makes his decision? What happens if the five-star holds off and does not decide anytime soon?
It is a tricky situation to navigate because Alabama wants to make a serious run at Manning, who visits Tuscaloosa in the coming days, but also doesn't want to push off Holstein, who is also looking at Oregon, Stanford and other top programs. Striking out on both would be a tough pill to swallow but there's no delicate way to balance this spot all that well.
The idea has been floated that after Manning's trip to Tuscaloosa a decision could be closer so we might not have to wait all that long.
And then there is the situation of Rickie Collins, the four-star quarterback from Baton Rouge (La.) Woodlawn who's committed to Purdue. It looks unlikely now that Manning picks LSU. Holstein told me he has not had any conversations with the new coaching staff so that doesn't seem like an option.
I'm sure LSU is reaching out and showing interest in Collins but his commitment still stands for now. Could Brian Kelly, Joe Sloan and the new LSU coaches flip Collins and secure a big-time QB pledge in this class and one being a local recruit?
That might all depend on five-star quarterback Dante Moore from Detroit (Mich.) Martin Luther King who is being pursued heavily by LSU. He has interest in the Tigers for numerous reasons: Kelly recruiting him at Notre Dame, playing in the SEC, throwing to elite receivers and more. But Moore is also taking a crucial two-day trip to South Bend this week which could clear up his recruitment even more.
Across Louisiana, there are significant moving parts when it comes to the quarterback position and almost nothing has been completely figured out yet.
*****
CHANGES AT THE RB SPOT?
There seems to be a significant debate about the top two running backs in the 2023 class with Justice Haynes and Richard Young leading the way – although the order could be discussed – but after that there could be a lot of room for movement among the running backs.
Baton Rouge (La.) Liberty Magnet's Kaleb Jackson was very solid and productive throughout Sunday's Rivals Camp Series in New Orleans but I'm not certain he completely locked up the No. 3 running back spot nationally.
Over the last few months, Orlando (Fla.) Edgewater's Cedric Baxter has been really impressive and at 6-foot-2 he has a little Derrick Henry to his game although that's just an observation, not a direct comparison. Charlotte (N.C.) Chambers' Daylan Smothers was outstanding at the Rivals Camp in Charlotte recently as well.
Jackson is very talented. He's got a sturdy, physical build. But other running backs will push as well and many of them have different skill sets.
*****
SOME CLOSING THOUGHTS
... Arch Manning is unique in so many ways and here's another one: If he doesn't sign with LSU he would be smashing a decade-long streak of the No. 1 player in the state of Louisiana picking the Tigers. The last one who bucked the trend was five-star safety Landon Collins out of Geismar (La.) Dutchtown, who picked Alabama over LSU much to the chagrin of family members there.
... Maybe the best prospect I saw during my handful of days in the state was not even at an event. After talking with players at Zachary including Eli Holstein, I drove some country roads past the Dixon Correctional Institute and to Jackson (La.) East Feliciana to see Trey'Dez Green.
The 2024 tight end is all of 6-foot-7 and 230 pounds and definitely looks the part of a high-level tight end or forward on the basketball team. Green would like to play both sports in college and with his size and ability to move I wouldn't be surprised if he could do it.