Rivals Camp Series New Orleans: The Gorney Awards
DESTREHAN, La. – The fourth stop of the Rivals Camp Series was Sunday in the New Orleans area and plenty of top prospects were in attendance. Here's a recap of some of the top performers at the event. The prospects who earned the Gorney Awards.
BUZZWORTHY
Donielle Hayes wore a red jersey that is designated for defensive players at the camp but worked out at receiver and was more than noticeable. The Pensacola (Fla.) Pine Forest prospect is currently unranked with offers from Arkansas State, FAU, UMass, Southern Miss and UAB but he has length, athleticism and is a physical receiver who made impressive catches all day. It would be very surprising if Power Five programs didn't come calling.
*****  
BUZZWORTHY II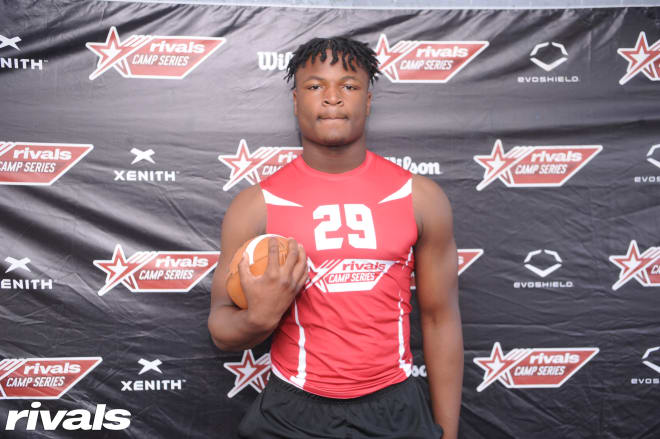 The offensive and defensive line groups at Sunday's camp were loaded but Matthew Fobbs-White stood out a lot – mainly because he could stay at defensive end but he has the build to be a jacked-up inside linebacker as well.
Baylor and Oklahoma State among others are paying the Monroe (La.) Neville three-star the most attention. Ten offers are in already and more should be coming.
*****  
MR. CONSISTENCY
Brock Glenn threw a lot of passes throughout the camp, routinely stepping to the front of the line and looking for more reps - and almost every single one was a dime to the receiver. Whether it was during drills, routes on air or working through a long 1-on-1 session, the three-star from Memphis (Tenn.) Lausanne Collegiate School had an impressive showing and definitely outplayed his ranking.
*****  
SLEEPER ALERT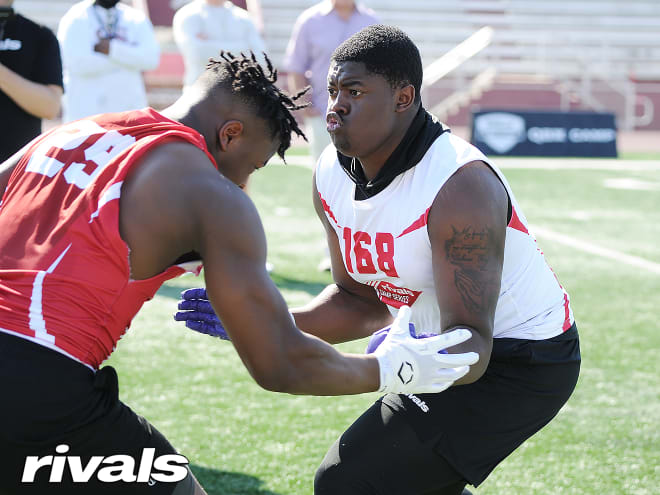 Tyree Adams has nearly a dozen offers. He has LSU and many others and is a known commodity but in terms of his ranking, the New Orleans St. Augustine offensive lineman is still a sleeper. The mid three-star has a long, lean, angular frame that could definitely add weight in the coming years.
He's super athletic, a knee bender with a huge mean streak, and he dominated through the 1-on-1s. Adams is tough and aggressive and as he adds mass to his frame should show out even more.
*****  
SLEEPER ALERT II
Carl Williams IV did not even have a Rivals profile before the camp but proved to be an absolute sleeper. The cornerback from Baton Rouge (La.) Southern Lab should definitely be getting more attention now. He is tough at the line of scrimmage, runs with any receiver and then competes for the ball once it's in the air. Williams plays with confidence and doesn't back down to anybody. Colleges would be smart to get on board.
*****  
BULL IN A CHINA SHOP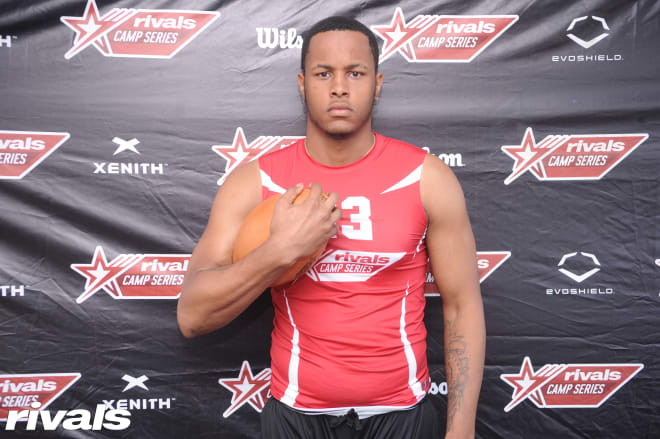 What stands out most about Deshaun Batiste is that he has a non-stop motor, a great first step off the snap and then the New Orleans (La.) Kennedy defensive end just will not be denied. Time after time, Batiste won with his speed but when bigger offensive linemen got their hands on him he countered or had a second move or just used his brute strength to win the rep. That level of intensity is rare to see.
*****  
MIGHTY MOUSE
Semaj Pierre is undersized. There is no way of getting around it. The 2025 receiver from Baton Rouge (La.) Madison Prep checked in at 5-foot-6 and 136 pounds on Sunday so he's never going to be a big-target, outside receiver. But as he develops more physically and keeps that speed, burst and playmaking ability, he could be very valuable to Power Five teams.
Mississippi State has already offered and it makes sense because he gets open against anybody and always catches the ball.
*****  
BODYGUARD
For a lot of the camp, four-star Wilkin Formby and his Tuscaloosa (Ala.) Northridge teammate Baker Hickman teamed up on the left side of the line during 1-on-1s – and that means there was nearly 650 pounds of mass ready to knock defensive linemen around.
Formby had no problem doing it as the massive left tackle has great arms, moves his feet well, can redirect and just takes up so much space that it's hard for defensive linemen to do much against him.
*****  
WHEN WERE YOU BORN
Jahkeem Stewart was the best defensive lineman at the event even though he was battling an ankle injury and then late in the event hurt a previously-dislocated finger. He's a 2026 prospect who was born in May 2007 so he won't turn 15 for a few more months. It's incredible to see the Reserve (La.) East St. John defensive lineman in action because he's not only huge – he checked in at 6-foot-5, 277 pounds with an 81-inch wingspan – Stewart uses his hands in an advanced way and simply dominated the event. It's amazing to think he's not even in high school yet.
*****
ROCKET ARM
KJ Jackson is a big, lefty quarterback who could probably throw a football a mile. The Montgomery (Ala.) St. James 2024 prospect is so smooth and effortless with his delivery it's impressive to watch the ball pop off his hand the way it does and there's nothing wild about it. He doesn't need to load up or anything – Jackson just drops back, scans the field and then the ball zips right to the receiver's hands.
*****