Three-Point Stance: South Carolina, FSU, Clemson's scholarship crunch
1. South Carolina is again a real threat to sign the top player in the DMV. 
The Gamecocks just added two more players from the greater Washington, D.C., area known as the DMV this week in three-star offensive lineman Mike Williams and Rivals250 cornerback Braydon Lee. Of course, this comes after signing four players from the DMV in the 2023 class, including five-star Nyckoles Harbor.
Now, South Carolina and head coach Shane Beamer find themselves in great position to sign another fantastic prospect from the Washington, D.C., area in Dylan Stewart. The defensive end hails from Washington (D.C.) Friendship Collegiate Academy and hasn't made it a secret that South Carolina is one of his top contenders. Stewart isn't in a rush to make a decision but it seems as if South Carolina has real staying power and could potentially be his landing spot when the time comes.
Stewart was just back at South Carolina, and he is scheduled to be at Colorado this weekend. He also has official visits planned for Ohio State, Georgia and South Carolina. Those won't be the only visits he takes before all is said and done, so there is a lot of time for things to change.
South Carolina, though, has already shown that it can go toe to toe with traditional recruiting powers to land highly ranked prospects, so why should we doubt it when it comes to Stewart?
*****
2. Florida State primed for a huge recruiting class. 
Expectations are high for Florida State heading into the 2023 season and the momentum it built at the end of last season is really helping on the recruiting trail. Mike Norvell and his staff just flipped No. 1 tight end Landen Thomas from Georgia and now the Noles are in the top five of the Rivals Team Recruiting Rankings.
Thomas was originally committed to Florida State before decommitting in October of 2021 and committing to Georgia in July of last year. Getting him back in the fold is obviously big for what it means on the field, but it's also big because of what it means for the future of this recruiting class.
There are a lot of big-time prospects who have serious interest in Florida State and, if the dominoes fall correctly, the Seminoles have a chance to finish with their first top10 recruiting class since the 2018 cycle.
Jordan Seaton, the top-ranked offensive lineman in the Rivals250, recently visited Florida State and just transferred to IMG Academy from Washington, D.C. The Noles seem to be trending up with him. Of course, Florida State fans know they're in good position with No. 1 cornerback Charles Lester, Rivals250 offensive lineman Jonathan Daniels and three-star offensive lineman Jason Zandamela.
Rivals250 receiver Jalewis Solomon and James Madison, along with Rivals250 defensive back Ricky Knight are other top targets for the Noles, and they seem to have strong footholds in their recruitments. The same could be said for four-star linebacker Zavier Hamilton and three-star offensive lineman Manasee Itete. Top 90 prospect Brandon Baker really liked his recent visit to Tallahassee and there are some reasons for Florida State fans to be optimistic, but Ohio State and Oregon are major contenders for him as well. Florida State has also been in good position with Rivals250 tight end Kylan Fox.
It will be interesting to see what kind of impact Thomas' commitment has on Fox, but the Noles haven't slowed their pursuit at all.
*****
3. Will Dabo have to go back on his word?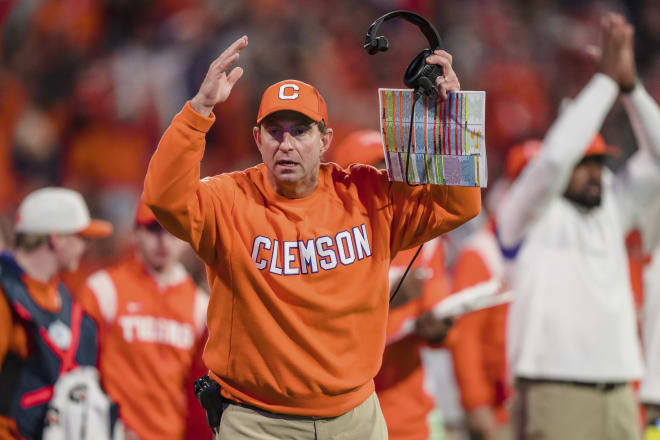 The fans that wish Dabo Swinney would run off some players to free up scholarships may get their wish. Clemson currently sits at 87 scholarship players, but the Tigers need to get down to 85 by the time preseason camp begins. How will Swinney fix this problem?
Swinney has been outspoken about the perceived pitfalls of the transfer portal and how he thinks players shouldn't transfer when they're buried on the depth chart. Now, it looks like he'll have to show a couple players the door or take away scholarships from some players.
Both options seem awfully hypocritical for Swinney but, digging deeper into the situation, it's hard to totally fault Swinney and his staff for the situation they find themselves in. The "COVID year" allowed players to have an extra year of eligibility and more players are returning for their last year at Clemson than originally expected. Those factors, combined with the fact that over the last couple years Swinney has awarded scholarships to three former walk-ons, has created this messy situation. Taking scholarships from walk-ons is obviously something that Swinney, a former walk-on himself, wants to avoid.
Malcolm Greene announced he is entering the transfer portal on Thursday, and that gets Clemson closer to the magic number and there is still time for Swinney to figure this out ahead of fall camp. But the public perception of having to either push a couple players toward the portal or take away some scholarships is difficult to swallow while the rival Gamecocks are getting a lot of good headlines.