Three-Point Stance: Misguided Prime, Dylan Raiola, Peach State's talent
1. Sanders' comments are misguided
Colorado coach Deion Sanders' comments to Rich Eisen at the Super Bowl were so laughably misguided that it's hard to believe if he was actually serious when he made them.
For quarterbacks, Sanders said, he's looking for "mother, father, you know, dual parents."
Alabama quarterback Bryce Young comes from a two-parent home, some of the nicest people you'll ever meet. The former five-star could be the top QB taken in the NFL Draft.
But Ohio State quarterback CJ Stroud didn't have the same experience growing up - as has been documented in the pre-draft process - and he could be the No. 1 QB off the board. Based on Sanders' strange approach to quarterbacks, would the Buffaloes pass on Stroud because of his circumstances?
Four out of 10 marriages end in divorce, so is the Colorado coach basically saying that four out of every 10 QBs are automatically off the board?
Malachi Coleman went through reported abuse in the foster care system and then he was eventually adopted by his family.
Would this be a situation where Sanders would pass? Because the Colorado coach was doing everything possible to get him to sign with the Buffaloes in the 2023 class before the high four-star eventually went back to Nebraska.
I really hope Sanders was just half-jokingly shooting the bull with Eisen during a Super Bowl interview. His comments were still beyond belief. Not only were they the epitome of why the eye-roll emoji was created on the iPhone, they are also not going to do him any favors in recruiting.
*****
2. Raiola keeps us guessing
The recruitment of five-star quarterback Dylan Raiola continues to stay interesting after it looked like a ho-hum deal that he committed to Ohio State early.
The Phoenix Pinnacle quarterback, who's currently No. 1 in the 2024 class, was committed to the Buckeyes from May through mid-December. It looked like the perfect situation as Raiola would step into a pass-friendly offense for one of the best teams in the country with wide receivers galore.
After backing off his pledge in December, Raiola looked destined for Georgia. One high-profile receiver in the class told me over the holidays that the word was that the Bulldogs were going to end up with him in the class, that he wanted to play in Athens.
While that could still be very much in play, and Raiola is expected to visit Georgia in March, USC and Nebraska continue to be very serious contenders for his services.
Nebraska coach Matt Rhule and his entire staff recently stopped by Raiola's old school, clearly in an attempt to recruit him. His uncle is on staff. His father played there. The idea of turning around one of the most historic programs in America has to be appealing.
USC is right there as well, especially after a recent day-long meeting with coach Lincoln Riley as the two hit it off. The mind of Riley, paired with the raw skill and physical ability of Raiola could be scary, and it's very intriguing to the five-star quarterback.
Where does No. 1 end up? No one is sure at this point.
*****
3. Is Georgia now a top-three state for talent?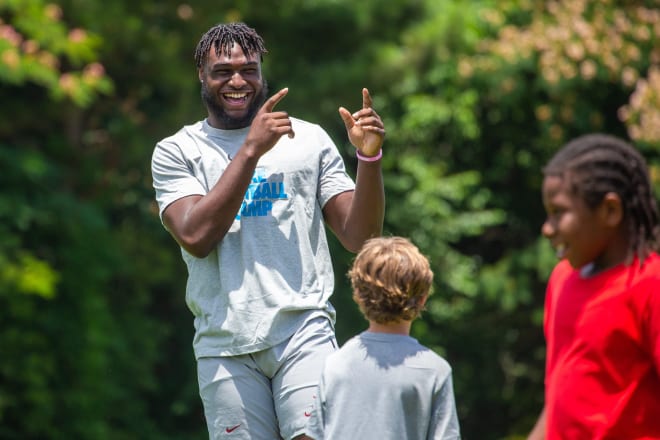 The old idea has been that Florida, Texas and California were the three superpowers in recruiting, three states with massive populations and elite high school football talent that top teams should recruit every single year.
That pretty much remains the case, but now Georgia could absolutely make the case that it should be included in that top three. Which state gets kicked out? Hard to say, but the numbers are pointing to Georgia getting much richer and California staying elite at the top but the depth slipping in recent years.
In the 2023 Rivals250, 42 players each were from Florida and Texas, Georgia had 22 and California just 18. Other years those numbers have been flip-flopped, but the state of Georgia is entering the picture more than before – and with top players.
Already in 2024, there are four five-stars in Florida and Georgia each, and only two each in California and Texas.
Arguably, the top-two NFL quarterbacks, Patrick Mahomes and Jalen Hurts, are both from Texas. Two of the biggest up-and-comers, Trevor Lawrence and Justin Fields, are from Georgia.
That's not to say California cannot make an argument. Bryce Young and CJ Stroud are from California. Brock Bowers, arguably the best tight end in college football, is from Northern California. Tennessee came to California for five-star QB Nico Iamaleava, and Georgia came to the Golden State for four-star RB Roderick Robinson II.
It's an interesting debate, but at least an argument can now be made that Georgia is becoming one of the big three. After all, the possible No. 1 overall pick in the NFL Draft is five-star defensive end Will Anderson, the pride of Hampton (Ga.) Dutchtown.