Three-Point Stance: Midwest NFL prospects, Michigan, UGA's reach in Midwest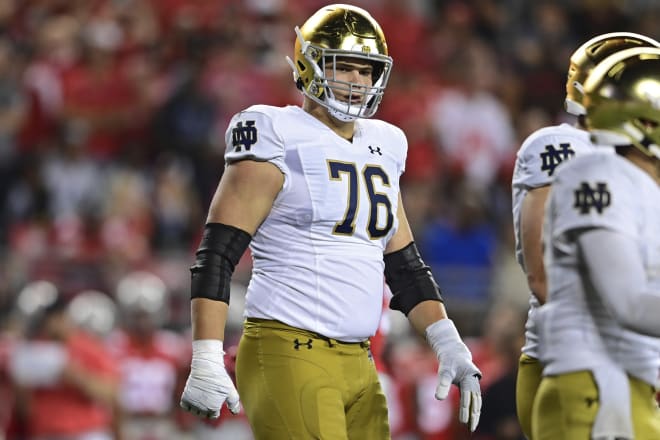 1. An early look at Midwest NFL Draft prospects with first-round potential. 
Alt had a great frame and showed plenty of upside coming out of high school, but at the same time he had mostly played tight end and there were questions as to how seamless his transition to offensive tackle would be, which led to a 5.6 three-star rating.
I was a huge fan of Alt as an upside play coming out of high school, and with a father (John Alt) who coached at the high school level following a career as an All-Pro offensive tackle for the Chiefs, we probably should have seen this coming.
According to Pro Football Focus, Alt didn't give up a single sack in 406 pass-blocking snaps during the 2022 season, and he should only be better this upcoming season. Look for Alt to be a lock for the first round should he stay healthy and continue on his current trajectory.
The Detroit Cass Tech standout was the complete package coming out of high school with the size and skill-set to be a future high-round draft pick, leading to a four-star rating and a ranking as the No. 134 overall player in the 2021 class.
All of the promise King showed in high school has come to fruition at Penn State, and he has a chance to become one of the premier shutdown corners available in next year's draft. While he is not a lock to go on day one, King has lived up to his 5.9 Rivals rating, and he could outplay it should he hear his name called during the first round of next year's draft.
Latham may technically be considered a Florida prospect, having graduated from IMG Academy in Bradenton, but I will never forget seeing him as a freshman at Waukesha (Wis.) Catholic Memorial, where he looked like a future first-rounder on the defensive line. Latham ended up making the move to IMG, where he continued to see his stock rise as an offensive tackle and earned a five-star rating en route to finishing as the No. 3 player overall in the 2021 class.
Latham has continued his dominance at Alabama, and should he continue at his current trajectory he is almost a lock to be a first-round draft pick in next year's draft.
*****
2. Michigan continues to be on a recruiting roll. Can the Wolverines finish with the top 2024 class?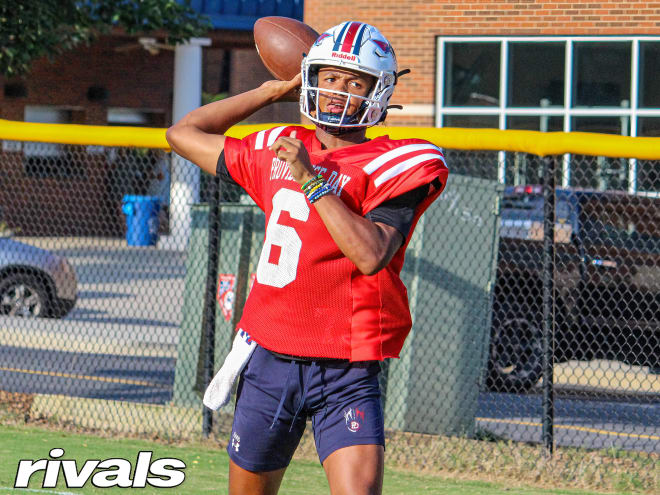 Michigan has made plenty of noise with its early returns on the recruiting trail and currently sits atop the 2024 team recruiting rankings. With 15 commits made up of one five-star, 11 four-stars, two three-stars and one two-star player, Michigan has been lights out thus far and has especially excelled in landing top recruits from outside the state of Michigan.
The first big question here is whether Michigan can hold on to its current class while adding additional big-time players to complete the class. My answer? Yes. This class appears to have a tight bond, and with a five-star quarterback who also happens to have incredible leadership qualities in Jadyn Davis, chances are that the Wolverines can keep those who have made their pledge in the boat.
With a number of additional targets having Michigan toward the top of their list – including I'Marion Stewart, Brandon Davis-Swain, Jameer Grimsley, Aaron Scott Jr., Aaron Chiles and Jacob Smith (whose brother is already a Michigan pledge) – there is a very real chance that this momentum carries on as we get deeper into this recruiting cycle.
The second big question is whether Michigan can finish as the No. 1 overall team in the 2024 recruiting rankings. While there is a lot more uncertainty to this question and the Wolverines will likely need to add at least one more five-star and a number of additional four-star recruits to make this happen, I don't feel as though a recruiting crown is out of reach.
Yes, Jim Harbaugh and staff will have to outlast Ohio State, Notre Dame and the late push we will likely see from Georgia and Alabama, but I would not be surprised to see Michigan fighting for the top spot. Unless the wheels fall off, a top five finish is almost a lock.
Michigan has had a slower start in past years under Harbaugh, but it would appear that recruits are catching on to the fact that Michigan has been developing NFL players at a rate that Wolverine fans have not seen in years. With nine players selected in this year's draft – which also marked five consecutive years with a Michigan player drafted in the first round – nothing about Michigan's recruiting efforts should surprise us at this point. Look for the Wolverines to continue the trend of recruiting and signing future draft picks while fighting for a Big Ten and national recruiting crown in 2024.
*****
3. Georgia continues to search for Dawgs in the Midwest.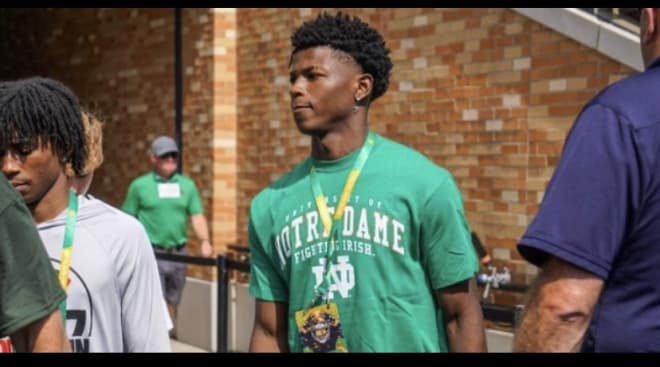 By my calculations Georgia currently has two players from the Midwest region on its roster in Dominic Lovett and Samuel M'Pemba, but neither of them arrived in Athens directly from the Midwest high school ranks. Lovett, a former standout at East St. Louis (Ill.) and then for Missouri, transferred to Georgia in the off-season. M'Pemba, who once prepped in Missouri, finished his high school career at IMG Academy.
Georgia appears to have targeted a number of Midwest recruits in the 2024 and 2025 classes in addition to current wide receiver commit NiTareon Tuggle, who was a student at Nappanee (Ind.) Northwood when he committed but will be transferring to IMG Academy for his senior year.
Another 2024 Midwest recruit that the Bulldogs are heavily in the mix for is five-star defensive lineman Justin Scott, who appears to be down to three programs: Georgia, Notre Dame and Miami. In addition to Tuggle and Scott, Georgia has an additional 10 offers out to uncommitted 2024 Midwest recruits, including Ryan Wingo, Marques Easley and Marquise Lightfoot, who all appear to have Georgia toward the top of their list.
Jaden Reddell and Williams Nwaneri are other Midwest prospects with Georgia offers who could also closely consider the Bulldogs as we close in on the 2023 Early Signing Period.
While it is still early in the 2025 recruiting cycle, Georgia has already extended scholarship offers to six players from the Midwest who all seem to be high on Georgia: Bryce Underwood, Isaiah Mozee, Talyn Taylor, Ryan Montgomery, Jaylen Williams and Christopher Burgess Jr.
A lot remains to be seen as to how many of the Midwest recruits will end up in Athens when it is time for them to put the pen to the dotted line, but all signs point to Georgia making a significant power grab for top Midwest recruits in the coming years. I would not be shocked to see six or more Midwest recruits wearing a Georgia uniform in the next two years.