The #RivalsChallenge Stock Report: Linebackers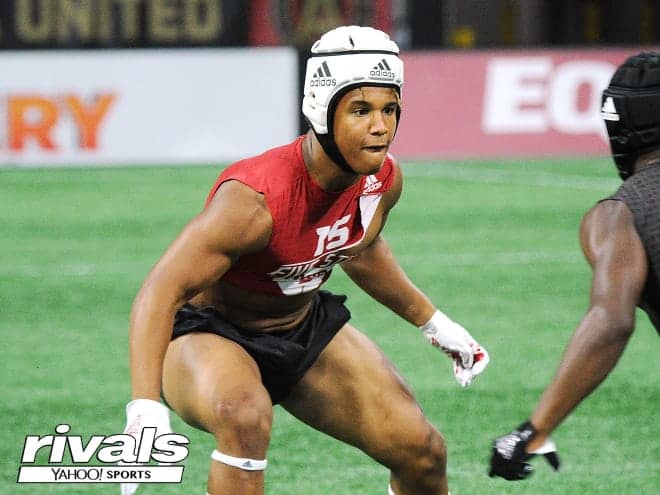 STOCK UP
It's been an offseason of stock-up performances for Constantin, who came into 2018 as a three-star with only a few college offers. Now committed to Clemson, he's continued to impress at every event he's attended. A state champion a year ago in Louisiana, Constantin's resume continues to add new accomplishments and now includes the linebacker MVP award from the Five-Star Challenge.

One of the most pleasant surprises of the event, the West Virginia commit came into the event on the fringe of the Rivals250. After showing that he can not only cover in space but also breakdown and read backs in the open field tackling drill, it's clear he's due for a bump up in the rankings. Kpogba impressed with his swagger and wasn't intimidated by the competition, a good sign as he continues to develop for the next level.

A three-star prospect who earned an invitation to the event after a strong showing on the regional series, DeLoach continued to impress in Atlanta. He went undefeated in pass coverage one-on-ones and also looked very good during 7-on-7. He's shown on film that he's a capable tackler as well and his versatility is why some of the Southeast's top schools are recruiting him.
STOCK STEADY
It was pretty hard not to put Flowe in the stock up category, but he didn't make it only because there's not really anywhere else for him to go. Currently the nation's No. 2 overall player in the class of 2020, Flowe dominated the event and was so impressive that he might even be considered the No. 1 linebacker if he were in the class of 2019.
Hopper struggled at times during one-on-ones but when it came time for the 7-on-7 tournament, he was all over the field, breaking on balls and flashing his impressive coverage skills. A former safety who has grown into a linebacker, Hopper is an impressive athlete who validated his place in the Rivals250 with his performance.

Davis is a big-bodied linebacker who looked like a defensive end early in his career but showed in Atlanta that he's more than capable of standing up and playing in space. If it weren't for a meteoric rise into the Rivals100 last rankings update, he might be in line for a bump in the rankings, but for now he validated his standing with his showing at the event.
Mullins committed to South Carolina at the event and the Gamecocks plan to use him at wide receiver at the next level, but the versatile athlete spent his time in Atlanta playing linebacker. While he got beat a few times, it's clear that he has the size and athleticism to play defense at the next level as well. Considering he was playing out of position alongside some of the best linebackers in the class, Mullins showed that he is a true football player and worthy of his spot in the Rivals250.

One of the top players regardless of position in the class of 2020, Sampah was impressive at the event. But much like Flowe, with a ranking so high, it's tough for him to really move up. After his showing, we're more than comfortable with his place as a five-star in his class.
Much like Mullins, Harris is the type of player who does a little bit of everything for his high school team, including playing wide receiver. In Atlanta, he lined up at linebacker and looked the part, especially wish his size and build. It's not often a wide receiver could translate to middle linebacker at the next level, but Harris looks like that's exactly what he might be able to do. Considering his standing as a four-star outside of the Rivals250, his stock stayed steady.
A defensive back who was a late replacement and filled in at linebacker, Cavalos obviously held his own as a cover man. But there's no doubt that his future is at defensive back as he just doesn't have the build to play linebacker at the next level. Because he was playing out of position but was competitive, his spot in the Rivals250 looks justified after his performance.

The one-time safety continues to grow into the linebacker position and was impressive, especially during the open-field tackling drill. Floyd's versatility as a cover man and someone who isn't afraid to come up and make a big hit is why we like him and his spot in the Rivals250 looks justified with his showing.

The Penn State commit is a smooth runner for a player his size and a guy who looks very comfortable playing in space, not something you can say about every linebacker in that setting. The only thing keeping him off stock up is his already lofty ranking and his spot near the top of the overall linebacker rankings.

The Miami commit is a little undersized to be a true linebacker but that helps him when it comes to the camp setting. He was around the ball in pass coverage as always and his ability to keep up with backs and tight ends was impressive. We adjusted his ranking last go-round and he showed that he belongs right on the fringe of the Rivals250, where he is currently ranked.
Casey is a throwback classic inside linebacker and the type of player who flies around the field to make big hits in games. Unfortunately, that doesn't translate that well to camps, so Casey found himself on the losing end of a few reps during one-on-ones. But as a four-star outside of the Rivals250 he held his own and will have his best chance of showing what he can do on the field this fall now that he's fully healthy from an injury that limited him last season.
Much like Casey, McCluster is built to play inside the box and because of that struggled when he was left on an island in coverage. During 7-on-7, when he was allowed to read and react he made several plays, including an interception but he just doesn't quite have the speed to cover linebackers down the field. Ranked in the back half of the Rivals250, McCluster is still a quality prospect.
STOCK DOWN
Ranked as the No. 64 player in the Class of 2020, Wingo came in with big expectations but struggled at times both in one-on-ones and in the open-field tackling drill. He has good size but is still an outside linebacker so he will need to improve on his ability to play in space. He still looks like a Rivals250 prospect, but showed that his initial ranking might be on the high side.