Southeast Spotlight: Superlatives for the region's top WRs
The wide receiver position is becoming more and more critical relative to team success at every level of football. It also happens to be a loaded position at the prep level, with droves of talent in the classes of 2024 and 2025, already combining for eight five-star recruits (six projections, two more currently ranked as athletes) ahead of the 2023 football season. Let's take a look at some of the best in the Southeast region.
THIS SERIES: Superlatives for the top receivers in the Mid-South
BEST HANDS: Joshisa Trader
The new Miami Hurricane verbal commitment is a two-way standout with plenty of folks curious about his prospects in the secondary, mainly because of his ball-tracking ability and, ultimately, his hands. Trader is 6-foot-1 but works with a wider catch radius, routinely making the acrobatic catch look like standard operating procedure in the process.
There is an ease to Trader's game when the football is in the air, and few track it like him from release to contact. Away from his body or in traffic, he also brings a competitiveness to the table that often leads to letting his opponent know he just made a play against them.
*****
BEST SIZE: Jeremiah Smith
When the primary comparisons being made of one wide receiver recruit are to Julio Jones and Calvin Johnson, it turns heads. We've been hearing as much around Jeremiah Smith for years and he has only lived up to it in about every way since. Smith is up to 210 pounds on a 6-foot-3 frame, with broad shoulders and well-proportioned muscle throughout his frame and he plays like it.
In the last 12 months, his size has been among the least impressive of his accomplishments, however, as his 20 touchdowns led Hollywood (Fla.) Chaminade Madonna to a football state championship before he helped its track and field team compete well in winning the 110 and 400 meter hurdles events as a runner.
Smith is a longtime Ohio State Buckeye commitment who continues to be courted by Florida, Florida State, Miami, Georgia and others.
*****
BEST SPEED: Ryan Williams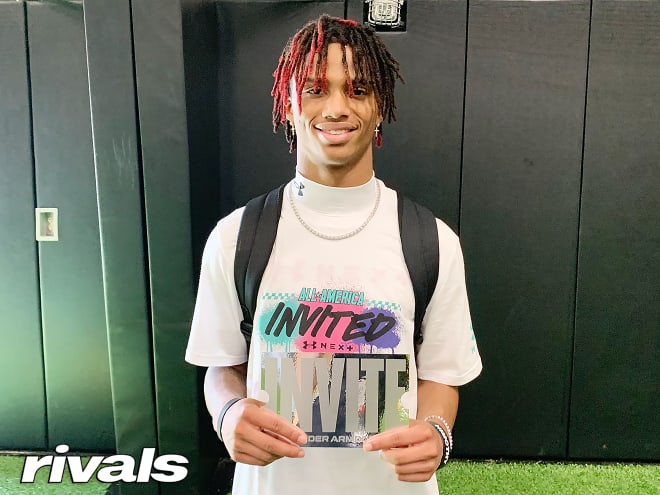 Football players versus track stars have been a topic for forever, with few bridging the gap between disciplines. Among all the wideouts in high school football right now, though, the augment for the best blend may have to go toward Ryan Williams.
The 2025 Saraland (Ala.) High School star is a five-star football prospect and the reigning Mr. Football in Alabama, but he also owns top-five marks in four different disciplines within track and field. Few would be surprised by the elite 100-meter dash (10.49) or 200-meter dash (21.28) times, but Williams has the top mark in Alabama for the 400-meter dash (47.54) and a top mark in another measure of explosiveness, the high jump, in which he PRed at 6-foot-8 despite a 6-foot-1 frame.
Williams is committed to in-state Alabama.
*****
BEST ROUTE RUNNING: Jaime Ffrench
Another category in which there are so many options to choose from down south, the uncommitted class of 2025 standout gets the nod because of his overall game. Ffrench is a bigger body who proves polished in his route constriction relative to all the key elements elite route-runners focus on, alignment, assignment and positioning.
We've seen the Jacksonville native work with power off the line to avoid a jam and get on top of the defender in a hurry. He can break out of the top of the route on a low plane and without much wasted movement. Perhaps most importantly he can flip leverage whether the defender allows for it or he has to get creative. Also a powerful player, the blue-chipper's efficiency as a route runner proves critical against contact or along the sidelines.
Ffrench is set to make a verbal commitment on July 22, with Alabama, Florida State, Notre Dame, Ohio State and Penn State as the finalists.