Rivals100 Five-Star Challenge: Who could push for best QB?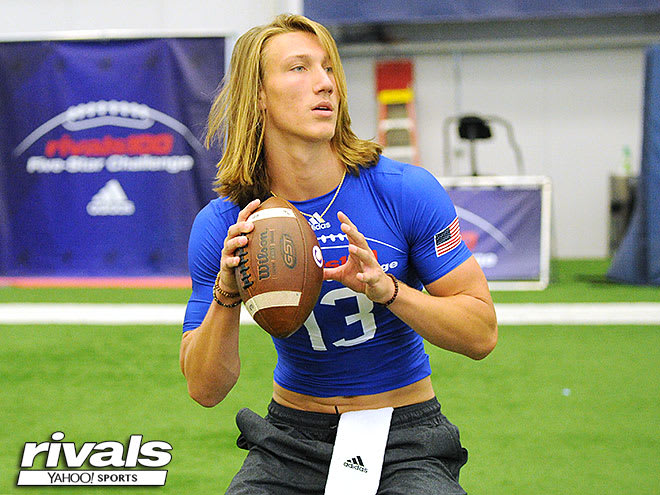 FIVE-STAR CHALLENGE STORYLINES: Auburn | Florida | Georgia | Oregon | Texas A&M | Kentucky
The Rivals100 Five-Star Challenge presented by adidas will take place at Mercedes-Benz Stadium in Atlanta on June 25, an event that has hosted some of the best high school prospects in the country since its inception in 2012. Could someone make history and put in the top performance ever this year? We take a look at each position starting with quarterback and see who could make that push.
THE BEST
Clemson quarterback Trevor Lawrence was a rising senior back in 2017 in Indianapolis when he went head to head with current Ohio State quarterback Justin Fields in the best signal-caller matchup we've seen yet. While Fields won the 7-on-7 tournament with a last-second touchdown, Lawrence won the day as the best quarterback we've seen at the event. Lawrence, the No. 1 player in the 2018 class, went on to win a national title this past season as a true freshman and obviously has a great future. Can anyone push him from this year's group?
THE BEST CHANCE
I'm going with 2021 quarterback Brock Vandagriff as the prospect with the best chance to top Lawrence's performance in 2017. Even as an underclassmen at this event, Vandagriff has the skills to stand out. Will he be better than Lawrence? I doubt it, but he has the arm strength, confidence, accuracy and downfield vision to be a dominant performer.

This is a good quarterback group overall with experienced prospects such as Bryce Young, Jack Miller, Harrison Bailey, Drew Pyne and Max Johnson as well as talented underclassmen J.J. McCarthy and Kyle McCord, but we should watch out for Vandagriff as he could be the best quarterback we've seen since Lawrence if he continues to develop.