Rivals100 Five-Star Challenge: Three storylines for Kentucky fans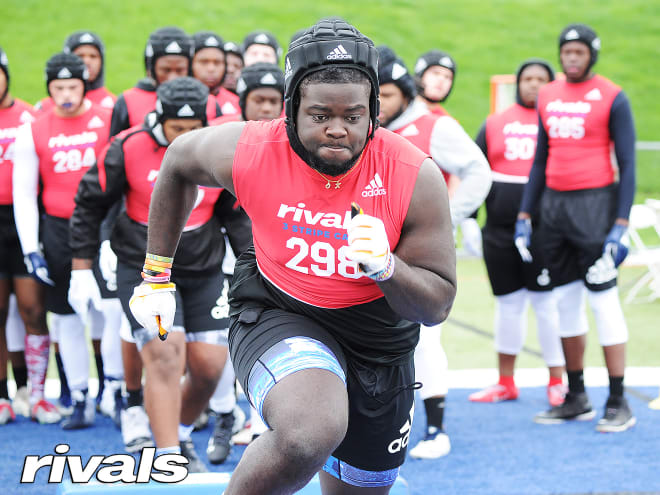 MORE: Auburn storylines | Florida storylines | Georgia storylines | SEC team recruiting rankings

The Rivals100 Five-Star Challenge presented by adidas will take place at Mercedes-Benz Stadium in Atlanta on June 25, and with 100 of the top prospects from the 2020 and 2021 classes in attendance many college programs and their fan bases are going to keenly interested in the event's outcome. One of those programs is Kentucky. Below are three reasons why.
BLUEGRASS BALLERS
Once again the state of Kentucky is well-represented at the Five-Star Challenge, with three prospects from the Bluegrass State on hand. One is already committed elsewhere (Rivals100 offensive lineman Walker Parks, Clemson) but the two other Kentucky products set to attend are very much on the Wildcats' board.
Class of 2020 four-star defensive tackle Octavious Oxendine is a major target at a position of need and it's shaping up for a battle between the Wildcats and SEC East rival Tennessee. Kentucky needs to land Oxendine for a number of reasons and if he were to land elsewhere in the division it would be a big blow. His comments at the event could mean a lot, as could his performance, as his ranking stock has been on the rise over the past few updates.
The third in-state prospect in attendance is electric receiver Dekel Crowdus. The 2021 speedster has drawn comparisons to past Kentucky prospects Rondale Moore and Wandale Robinson, both players that slipped away from the 'Cats to land in the Big Ten. Crowdus is the type of playmaker Kentucky needs and having him right in the program's backyard is a significant advantage. How he performs and what he says about Kentucky will be worth watching closely.
FLIP MODE
Clemson doesn't lose commitments very often -- well, actually almost never during the past five years -- but that hasn't stopped the Kentucky staff from working on in-state product Walker Parks. The Rivals100 offensive lineman has been committed to the Tigers since October and it's probably pretty unlikely he doesn't end up in orange, but Kentucky has recruiting momentum and will continue to fight to try to get Parks to stay home. After losing in-state product Wandale Robinson to Nebraska last year and seeing past losses like Damien Harris (Alabama, 2015) and Jedrick Wills (Alabama, 2017), Mark Stoops and company don't want to see another top player leave the state. Parks comments at the event could be telling as to whether Kentucky still has a real chance at flipping him.
OUT-OF-STATE TARGETS
Kentucky's excellent 2018 season combined with recent top-10 draft pick Josh Allen has helped the 'Cats gain recruiting traction across the country, with several out-of-state prospects mentioning UK as one of the schools heavily in the mix. That's the case for four-star Nashville, Tenn. area defensive tackle Dallas Walker, who is on an official visit to Lexington this weekend. Walker has been high on the 'Cats for sometime and the fact that he prioritized the school for an official over a number of other suitors shows just how serious he is about UK. Walker isn't just a contingency plan should Oxendine go elsewhere, the two could end up as quite the duo on Kentucky's defensive line for years to come.