Rivals Rankings Week: Breaking down the defensive linemen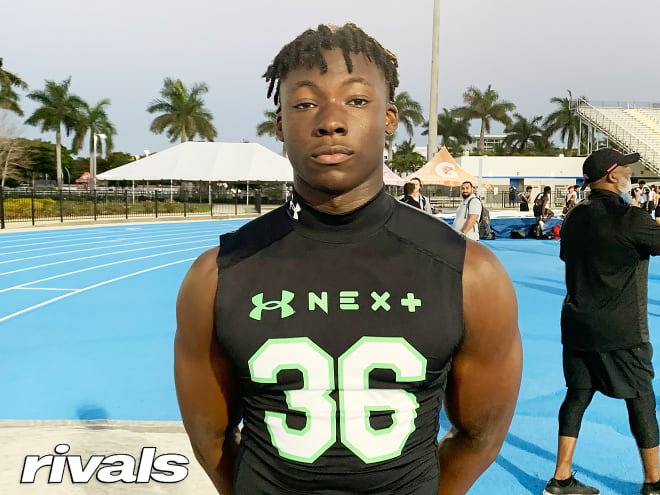 NO. 1 AT THE POSITION: Samuel M'Pemba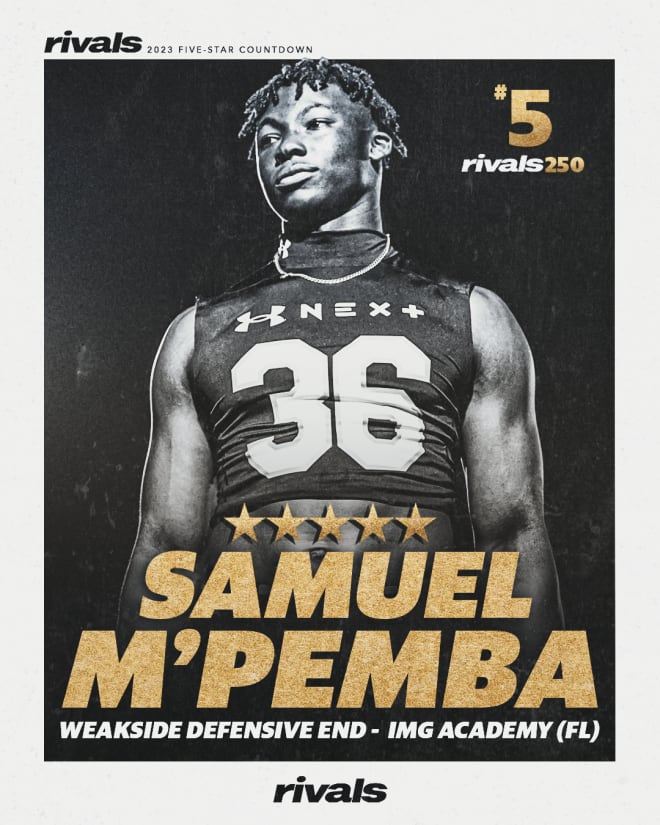 There were no changes at the top of the defensive line rankings, so that means Samuel M'Pemba remained the top-ranked defensive lineman in the Rivals250. The Midwest native is a big-time weapon on the defensive side of the ball. He has special athleticism for a defensive end and has the ability to play in space at the next level. M'Pemba can get after the quarterback and is solid against the run.
As for his recruitment, M'Pemba isn't the most talkative, but it has become clear that Georgia, Notre Dame and Miami are likely the main contenders for his commitment. Oregon, Tennessee and Florida are involved as well, but a commitment from M'Pemba doesn't seem to be imminent.
*****
TWO PROGRAMS TO WATCH: Alabama and Georgia 
These two teams are not surprising here given their recent histories, but both are in position to land a few more top prospects along the defensive front. Top 70 teammates James Smith and Jaquavious Russaw are very high on both schools. Each released short lists within the last week and they featured Alabama and Georgia, among others. It is believed that each prospect will likely end up at one of the two schools.
Georgia and Alabama are also going after No. 63 in the Rivals250 Damon Wilson. The Florida native has visited both schools and will likely choose one of the two, but in-state teams Florida and Miami are also involved. Four-star defensive end Daevin Hobbs isn't close to a decision, but both teams are hoping he visits during the season.
Alabama is also in the hunt for borderline five-star Matayo Uiagalelei, in addition to Jordan Renaud and Edric Hill (more on him below). The Crimson Tide are also the team to beat for newly uncommitted five-star Keon Keeley.
In addition to the players mentioned above and M'Pemba, Georgia is hoping to get good news from Rivals250 defensive tackle Xzavier McLeod when he announces Thursday. The Bulldogs are battling South Carolina for his commitment.
*****
THREE PROSPECTS TO WATCH 
Thompson is scheduled to announce his commitment on Monday, and he is choosing among Michigan State, Ohio State, Cincinnati, Penn State and Pittsburgh. The Michigan native took visits to Pittsburgh, Cincinnati and Michigan State this offseason, and his trips to see the Panthers and Bearcats were official visits.
Penn State was a big player for him at one point but its momentum faded as summer began. Ohio State has kept tabs on Thompson, but it's hard to see him ending up there at this point. His multiple unofficial visits to Michigan State does seem interesting, but we'll all find out where he's headed on Monday.
Hill sped up his commitment timeline and is now ready to announce his decision on Monday. The Missouri native had planned on committing on Sept. 24, but he wants to end his recruitment sooner.
Alabama seems to have the momentum at the moment, but Oregon and Missouri have been working very hard to get more of his attention. Hill took visits to LSU, USC and Alabama in June. Oklahoma has been involved as well.
Keeley's commitment to Notre Dame happened more than a year ago and he opened up the recruiting process again Wednesday night. Teams have been pursuing him despite his commitment to Notre Dame. Alabama has piqued his interest and he took a visit to Tuscaloosa this summer. There are rumors about a possible flip, but Keeley has remained relatively quiet on the subject.
Ohio State, Florida, Miami, and Oregon are a couple other schools to keep an eye on as this season gets underway.