Tuesdays with Gorney: New Rivals250 released
The new 2023 Rivals250 is out and there is some significant movement after seeing a lot of top prospects through summer events. In this week's Tuesdays with Gorney, Rivals national recruiting director Adam Gorney offers his thoughts on each position group:
QUARTERBACK
The top of this position remains unsettled and there have been some changes although Texas commit Arch Manning stays No. 1. I completely understand the arguments as to why Manning should move off the top line but there is also so much to like about his ability and his projection and we're not going to penalize someone for not doing national events or camps. Rankings are about projection to college and the NFL Draft but it is difficult sometimes when he is absent from all the major showcases.
Oregon pledge Dante Moore moved up to No. 2 overall after being outstanding at the OT7 in Las Vegas and the Elite 11. He might not be the best athlete of the group but his accuracy and precision this summer were off the charts. The Nico Iamaleava vs. Malachi Nelson debate will continue. Nelson was excellent at Elite 11 so we didn't want to move him down much but Iamaleava was better in Vegas, unfortunately missed the Elite 11 and has unreal potential.
As for the others, Oklahoma commit Jackson Arnold and Clemson pledge Christopher Vizzina are super close ability-wise and could be in the five-star discussion and my feeling is that Baylor pledge Austin Novosad should be higher. I like Miami commit Jaden Rashada a little more than others and thought he was very good in Vegas but just average at Elite 11. Iowa State commit JJ Kohl moved up a lot but could go even higher with a big senior season.
I'm not as blown away by the dual-threat quarterbacks. Louisville commit Pierce Clarkson was solid at Elite 11 and we liked Kansas State commit Avery Johnson as the week went on at Elite 11 but the pro-style bench is much, much deeper.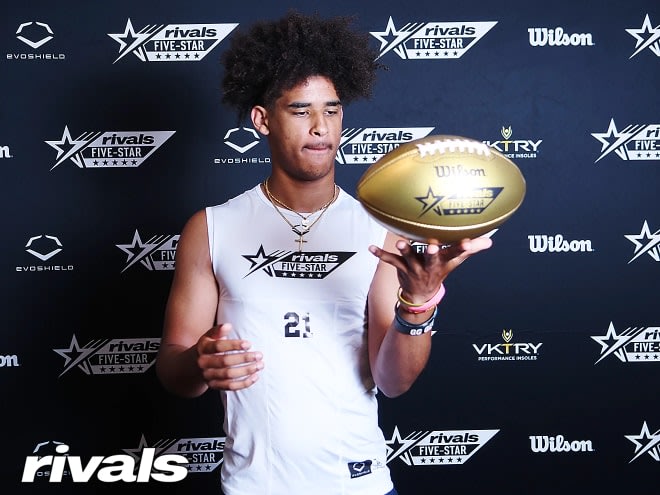 *****
RUNNING BACK
To the objection of some, we stayed with no five-star running backs in this class. Louisville pledge Rueben Owens II is ranked the highest of the group but I didn't necessarily see a dominant five-star performance in Las Vegas. A big season could shake things out further but I especially like Justice Haynes in the five-star discussion.
Richard Young, who's committed to Alabama along with Haynes, is arguably the best-looking running back of the group but does he have that elite speed and there are concerns he's a little stiff. Jeremiyah Love split carries last season so his stats aren't off the charts but he's an exceptional talent as well.
Texas commit Cedric Baxter might still be a little too low at No. 5 in the position rankings and a big senior season by jacked-up UCLA commit Roderick Robinson could move him higher even though he got a bump this time as well.
*****
WIDE RECEIVER/TIGHT END
I'll admit it: I'm not sure what to do at receiver because an argument could be made for at least the top-four to be No. 1 at the position. Carnell Tate is the smoothest, Brandon Inniss gets open and catches everything, Zachariah Branch is the fastest and most electric and Hykeem Williams looks like an NFL receiver right now. It should work itself out especially after the all-star events.
Oregon commit Jurrion Dickey was so dominant in Las Vegas that he needed to move up a whole lot but the high four-star does need to figure out where he's playing his senior season after bouncing around a little recently. I still think Texas commit Johntay Cook and Longview, Texas, standout Jalen Hale could be in the five-star discussion by the end. Ayden Williams is still a little too low although he has moved up significantly.
Guys to watch for moves up after the season: Makai Lemon, Deandre Moore and I really like Georgia commit Yazeed Haynes a lot.
At tight end, Duce Robinson stays No. 1 as he looked great and competed a lot during the Elite 11 taking no time off for three-straight days but Georgia commit Pearce Spurlin keeps adding weight and he's special, too. Tennessee pledge Ethan Davis was great in Las Vegas and is one of the best-looking tight ends in the class.
*****
OFFENSIVE LINE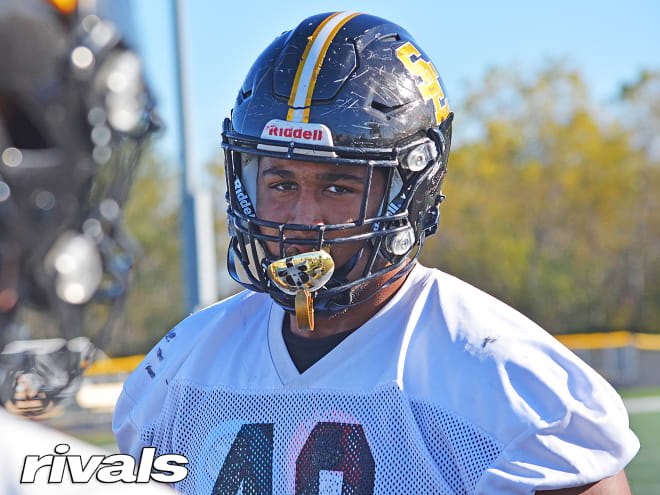 Early on, I was convinced that Kadyn Proctor was the best offensive tackle in the class and he remains No. 1 but the Iowa commit is absolutely getting pushed much harder by others now. Five-star Samson Okunlola has had a terrific offseason, has really shown his competitive streak and has a physical and athletic frame that makes him special. New five-star Miami commit Francis Mauigoa is versatile along the offensive line and has only been playing there for a few years so he could emerge even higher along the way.
Oklahoma commit Cayden Green looked really good at Future 50 and Ohio State commit Luke Mongtomery is one of the more athletically-gifted OTs in this class. I also don't think we know enough about Notre Dame OL commit Charles Jagusah and there are some Midwest linemen such as Trevor Lauck and others who we know will have excellent careers that deserve a second look.
On the interior, not much has changed. DJ Chester earned his fourth star after having some strong performances this summer. One guy I'm watching heading into the season is Kentucky OC commit Koby Keenum, who might be worthy of a bump up because of his physical nature.
*****
DEFENSIVE LINE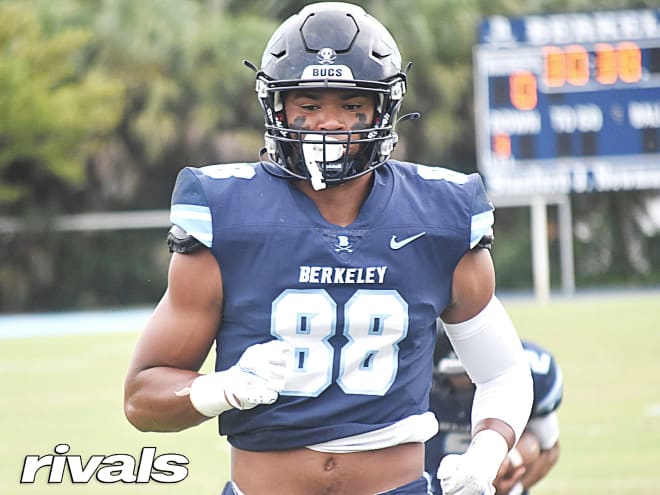 Both the weakside and strong-side defensive end rankings are loaded and it's hard to figure out which spot is stronger. At weakside, the top three prospects – Samuel M'Pemba, Keon Keeley and Matayo Uiagalelei – didn't do a ton this summer as others emerged especially Adepoju Adebawore after a strong performance at Future 50. Alabama commit Yhonzae Pierre made a big move up after dominating at the Crimson Tide summer camp and LSU pledge Jaxon Howard came over from the tight end rankings.
The strongside group is incredibly loaded as well with five-stars David Hicks Jr. and Jayden Wayne leading the way and Venice, Fla., standout Damon Wilson might still be underrated at No. 6 in the position rankings. Miami (Fla.) Central's Rueben Bain is so productive it's tough that he's all the way down at No. 17 at strongside defensive end.
Defensive tackle is weaker than some years but there could still be a ton of movement toward the top as Ohio State commit Jason Moore leads the way. Georgia commit Jamaal Jarrett has such unique physical abilities that he could be the next superstar in Athens. The best of the bunch might be James Smith, who we need to see more of this season, and Chandler, Ariz., standout A'Mauri Washington isn't in the spotlight much but is very talented.
*****
LINEBACKER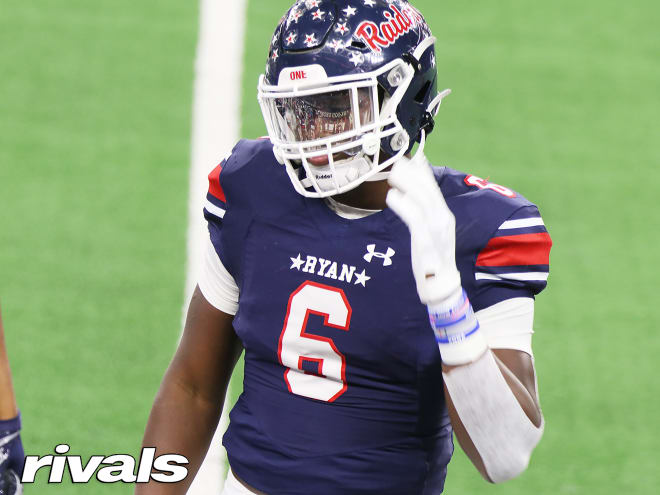 Anthony Hill leads the way here and the Texas A&M commit is the only five-star linebacker among the group. I have my eye especially on new USC commit Braylan Shelby, who has elite length and speed and some early-season highlights of the Friendswood, Texas, standout have definitely made an impression.
At inside linebacker, Tackett Curtis is a tackling machine who surprised some by committing to USC over Ohio State and Wisconsin. Troy Bowles is the son of NFL coach Todd Bowles and makes a lot of plays as well. At outside linebacker, Miami commit Malik Bryant leads the way, followed by Notre Dame pledge Drayk Bowen, but a lot still needs to be figured out at this position in the coming months.
*****
DEFENSIVE BACK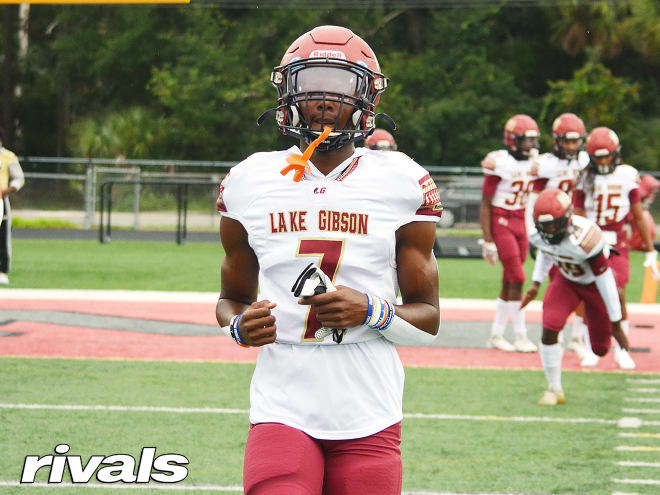 Five-stars Cormani McClain and Javien Toviano lead the way at cornerback but my sense is that there will be significant pressure from others in the coming months for those top spots.
Malik Muhammad has length and was super impressive in Las Vegas this summer. Former Texas A&M commit Bravion Rogers has all the speed and playmaking ability in the world. Georgia pledge AJ Harris had a quiet summer but he's still a phenomenal player. This is a deep group and a lot of guys could be making moves through their senior season.
There is still no five-star safety as Alabama commit Caleb Downs, Texas pledge Derek Williams and Notre Dame pledge Peyton Bowen are all one notch below that ranking. I still think there are some guys lower in the rankings such as Oregon's Tyler Turner or others that could move up fast.
*****
ATHLETE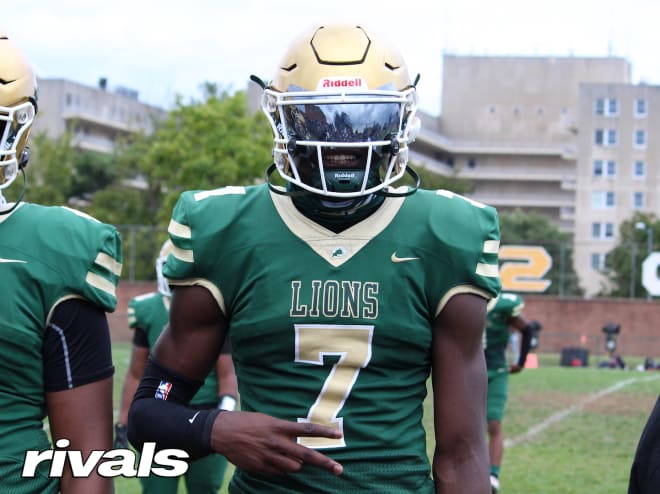 As the recruiting cycle continues, more players are moved to their projected positions and taken out of the athlete category, which is really reserved for players who could legitimately go either way in college.
No. 1 athlete Nyckoles Harbor is such an incredible track athlete that he will probably be an edge rusher in college but has the skill to play wherever.
It will be interesting through his senior season and into the all-star events whether Malachi Coleman gets more five-star consideration. He has the length and athletic ability to warrant that type of talk.
I wouldn't be surprised if new Clemson commit Ronan Hanafin moves up even higher than No. 10 at the position when we see more of him soon. His versatility and playmaking ability is rare.