Rivals Rankings Week: Breaking down the 2023 DBs
NO. 1 AT THE POSITION: Cormani McClain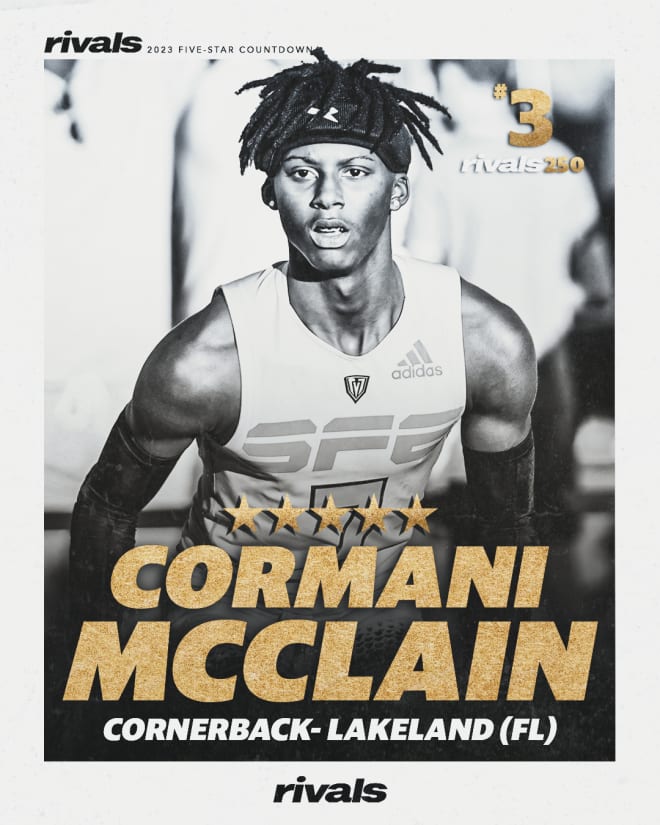 Cormani McClain may have dropped one spot in the overall rankings, but he retains a firm grip on the top DB spot with the closest defensive back being Javien Toviano, who comes in 17 spots behind him at No. 20 overall. Barring anything crazy happening it would be a bit of a shock if McClain doesn't finish as the No. 1 overall defensive back in the 2023 class. He truly has the size, skill and dog factor to be a special player at the college level and beyond.
McClain, Duce Robinson, TJ Shanahan Jr., Samuel M'Pemba, David Hicks Jr. and Nyckoles Harbor are the only remaining uncommitted No. 1 players at their position in the 2023 class. McClain's recruitment appears to be a three-team race among Florida, Miami and Alabama, which will receive an official visit from McClain on Oct. 8.
Florida has long seemed to be the favorite in the five-star's recruitment, but with Nick Saban's background as a secondary coach you never know what could happen after McClain makes his way to T-Town. This will be a fun recruiting battle to follow in the coming months.
*****
TWO PROGRAMS TO WATCH: Alabama and Texas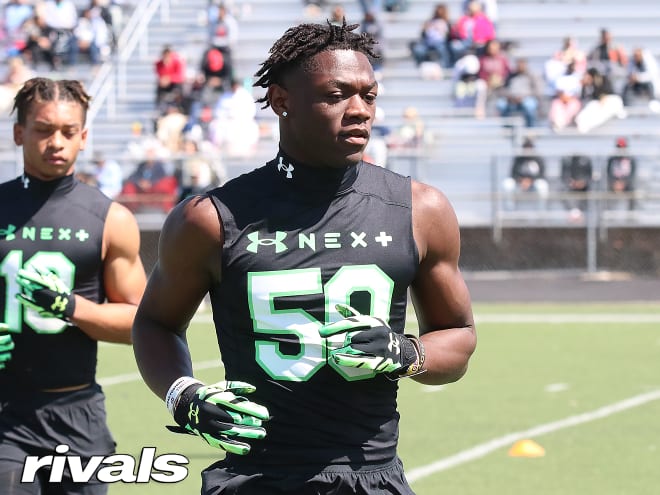 Alabama already has the No. 1 2023 safety committed in Caleb Downs out of Georgia. Should the Tide be able to land Cormani McClain, hold on to Downs and both players remain No. 1 at their position, Alabama would become the first team in the Rivals era to land the No. 1 player at both positions in the same year. This may not be the most likely scenario as things stand today, but it would be a phenomenal feat for Nick Saban and company if they are able to pull it off.
We've seen Texas shoot up the recruiting rankings in recent months, and the Longhorns are now in position to land a special defensive back class in 2023. With commitments from new No. 5 corner Malik Muhammad and No. 28 corner Jamel Johnson – along with a commitment from No. 2 safety Derek Williams – Texas is just one elite defensive back away from having a special secondary unit for years to come. The player to watch here is No. 2 corner Javien Toviano. The Longhorns will attempt to fend off LSU and Texas A&M for him in order to complete a phenomenal haul at defensive back.
*****
THREE PROSPECTS TO WATCH 
Toviano is currently one of eight uncommitted five-star recruits. He and Cormani McClain are the only five-star defensive backs that have yet to make their pledge. A commitment to Texas A&M once looked like a foregone conclusion, but Toviano's recruitment has taken some twists and turns in recent months, with Texas making a strong push and LSU entering the mix.
This is a recruitment to keep a close eye on as his commitment will go a long way toward determining which school has the top defensive back class alongside Alabama.
The onetime Ohio State pledge opened things back up after taking a visit to Florida at the end of July, and word out of The Sunshine State is that Johnson may want stay close to home for his college years.
Florida may have the edge here, but Miami and Florida State should be in the mix as well. Alabama is another potential landing spot, but if the Tide can land McClain, or a player the Alabama staff feels is of his caliber, the Tide may be full at the position.
Rogers had been committed to Texas A&M for just short of four months when he decided to reopen his recruitment on Aug. 8. The La Grange (Texas) standout is a phenomenal athlete with incredible speed and leaping ability to match his solid frame.
LSU is one school that definitely looks to be in the mix here, but the longer this recruitment plays out the more competitive it will be to land the standout corner come December's Early Signing Period.