Rivals Rankings Week: Breaking down the 2024 WR/TEs
NO. 1 AT THE WR POSITION: Ryan Wingo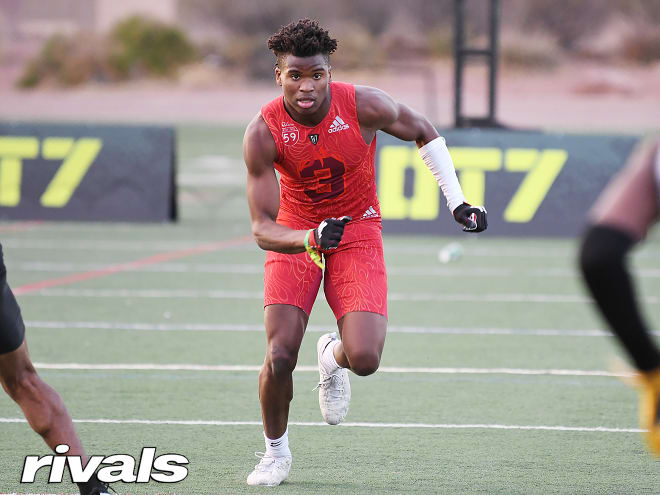 Wingo retains his spot as the top receiver prospect in the 2024 class and comes in as the No. 6 player overall. The St. Louis (Mo.) University product spent the majority of his off-season focused on track, where he set blazing personal records of 10.55 in the 100 meters and 21.31 in the 200 meters.
At 6-foot-2 and weighing 200 pounds Wingo has straight-line speed that you rarely see from a young receiver recruit who also possesses his size. He has the ability to stretch the field, has a large catch radius and is a match-up nightmare in 1-on-1 coverage situations. While Wingo is an impressive player right now, he is still growing and adjusting to his frame, and that may be the most exciting thing about him as his best football is still in front of him.
*****
TWO TEAMS TO WATCH: Notre Dame and Miami 
This is a tough one to gauge as only two Rivals250 receivers have committed and none of the Rivals250 TE's have made their pledge as of today. My picks of Notre Dame and Miami are based on both teams being in position to sign strong classes at both tight end and wide receiver.
While Notre Dame doesn't have a Rivals250 receiver committed as of today, they sit toward the top for a number of elite 2024 targets. They will get strong consideration from the current No. 1 overall receiver Ryan Wingo and many consider the Irish as favorites to land No. 11 receiver Cam Williams, who has Notre Dame in his final five and will announce his commitment next week. Jeremiah McClellan, Mylan Graham and ATH Brauntae Johnson, who could end up playing receiver in college, are other top names that Notre Dame should be in the mix for as well. On the tight end front, South Bend is the likely landing spot for Jack Larsen, who is currently outside the Rivals250, but will be a strong candidate for a spot inside of it as the rankings continue to be updated.
With three of the nation's top five WR prospects residing in its backyard, Miami should have a really good chance at landing a top-flight receiving group in 2024. Newly minted five-star WR Jeremiah Smith, who some argue is the best receiver in this class, should have Miami in it until the end. As should fellow elite Miami-area receiving prospects Joshisa Trader and James Madison. The Hurricanes would be happy to land any one from the local group, but should they strike gold and land multiple prospects, the Miami receiving class would be hard to match. The Hurricanes will also be in play for some of the Nation's top TE recruits, including Tayvion Galloway, who said Miami was a dream offer when it recently extended a scholarship to him.
*****
THREE PROSPECTS TO WATCH: Jeremiah Smith, Christian Bentancur and Nicholas Marsh
Smith continues to develop at an astonishing rate and has a chance to be downright special. He plays on a South Florida Express 7-on-7 team that features the top two receivers in the 2023 class, and not only has Smith shown capable of fitting in with that elite company he has had the advantage of their mentorship when it comes to the recruiting process and approach to the game. On top of his great performances on the football field, The Florida product ranks among the nation's best for his class in the 110 hurdles and performing at such a high level as a hurdler is a true testament to his overall athletic ability. Smith will make a run at the No. 1 WR spot when it is all said and done. Miami, Oklahoma, Ohio State and Alabama are teams to watch in his recruitment.
Bentancur's meteoric rise has been pretty crazy to follow considering he didn't have a single scholarship offer at the end of his sophomore football season. Seven months later he sits with 30 offers total, many of which have come from the nation's elite programs. Bentancur has grown and developed a ton during the off-season and it will be fun to see how much progress he has made as a player come next football season. Look for Clemson, Ohio State, Florida and other Big Ten teams to get serious consideration from the tight end out of Illinois.
Marsh has been nothing short of a stud this off-season, and the attention around his recruitment has really started to build up in recent months. He has been incredible every time I saw him compete at camps during the spring, and although I was not at the recent OT7 tournament, it sounds as though his performance at the event was one to remember. Marsh has a special combination of size, skill and speed, and he will have a legitimate shot at becoming a five-star when the 2024 class is finished being ranked. Look for Michigan, Michigan State, Cincinnati, Notre Dame and Jackson State to be in it until the end for a pledge from Marsh.