Rivals Rankings Week: Breaking down the 2024 QBs
NO. 1 AT THE POSITION: Dylan Raiola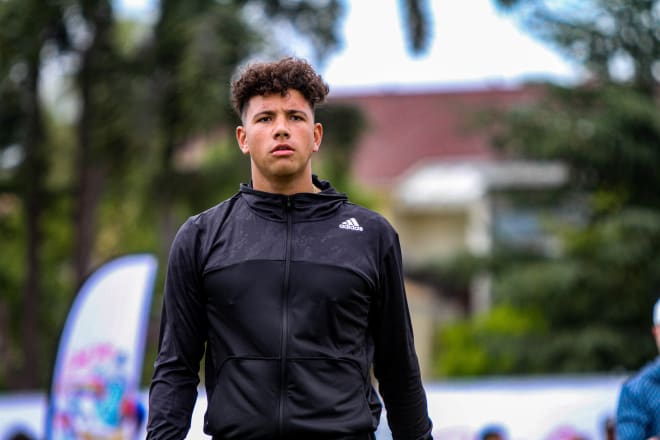 There was movement at the top of the quarterback rankings in this update to the 2024 Rivals250, and it's Dylan Raiola now sitting in the top spot. The Chandler, Ariz., star climbed into the five-star ranks as well.
Raiola has exceptional arm talent and his game film from last season at Burleson, Texas, is outstanding. The Ohio State commit looks so natural throwing the ball from inside and outside the pocket and has no issues adjusting his arm angle to get the ball to his receiver. Raiola can just flick his wrist and launch the ball deep down the field.
It will be interesting watching Raiola compete this fall, his first at Chandler High School, to see how his game has improved and how he meshes with his new teammates on the field. Raiola, the No. 3 prospect in the Rivals250, sits just ahead of five-stars Julian Sayin and Jadyn Davis, Nos. 4 and 5 overall in the Rivals250.
*****
TWO TEAMS TO WATCH: Georgia and Michigan 
The Bulldogs are recovering from missing out on Arch Manning, so their 2023 quarterback strategy going forward is still coming into focus. It's not a sure thing that Georgia even takes a quarterback in 2023 or it could even turn to the transfer portal for another quarterback. Regardless, the 2024 class is setting up nicely for Georgia, and there are some big names on the table.
Five-star Julian Sayin seems like the most likely option right now, but five-star Jadyn Davis has a ton of connections to the program and even grew up in the Peach State. Rivals250 quarterback Kamari McClellan is another name to watch for the Bulldogs, depending how this fall goes.
Michigan fans are also still bouncing back from seeing legendary head coach Lloyd Carr's grandson, CJ Carr, commit to Notre Dame earlier this month. But the Wolverines are in great position with Davis. His visit to Michigan this month couldn't have gone better. Keep an eye on Rivals250 quarterback Michael Van Buren for Michigan, too. The Michigan program is very familiar with his school, Baltimore St. Frances, and things could move quickly if the Wolverines decide he's their man in the 2024 class.
*****
THREE PLAYERS IN THE SPOTLIGHT: Julian Sayin, Jadyn Davis and Dante Reno
Sayin: Texas was a major contender for Sayin but the Longhorns don't appear to be a likely landing spot for him now that Manning is on board in the 2023 class. Georgia could be in the driver's seat, but Michigan, Texas, LSU and Alabama are all involved. The Carlsbad, Calif., star took visits to all five of these schools this spring and they all will be in the running for his commitment as his recruitment progresses. It wouldn't be surprising to see his recruitment speed up now that Manning has made his decision known.
Davis: We could also see Davis' recruitment become a bit more clear with Manning now off the board. Michigan really helped itself during his visit to Ann Arbor this month, but Clemson will be heavily involved. Georgia is a team to watch for because of Davis' ties to the state. LSU, Alabama, Tennessee, North Carolina, Penn State and Florida State are a few others to keep in mind as his recruitment unfolds.
Reno: A few schools are in good position with Reno heading into what could be a pivotal time in his recruitment. Wake Forest, North Carolina, Virginia and South Carolina are high on Reno's list of options, but after a three-day trip to Columbia earlier this month, the Gamecocks should feel good about where they stand. Reno, the son of Yale head football coach Tony Reno, has built strong relationships with the staff at South Carolina, but the next steps in his recruitment remain unclear. It wouldn't be surprising to see Reno announce his commitment before the end of July, but a specific announcement date has not been set.