Rivals Rankings Week: Meet the new 2024 five-stars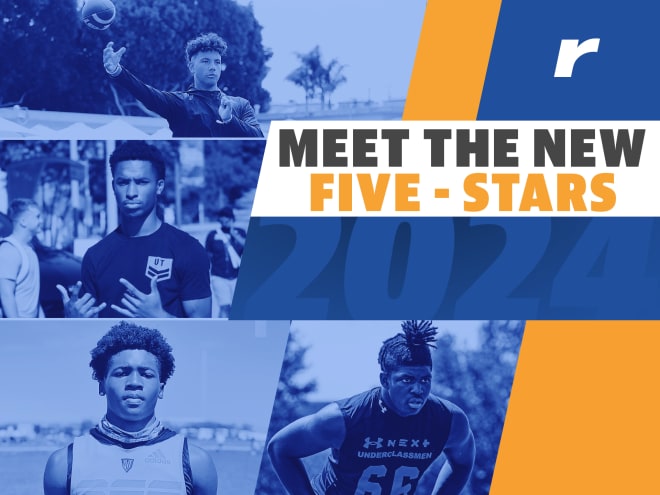 Rivals Rankings Week for the 2024 class kicked off on Wednesday and the four new five-star prospects were unveiled. Take a closer look at each of the players that was elevated to elite status. The Rivals250 for 2024 will be released on Thursday.
*****
RIVALS RANKINGS WEEK
Tuesday: Who should be No. 1?
Wednesday: Five-Star Countdown | Meet the new five-stars
Thursday: New Rivals250 unveiled | Biggest risers | Position-by-position glance
Friday: Offensive position rankings released
Saturday: Defensive position rankings released
Sunday: State rankings released
CLASS OF 2023 RANKINGS: Rivals250 | Team | Position | State
*****
QB DYLAN RAIOLA, No. 3 overall
"Comparisons like this can be so overdone sometimes I even hesitate to make one here, but if there is a high school quarterback who plays and handles himself - heck, they even look somewhat similar - like Patrick Mahomes, then it's Dylan Raiola. He's the same height and about the same size already and he has an absolute cannon for an arm.
"Raiola threw a pass 72 yards during the long-ball contest at the Steve Clarkson QB Retreat, and he almost prefers to throw off-platform and at different arm angles. He plays with superior confidence that he can get the job done.
"The new No. 1 quarterback in the 2024 class, who is already committed to Ohio State, put up huge numbers at Burleson, Texas, as a sophomore and he's now playing at Chandler, Ariz., where even better things are expected." - Adam Gorney, national recruiting director
*****
WR MICAH HUDSON, No. 7 overall
"Micah Hudson, a Lake Belton (Texas) wide receiver, is drawing early comparisons to fellow Central Texas native Garrett Wilson, and when you see him live and on film it's easy to see why.
"Hudson's athleticism and vertical ability is off the charts, with his body control in the air being his most elite trait. He uses every inch of the field – both in the open field as a ball carrier and as a route runner on the boundaries – to maximize his potential as an offensive playmaker. While his verified speed won't blow you away, he more than makes up for it with his high Power Five-level athleticism and his elite route-running ability that allows him to create separation from the best defensive backs in his region.
"When identifying offensive playmakers in the state of Texas in the 2024 class, you'll be hard-pressed to find any as consistent and daunting as Hudson, who did nothing but fill up stat sheets during the fall and has showed out on big camp stages this offseason.
"It's still early in his recruitment, but keep an eye on Texas A&M, Texas, Oklahoma, Michigan, Notre Dame, Oregon and Ohio State as the process unfolds." - Nick Harris, national recruiting analyst
*****
WR JEREMIAH SMITH, No. 8 overall
"Jeremiah Smith plays on the same South Florida Express team as 2023 five-star receivers Carnell Tate, Brandon Inniss and Hykeem Williams, but he's not lost in the shuffle at all. If anything, the Hollywood (Fla.) Chaminade Madonna prospect, who is looking at Ohio State, Oklahoma, Miami, Alabama and many others, fits perfectly with that group, even though he's a class behind all of them.
"At the OT7 event in Las Vegas a couple weeks ago, it was Smith who stood out most among that group with Tate and Inniss on the field, as he was the main deep threat early in that tournament. He has great size, excellent hands and surprising speed for a bigger receiver and a quiet, competitive drive that makes him special." - Gorney
*****
LB TJ CAPERS, No. 9 overall
"TJ Capers is the top-rated 2024 linebacker in the nation for good reason. He's a thumper in the box. Playing against spread teams in Florida, Capers gets challenged in more ways than one against the pass and run, and he consistently rises to the challenge.
"A true outside backer for Miami's Columbus High School, Capers sniffs out running plays working through the interior seven for the tackle. Accustomed to teams running away from him, his pursuit to the ball is excellent. Against the pass, his zone coverage is where it needs to be.
"College programs have already extended 20-plus scholarships to Capers, and more are coming. The list of schools is elite and spans the country from USC and Texas A&M to Penn State and Georgia." - Ryan Wright, national recruiting analyst