Rivals Rankings Week: Breaking down the 2024 ATHs
1. Top prospect at athlete: Quinton Martin  
Martin was a stat monster during the 2021 season despite splitting snaps with senior Devin Whitlock. The four-star prospect was Belle Vernon's second-leading rusher carrying the ball 80 times for 902 yards with 12 scores while hauling in 10 passes for 164 yards. When the field was flipped, Martin tacked on 18 tackles to his resume. His production as a kick returner stands out taking just six kicks back for 229 yards, putting 16 total touchdowns on the big board.
Martin's recruitment got a big spike in January with new offers from Texas, Kentucky, Michigan, Cincinnati and Boston College.
*****
2. Programs to watch: Texas and USC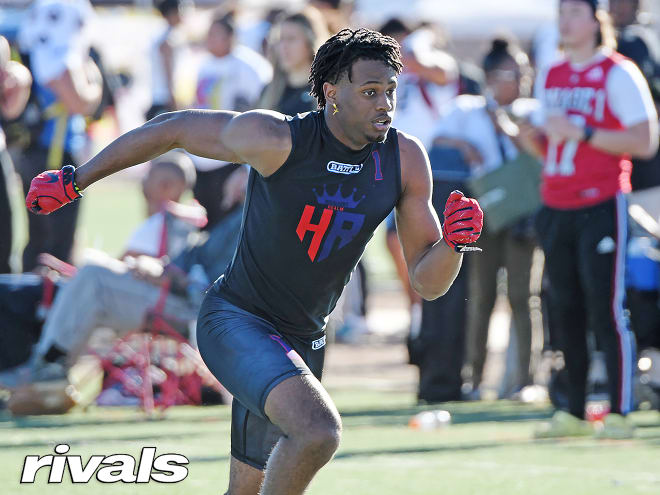 The Longhorns already have a verbal pledge from Hampton with two other in-state four-star athletes out there among the top 10: Jamyri Cauley and Derrick McFall. Cauley is lights on at receiver with 20-plus offers, while McFall is a do-all on offense. Both Cauley and McFall hold Texas offers.
It would be an understatement to say Lincoln Riley needs to keep four-stars Ryan Pellum and Jordan Anderson at USC. Pellum already holds 40 offers as he has been on superstar status since his freshman season. His speed is game changing as a receiver and return specialist. Anderson has spent the early part of his high school and 7-on-7 career catching passes from five-star 2023 QB Nico Iamaleava. In a turn of events, Anderson and Pellum will be suiting up together at Long Beach's Millikan High School this fall.
*****
3. Three prospects to watch: Tavoy Feagin, Jaylen Mbakwe, Joseph Stone
Tampa Bay's Carrollwood Day has a tremendous amount of skill talent in the underclassmen ranks, and Feagin is one of the standouts. Feagin will make his mark in college as a corner supported by the 40-plus offers handed over. With all the talent the Patriots have on their roster, they don't need Feagin at receiver or as a return specialist, but he could easily do it. Feagin's stock on the field will continue to rise.
There is excitement in the air when Mbakwe is on the field. The four-star contributed to the Cougars on defense but was something extra special hauling in passes and taking back punts and kicks. The speed, field vision and cuts break 6A Alabama ankles every Friday night. Mbakwe is working to punch his ticket to any college football program of his choosing. Hovering around the 20-offer milestone, he would be a game changer for any college program.
You know you are a special talent when the Grayson coaches trust you as a sophomore taking on 7A Georgia defenses. The goal with Stone is to just get the ball into his hands. Playing quarterback, receiver or rushing out of the backfield, Stone's speed moved the chains downfield game after game accounting for 11 offensive scores. At least one program from every Power Five conference has given Stone a scholarship opportunity, with programs such as Utah, Texas, Oregon, Penn State, Florida, Georgia, Miami and Arkansas seeking his services.