Rivals Rankings Week: Countdown of 2024 five-stars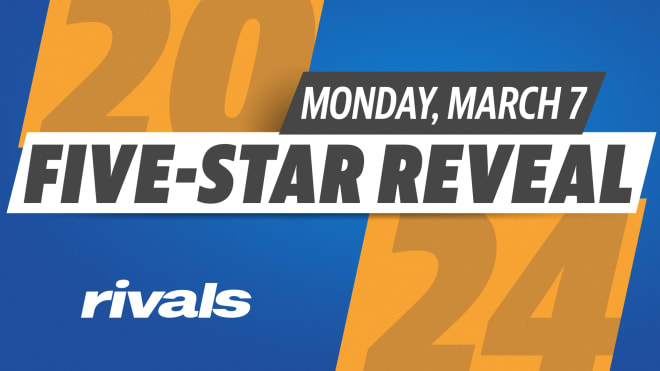 We unveil our first Rivals250 for the 2024 class this week, and start off Monday by counting down the six five-stars in the class. Check back throughout the day to learn who earned five-star status and see Rivals national recruiting director Adam Gorney's take on each.
The inaugural Rivals250 for the 2024 class will be released on Tuesday.
*****
RIVALS RANKINGS WEEK
Previews: Who should be No. 1 in the 2024 Rivals250? | Who should be the top QB?
Monday: Five-Star Countdown | Meet the new five-stars
Tuesday: Rivals250 released | Analysts debate toughest decisions | Gorney's thoughts on each position
Wednesday: Offensive position rankings released | The battle for No. 1 RB | Who is the next five-star QB?
Thursday: Defensive position rankings released | Who is the next five-star D-lineman? | Underrated DBs
Friday: State rankings released
*****
1. DE Colin Simmons
Gorney's Take: The No. 1 player in the 2024 class is so dominant off the edge for his Duncanville team that quarterbacks can hardly get into their drops and Simmons is there to cause problems. He is phenomenal using speed off the edge to beat offensive tackles but he can also bull-rush through them or use violent hands to get inside.
Simmons lives in the backfield either sacking the quarterback, creating incredible pressure or rushing the offense into something it doesn't want to do.
Arkansas, Texas, Texas A&M, Baylor, Oklahoma State and others are involved early.
*****
2. CB Desmond Ricks
Gorney's Take: Desmond Ricks has run track and it shows when he plays cornerback because his length is a standout feature of his game. He's getting more physical and he glides when he runs downfield with receivers. He's long, athletic, competitive and wants to prove he's the best each time he's on the field.
The Bradenton (Fla.) IMG Academy standout is originally from Virginia and now playing in the Southeast. He likes Florida a lot and is also looking at Georgia, Alabama, Ohio State and others
*****
3. WR Ryan Wingo
Gorney's Take: Ryan Wingo has all the tools of a special wide receiver as he lines up in the slot, lines up outside, even lines up in the backfield sometimes as his team looks for every way possible to get the ball in his hands.
The St. Louis (Mo.) University standout has a big catch radius, great hands and better-than-average speed to separate himself from defensive backs, plus great balance down the sideline.
His brother, Ronnie, played at Arkansas and then Texas A&M is definitely up there with Missouri, Notre Dame, Oregon and others involved early on.
*****
4. QB Jadyn Davis
Gorney's Take: Jadyn Davis can do it all well. The Charlotte (N.C.) Providence Day standout loves to sit in the pocket and dissect defenses with a strong and accurate arm. He's comfortable not only making all the throws but they look like laser shots every time he drops back and throws it.
What makes Davis extra special is that he also can throw well on the run whether to his right or left and the ball placement is still perfect.
The list remains long for Davis with Alabama, Georgia, Clemson, South Carolina, Ohio State, Florida State, North Carolina and others involved.
*****
5. QB Julian Sayin
Gorney's Take: There might not be a more technically-proficient quarterback in the country regardless of class. Even if Julian Sayin isn't going to blow anyone away with his size or dual-threat capabilities, the Carlsbad, Calif., standout has phenomenal mechanics, throws a clean ball each time and said in a recent interview that his aim is "deadly" precision" with each throw.
Being a tactician at this early stage is impressive and it's why he's now a five-star quarterback. Notre Dame, Georgia, Texas and Florida currently stand out.
*****
6. OT Daniel Calhoun
Gorney's Take: Daniel Calhoun has played both tackle spots in the past and the result is the same – nobody gets around him. The Roswell (Ga.) Centennial product dominates physically and with surprisingly light feet for someone his size.
It's hard to believe the 6-foot-5, 330-pound offensive lineman is just a sophomore in high school but it's true. With a mix of great technique, hands, physical and athletic ability, Calhoun will be highly coveted in the 2024 class.
Clemson, Georgia, Alabama, Auburn, Florida and Ohio State have all been mentioned.