Rivals Rankings Week: Who should be the top-ranked 2024 QB?
With a major update to the 2024 class rankings coming this week, one of the positions that's always in the spotlight is quarterback. There are a few very good quarterbacks in this class but it's a tough call on who should be No. 1.
In today's Making the Case, the team of Rivals analysts all make an argument for the quarterback that they should should rank the highest:
COSGROVE'S VIEW: DJ Lagway
I am going with DJ Lagway as the top quarterback in the 2024 class and the choice came down to Lagway's upside and dual-threat capabilities. At 6-foot-3 and 215 pounds Lagway has the prototypical size of a pro-style QB which definitely jumps out considering he is a true dual-threat QB. A running quarterback is the hardest thing to prepare for schematically as a defensive coordinator. The defense has an 11 to 10 player advantage when a quarterback is not a running threat. When the quarterback is a running threat, the defense not only loses its player advantage but there is also the additional threat of a perfect play call going bad due to the quarterback's ability to elude sacks and gain yardage on plays that would otherwise be dead due to great coverage. Lagway is a little raw mechanically at this stage of his career, but at the same time he shows the ability to make every level of throw and flashes great ball placement, especially on the back shoulder throws. He's already as good as they come at the position as a runner, and with continued development as a passer, I project him to be as complete of a quarterback there is in the country. Texas A&M, LSU, Texas and Alabama are considered early front-runners in Lagway's recruitment.
*****  
FRIEDMAN'S VIEW: Jadyn Davis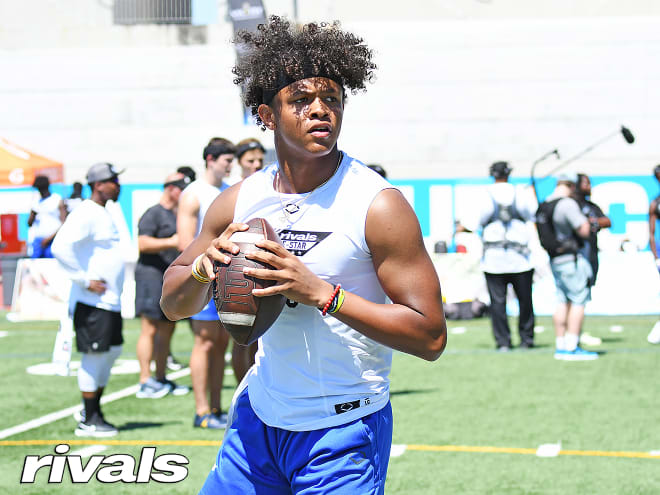 I've been a big Jadyn Davis proponent but Julian Sayin really impressed me this past weekend at the Rivals Camp Series in Los Angeles last weekend. Davis has an "it factor" about him and has really wowed as a thrower but Sayin is making this a difficult decision. He is so consistent with his mechanics, throwing technique, and overall accuracy. For now I'm going with Davis as the No. 1 quarterback but it's a very close call.
*****  
GORNEY'S VIEW: Julian Sayin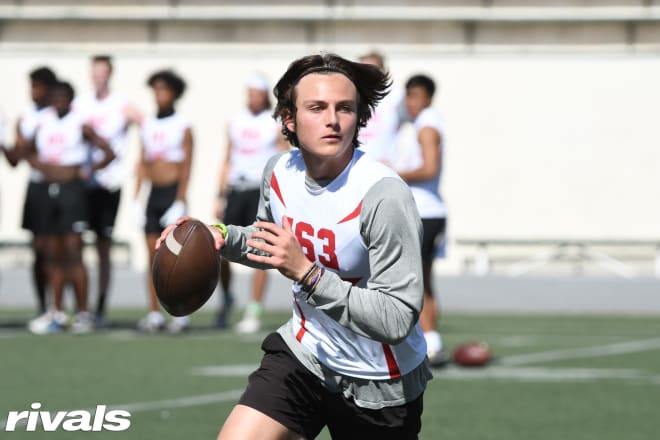 I've seen Jadyn Davis. I like him very much. He's a very talented kid with a really bright future and he has all the skills to possibly finish No. 1 overall in this class. But I will take Julian Sayin because there is nobody in the country as technically sound and efficient as the Carlsbad, Calif., quarterback. Sayin was lights out at the Rivals Camp Series stop in Los Angeles this past weekend and it's not because he makes all the flashy throws or is freakishly athletic. It's because Sayin is on-point with every single throw, a perfect spiral, thrown exactly where it needs to be and he looks like a robot out there who does not make any mistakes at all. It's really impressive to see and that's why I have him ahead of others at this point. Notre Dame, Georgia, Texas and Florida have jumped out in his recruitment.
*****
WRIGHT'S VIEW: Jadyn Davis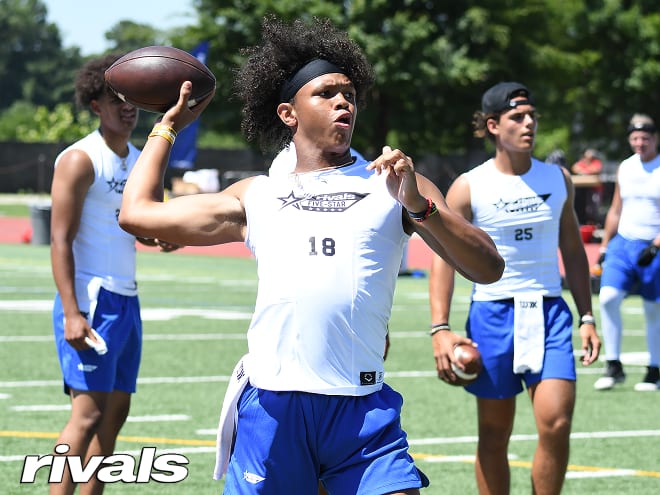 Picking between Jadyn Davis and Julian Sayin is not easy, both are fantastic, but the early nod goes to Davis. There is still a lot of development left in Davis' game, but the foundation for great collegiate success is there.
Perhaps the most impressive part of Davis' game is how he reads the field. Capable of running, the South Carolina native does what quarterbacks are supposed to do and that is extend the play outside the pocket allowing his receivers an opportunity to get open. If teams try to flush him out to the right, he throws on the run like an MLB shortstop gunning a runner down at first. With the spotlight on him, seeing Davis at national camps this offseason will give an even better gauge of his evolution as a gunslinger.