Rivals Rankings Week: Breaking down the 2024 offensive linemen
1. The top player on OL: Daniel Calhoun 
The chatter on Daniel Calhoun is not hype, it is gospel. The Centennial (Ga.) offensive tackle is the top-rated offensive lineman in the Rivals250 because he has all the tools. Listed at 6 foot-6 and 330 pounds, Calhoun is that prototypical offensive tackle desired at the collegiate and NFL level.
His balance, bend and quick feet are impressive, showing ability beyond his grade classification. A scary thought for defensive linemen: His skill and strength will only improve. Calhoun's 30 offers support ranking Calhoun a five-star prospect.
Georgia and Florida State hit the recruiting trail on him early, welcoming him on campus the summer before his sophomore year, and Alabama has also hosted him. The fight for Calhoun will be fierce among all the top programs.
*****
2.  Two teams to watch: Penn State and Georgia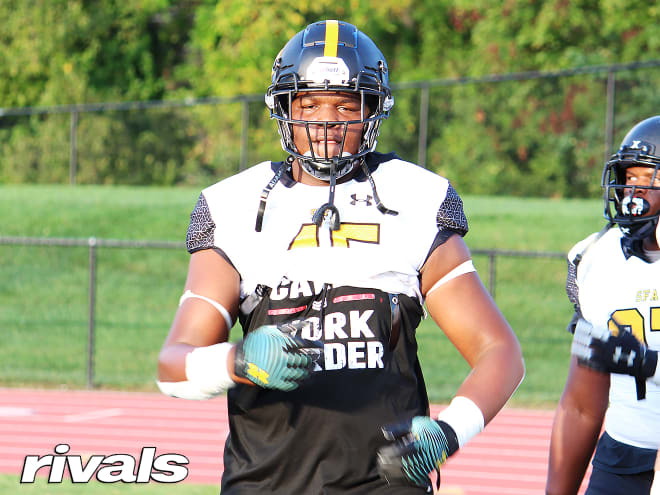 Penn State already has Cooper Cousins' commitment and could make headway with regional prospects in Baltimore tackle Cam'Ron Warren, D.C. guard Jordan Seaton and Massachusetts tackle Liam Andrews. Penn State signed four 2022 linemen, including two four-stars in J.B. Nelson and Drew Shelton. If the Nittany Lions can win the recruiting battle in the trenches, that will translate within the Big Ten.
The Bulldogs have Tampa Bay guard Eddy Pierre-Louis targeted, along with in-state tackles Daniel Calhoun and Barry Walker. If recruiting under head coach Kirby Smart has shown anything, it is that Georgia puts a priority on its offensive linemen. The Bulldogs have that extra something going for them with the national championship trophy in the display case.
*****
3. Three names to watch: Kam Pringle, Eddy Pierre-Louis and Waltclaire Flynn 
Within reach of Calhoun's top spot are guard Jordan Seaton (19) and tackles Kam Pringle (15) and Isendre Ahfua (20).
Watch out for Pringle. If you've never seen Pringle in action, this is all you need to know: There's not a pancake he doesn't like. The South Carolina talent has the size and mentality to be the best. His technique is excellent with great pad level. After the camp season, a case could be made for Pringle getting into the five-star club.
Another player that could make a big jump after the camp season is Eddy Pierre-Louis. Pierre-Louis is a tone-setter at guard. The Tampa (Fla.) Catholic recruit doesn't lose reps and finishes with authority. Slotted at No. 185, his talents and physical abilities rival those ahead of him in the rankings.
At center, Waltclaire Flynn is in a class all by himself, literally. The Grayson (Ga.) interior lineman has no other four-star challengers at center. Flynn's status as a top lineman was further cemented at the Under Armour Atlanta camp two weeks ago as he shut down top defensive tackles rep after rep. There are challengers out there, but they will have a tough fight ahead knocking off Flynn.
Flynn holds an offer from in-state power Georgia with Auburn, LSU, Miami, Ole Miss, Tennessee and Arkansas also in the mix.