Recruiting Rumor Mill: Recruiting heating up as spring slows down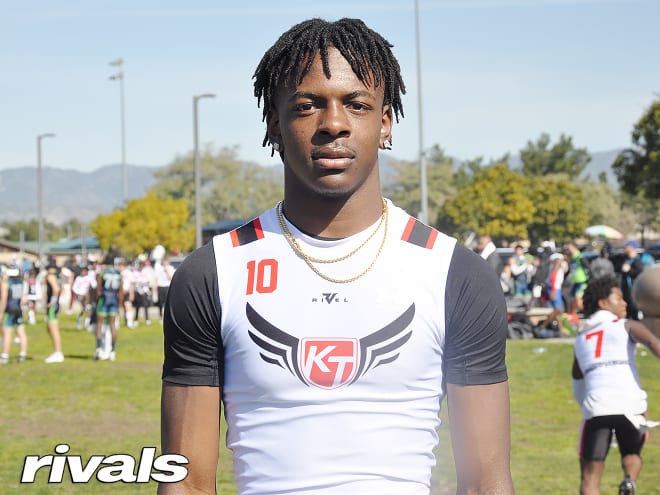 Even with spring games slowing down, there are many other visits happening across the country and plenty of rumors and news as Rivals national recruiting director Adam Gorney puts it together in this week's Recruiting Rumor Mill:
It might end up being a post-visit high - or not - but the chatter now is that LSU is in the driver's seat when it comes to Bates' recruitment. The Orlando (Fla.) Edgewater prospect who will play defensive back in college had an outstanding visit to Baton Rouge recently and he hit it off with coach Brian Kelly and Robert Steeples. The list remains long with Alabama, Ohio State, Tennessee, Florida, Florida State, Texas A&M and others involved but watch out for the Tigers here especially after that visit.
*****
Oregon is considered the major front-runner for Brooks and his experience at the Ducks' spring game might have only pushed them higher as he loved the fan turnout and interaction plus he got to meet a lot of the coaches for the first time. USC, Oregon and Washington are the top three for the three-star offensive lineman from Clackamas, Ore., but the Ducks could have the edge right now.
*****  
There have been a lot of changes recently as Calimon backed off his Colorado pledge and then for his senior season he's transferred from Lawndale (Calif.) Leuzinger to Davie (Fla.) Western. The reason for the move was so Calimon could compete against talent across the Southeast and get more exposure as Kansas, Washington State and FAU have shown the most interest but as spring practice picks up for him he's expecting a lot more offers.
*****  
The high three-star defensive lineman from Phenix City (Ala.) Central has been committed to Utah since early December but there is going to be significant competition to keep his commitment. Alabama, Texas and Florida have been pushing the hardest for Faga in recent weeks and the only visit he has planned so far is to Austin on June 16-18 but others are expected before signing day.
*****  
A recent trip to Oregon made a major impression on Gasper both on and off the field as he loved the small-town feel but the big-town football support for the Ducks as the community and college students embraced him as he walked around the campus. All the facilities are great, of course, and the message from coach Dan Lanning and his staff made an impression too - that they're trying to add on to Oregon's legacy by building a team that can compete with anybody in the country. The Ducks left a big impression but the 2025 athlete just got a Wisconsin offer and more should come soon.
*****  
If the 2025 defensive end is going to leave the South then Oregon could be a serious contender for Gibson because he had an "amazing" weekend there and "loved everything about" the program especially the coaching staff and the uptempo style of play. But it was an early visit to Eugene from the Warner Robins, Ga., standout as Florida, Florida State and North Carolina are also pushing extremely hard early in his recruitment.
*****  
A new offer from Georgia is definitely going to play a massive role in Gregory's early recruitment since the Bulldogs are the back-to-back national champs, it was the only in-state offer for him (Georgia Tech has since offered) and growing up that was definitely one of the schools to watch. But LSU has always been one of the dream schools since the Douglasville (Ga.) Douglas County 2026 standout followed Odell Beckham Jr. closely and many other SEC programs will make a play for him.
*****  
The Rabun Gap (Ga.) Rabun Gap Nacoochee receiver has not narrowed his list to a top five yet although he's working on it but three schools have particularly caught his attention on how hard they're recruiting him at this point. Wake Forest, Florida and Georgia Tech would be three to watch for Horne, who caught 47 passes for 772 yards and seven touchdowns last season.
*****  
One of the top safeties in the 2025 class, Hudson had a great time at Oregon recently building his bond with the coaching staff and he especially hit it off with defensive coordinator Tosh Lupoi and position coach Chris Hampton. The Ducks are definitely going to be playing a major role in Hudson's recruitment with USC possibly having the slight edge right now and Miami, Ohio State, Michigan, Penn State, Cal and Georgia also up there.
*****  
One of the top defensive ends in the Southeast who doesn't get enough attention is Johnson but there are some major SEC programs pursuing him that he likes a whole lot. There is definitely a regional feel to his recruitment as Georgia, Tennessee, LSU, Mississippi State and Ole Miss stand out the most for the Atlanta (Ga.) Mays standout and it wouldn't be a surprise if the Dawgs and the Vols have the biggest edge right now.
*****  
There has been a few changes at the top for the four-star defensive end from Conroe (Texas) Oak Ridge as Oklahoma, Texas Tech, Georgia, Oregon, Texas, TCU, Florida State and Texas A&M now make up his top group coming off a trip to Eugene. The Sooners could be very difficult to beat here but a recent trip to Oregon impressed Jonah-Ajonye as the facilities were great but the message from the coaches - that he was needed on the team not because of his abilities but because of the type of person he is - stood out most.
*****  
Things have gotten really interesting with Lindsey because some friends who are also in-state prospects including Charleston Collins have committed to Arkansas recently so it has the four-star defensive end from Bryant, Ark., thinking long and hard. Notre Dame has been a school pegged to him for such a long time, he had an outstanding trip to Oregon where the staff and their message about developing him to his max potential especially stood out as well. But the rumor going around is that Texas A&M has the edge right now as the Aggies keep pushing for Lindsey and could end up landing him.
*****  
Oklahoma is going to play a major role in Roberts' recruitment but the 2025 four-star tight end from Washington, Okla., is planning to see Georgia and Clemson in early June and then possibly schedule other visits later that month. The Sooners and some other Big 12 schools have already left an impression but a new offer from Oregon could be something to watch and those two big trips in early June could make his early recruitment more interesting.
*****  
With his commitment expected mid-week, a new offer from Notre Dame definitely has the Midwest City (Okla.) Carl Albert prospect who's expected to play running back in college interested especially since DeLand McCullough offered him and Robinson knows how he's developed players at that position over the years. The Irish have definitely made this more interesting but the word is that Oklahoma is "still up there" in his recruitment and it would be a surprise if the Sooners don't land him.
*****  
The five-star safety has been committed to Georgia since early January but recent visits to Ohio State and Alabama before Woodyard headed to Athens for A-Day made things a little curious as to where his recruitment was headed. Well, the Bellflower (Calif.) St. John Bosco has now scheduled official visits to Georgia (June 2-5), Ohio State (June 16-18) and Alabama (June 23-25) which once again opens up the possibility of a flip. The chatter I'm hearing is that Crimson Tide assistant Holmon Wiggins has a lot of connections in this and that Alabama has told Woodyard they're not going to stop recruiting him until the end. His last official is scheduled for Tuscaloosa as well.
*****  
USC could be a big-time challenge here since Wyatt has shown a lot of interest in the Trojans and they've always done well with top Santa Ana (Calif.) Mater Dei teams but Oregon did everything possible to impress the 2025 outside linebacker/edge during its spring game. From coach Dan Lanning to Tosh Lupoi to Rashad Wadood and other coaches up and down the list plus the family-oriented feel there, Wyatt was blown away and the word now is that the Ducks will be at or near the top of his list moving forward.
*****  
The family culture around Oregon stood out to the 2025 cornerback now at Corona (Calif.) Centennial but maybe what made the biggest impression was the pregame meeting with the defensive backs coaches where they preached accountability. Zamorano's family was also in Eugene so that was an added bonus as his recruitment picks up with Penn State, Oregon, USC and Washington as the four early standouts.