RCS Charlotte: How Rivals camp, other events will impact rankings
*****
Trending up  
The Rivals camps give us an opportunity to get an up-close look at prospects that are highly coveted players in the eyes of college coaches. After seeing the action on Sunday, a couple of players are likely to rise in the rankings if they continue to impress throughout the rest of the spring.
Daylan Smothers showed he has an elite skill set, and while he is already in the Rivals250 he looks like he could be headed for a higher spot. Three-star defensive linemen Jamaal Jarrett and Xzavier McLeod were also extremely impressive and their development over the last year or two is obvious just by looking at pictures. Their improved physical measurables, overall athleticism and ever-improving techniques are just a few of the things driving their positive rankings momentum.
*****
Reviewing the top two 2024 QBs
We're not even midway through the Rivals Camp Series and already the two top quarterbacks in the 2024 class have come out to compete. Five-star Jadyn Davis was at the Charlotte camp this past weekend and Julian Sayin, also a five-star, worked out at the Los Angeles camp in late February. The race for the top spot in the quarterback rankings will be a tight one in the 2024 class. Davis and Sayin sit at Nos. 4 and 5 in the Rivals250 and - after seeing both in-person and looking back at the film - they have the slimmest of margins between them.
Sayin is so consistent with his mechanics and accuracy and Davis is too, but Davis looked just slightly more natural and fluid during drills. Both were very impressive during 1-on-1s as well, throwing catchable passes on a variety of routes with different receivers most of the time.
*****
2024 Rivals250 CB Asaad Brown shows what he's got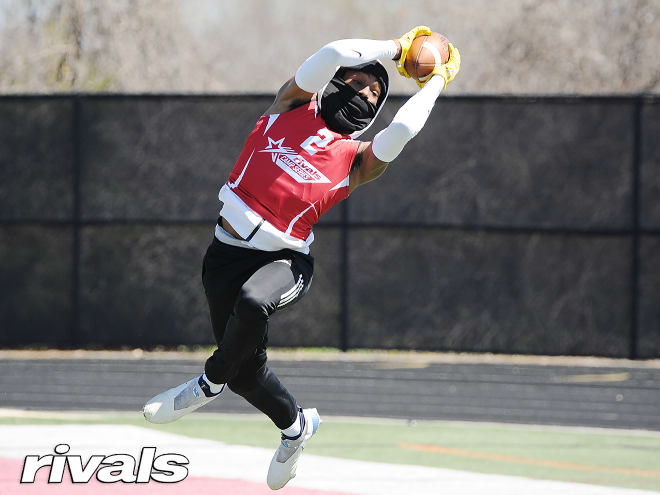 Asaad Brown has offers from all over the country and has been one of the bigger names in the 2024 class to date. Expectations were high for the Rivals250 defensive back, and he knew it. While Brown didn't make many "wow" plays, he was very solid and won more reps than he lost during 1-on1s.
He is very physical with receivers and uses his hands well to disrupt the timing between the receiver and the quarterback. Still, some bigger, stronger receivers can give him some problems. Right now Brown sits at No. 222 in the Rivals250, and how he does throughout the rest of the spring will help determine whether that should change.
*****
Three potential stars in 2025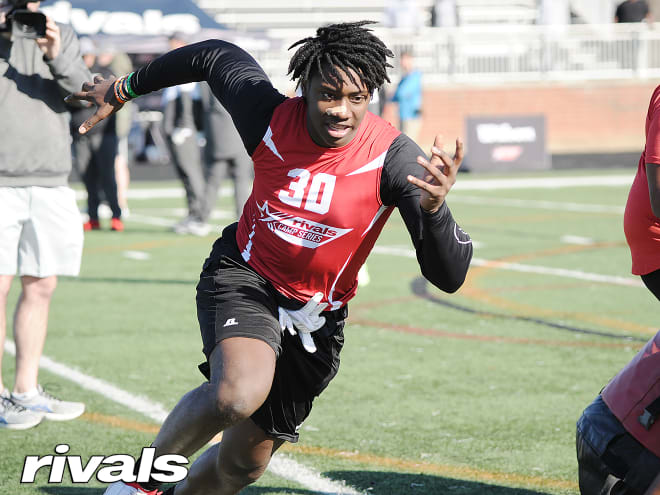 Sunday was our first opportunity to see a trio of 2025 prospects that are on track to be huge names in their recruiting cycle. Ari Watford was one of the three or four best defensive linemen, and he has all the measurables to attract college coaches.
David Sanders Jr. has the potential to be a multiyear starter at left tackle for a major Power Five school. At 6-foot-6 and 235 pounds, his technique and athleticism for a player that young is really impressive. His development over the years from a physical standpoint should be interesting to watch.
Gus Ritchey projects as a versatile defensive lineman and his ceiling is sky high. He plays with the strength and aggressiveness of a much older player. Keep an eye on these three as the 2025 rankings cycle gets underway later this year.
*****
A loaded weekend in Ohio  
We knew 2024 Rivals250 tight end Tayvion Galloway had a great frame and was one of few 2024 tight ends capable of playing at a high level both as an in-line guy or flexed out. But, until seeing him live at a camp in Ohio this past weekend we didn't know how elite his combination of size and athleticism truly was. At 6-foot-6 and pushing 220 pounds, Galloway is an elite athlete at the position and has every intangible to match. He is physical, runs crisp routes, has great ball-skills and is as good or better than any 2024 TE that we have seen in person during the past year.
Nicholas Marsh also impressed on the offensive side of the ball. He has a very respectable ranking at No. 179 in the 2024 Rivals250, after evaluating his performance this past weekend it's hard to imagine there being 29 receivers in this class that are better than him. Marsh checks every box when it comes to what you want out of a young and elite receiver prospect. When you combine the physical gifts with his phenomenal ball skills, fluid route running, great body control and ability to beat some of the nation's elite corners in 1-on-1 situations you begin to realize how good he is and how much upside he has.
Defensive end Brandon Davis-Swain, one of the 100 initial four-stars in the 2024 class and now No. 190 in the Rivals250, is a true edge rusher in every sense of the word. His first step is elite, he has plenty of tools in his pass rush arsenal and there are few offensive tackles in the country who have the ability to block him when isolated on the edge. The best part about Davis-Swain is that he is still growing and developing. He will continue to add mass to his already solid frame, and when fully developed he has a chance to be a nightmare for opposing offensive lineman. Look for Davis-Swain to make an upward move in our next Rivals250 release.
The same goes for defensive back recruit Jamir Benjamin. He did not debut in our 2024 Rivals250, but after seeing his performance live this past weekend he will certainly be considered. He has above-average size for a 2024 corner, is extremely fluid in all of his movements, can come out of his breaks with the best of them and is phenomenal in man coverage. Benjamin plays with an edge and has the mindset of being the best player on the field when he steps on it. He is a mid three-star right now, but with continued performances like the one we saw at last Sunday's camp he will definitely be in the four-star and Rivals250 conversation.
*****