Rivals Camp Series Charlotte: Prospects that are now on the radar
FORT MILL, S.C. - One of the most valuable aspects of the Rivals Camp Series is finding under-the-radar and younger prospects who have yet to emerge but made a big statement on the field.
Here is a look at some of those prospects from Sunday's camp in Charlotte.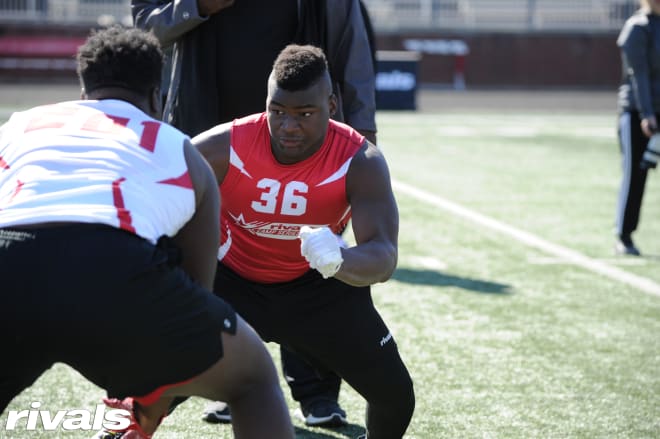 It feels a little weird to say it since he is such a young prospect but Carrington was one of the biggest highlights from the camp on Sunday. The 6-foot-2, 252-pound defensive lineman already boasts an impressive offer sheet but it was hard to believe the class of 2026 prospect was already so good this early in his development process. Carrington bullied some of the upperclassmen on the offensive line and didn't have much trouble getting into the backfield. Expectations are high for Carrington as he moves into the high school ranks.
*****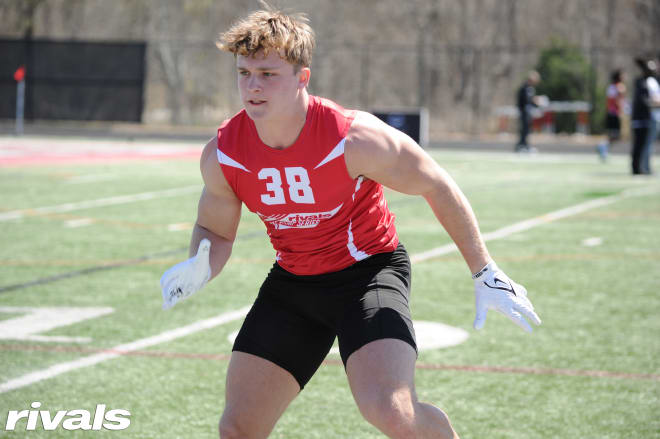 Now in the spring before his senior season, Cutter has just one Power Five offer but about 10 others from Group of Five teams. The inside linebacker isn't especially big but he is very strong and doesn't carry much fat on his 6-foot, 212-pound frame. He warrants a closer look by Power Five teams after his MVP performance on Sunday. Cutter was flying around the field and did a great job contesting catches throughout the day. After racking up more than 150 tackles and 15 tackles for a loss last season along with everything he showed on Sunday, expect a lot more attention to come his way.
*****  
At more than 6-foot-1, 217-pounds, Gant moved really well in open space. He has a great wingspan for his size and it really helped him when it came to 1-on-1s. There isn't much going on in his recruitment but if he continues to have a lot of success this offseason there's a chance he could see a real uptick in his attention from college coaches.
*****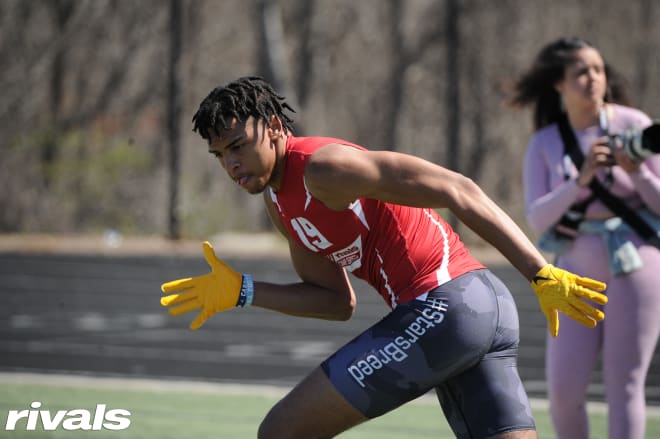 Harris is an exciting prospect with the height and length to give any receiver real problems. Quarterbacks had a really difficult time throwing against Harris because his long arms helped him knock down passes other cornerbacks may not have been able to reach. His short area for quickness also impressed during the camp on Sunday. Just a 2024 prospect, his recruitment has yet to really kick off.
*****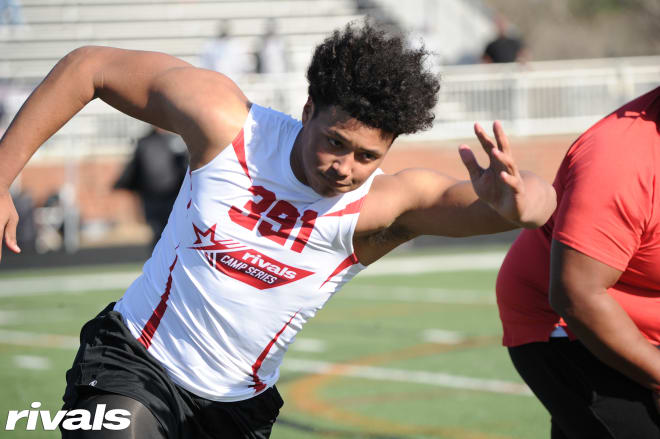 Hobbs really helped himself by coming out to the camp on Sunday. The 2023 prospect already has double-digit offers but only two of them come from Power Five programs and that number is far too low for what we saw out of him. Hobbs has outstanding size, plenty of strength, and a very high ceiling. Physically, he checks all the boxes to be able to play at a high-level Power Five program. He's a little raw technically but the athleticism is through the roof. He just helped his high school win a state championship in basketball and scored a double-double in the finals.
*****  
Kelly was all over the place on Sunday, matching up with the best receivers he could on either side of the field. He played with a lot of bounce and was almost always within an arm's length of the receiver. There were many times on Sunday when Kelly forced quarterbacks into difficult throws because he was in good position. There are already a couple of programs that have offered Kelly, including Louisville, but the 2023 prospect is making the rounds this offseason so there's a chance his recruitment picks up quickly.
*****  
Palmer is a really quick back that proved to be too much for the linebackers to contain. He won the majority of his 1-on-1 reps using various fakes and route running techniques to create separation. Palmer has relatively good hands and doesn't have much of a problem hauling in passes when a defender is in the area. Just finishing up his freshman year, Palmer already holds an offer from Maryland.
*****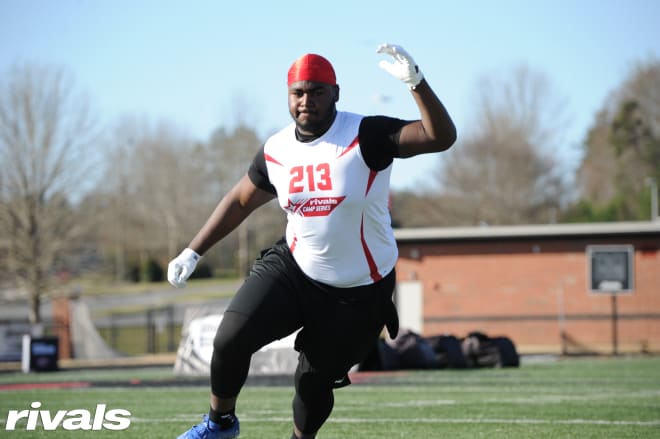 Threatt won't blow people away with his measurables but he plays with a ton of power, strong technique, and a nasty streak. Measuring in at just over 6-foot-2, 319-pounds, Threatt did a really good job during 1-on-1s of controlling where the defensive lineman went once he got his hands on him. He also did a good job of sliding laterally while still engaged with the defensive lineman to keep him from getting to the quarterback. Old Dominion has offered the class of 2023 prospect.
*****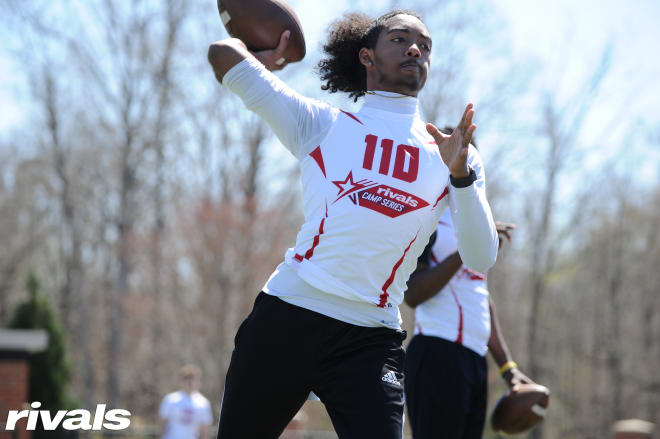 Toles wasn't quite unknown heading into the camp on Sunday but it was impressive to see the progress he's been making. The 6-foot, 168-pound quarterback from Maryland throws with enough power to fit the ball into tight windows on crossing routes and he does a good job of throwing accurately towards the sideline on a fairly consistent basis. Toles doesn't hold an offer yet but he should impress coaches while he's out on the road this spring and summer.
*****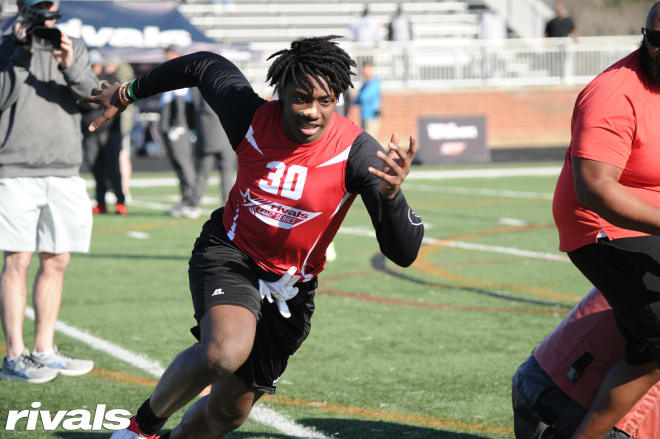 Watford has plenty of big time offers and was already well-known but this was the first time everybody would see how good he was in the spotlight against major Power Five prospects. He absolutely delivered and has a bright future ahead of him if he continues to progress. Watford has outstanding quickness off the line of scrimmage for such a young player and he plays with the aggressiveness of a much older player. He checked in at 6-foot-5, 218-pounds, with a wingspan nearly 6-foot-8 and he is certainly putting those physical tools to good use. Programs like Georgia, Penn State, Michigan and many others have already offered.