Tuesdays with Gorney: Thoughts from RCS Charlotte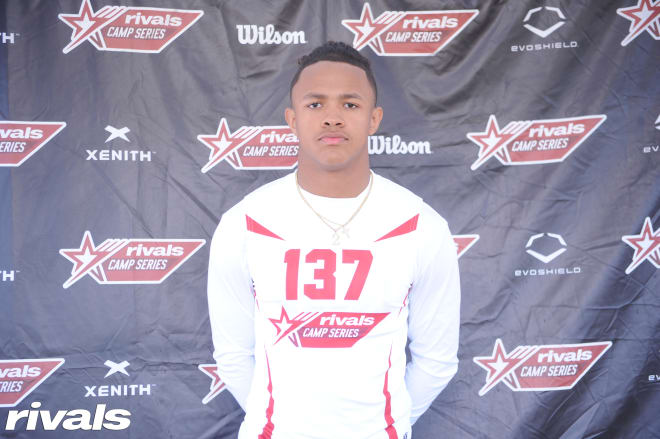 The Rivals Camp Series stopped in Charlotte this past weekend and Rivals national recruiting director Adam Gorney was there. Here are some of his thoughts and takeaways in this week's Tuesdays with Gorney:
JADYN DAVIS IS REALLY SPECIAL
The Charlotte (N.C.) Providence Day five-star quarterback is the top-rated player at his position and No. 4 overall in the 2024 rankings and that might be a little too low. The ball pops off Davis' hand, he has tremendous accuracy and precision timing with his receivers, and it was clear Sunday that he's a leader to whom the top receivers gravitate. Davis doesn't chirp a lot, he just goes out there and throws strikes on every throw.
The other five-star quarterback so far in the 2024 class is Carlsbad, Calif., standout Julian Sayin, who is so technically sound and efficient it's impressive to watch. Davis has just a little extra on his passes and his ability to time up and have chemistry with his receivers so effortlessly at the Rivals Camp was something to see.
Clemson, North Carolina, Ohio State, Tennessee, Florida State and many others are heavily pursuing Davis and it's easy to see why.
*****  
SOUTH CAROLINA NEEDS TO KEEP MCLEOD
Xzavier McLeod is an in-state kid who lives about 40 minutes from Columbia. The Gamecocks have made him a huge priority in this recruiting class and the Camden, S.C., standout has no relationship with Clemson. McLeod is exactly who the Gamecocks have to keep home and not let Georgia, Alabama, Florida or any of the out-of-state programs come in and steal him away.
McLeod is a big defensive tackle, powerful, tough and he had excellent moves on Sunday to win one-on-one reps against some impressive offensive linemen. There was a relentless nature to the way he handled himself and he's a thick, sturdy interior guy who could make a lot of things happen.
Over the years, South Carolina has had success with local defensive linemen and McLeod could be next in line. It would hurt big-time if he doesn't head down the road to play for coach Shane Beamer and his staff.
*****  
JARRETT IS A DIFFERENT PLAYER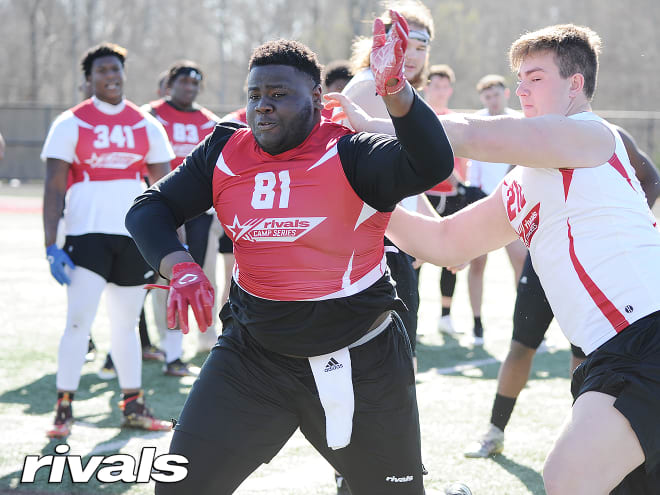 The last time I saw Jamaal Jarrett in person he was not this massive. Arguably the best-looking prospect at the entire camp on Sunday, the Greensboro (N.C.) Grimsley defensive tackle is easily a four-star and just someone who can obliterate offensive linemen with his size and strength.
What makes Jarrett even more impressive is that he moves well for his size – around 6-foot-5 and 340 pounds – so it's even more difficult to slow him down. During 1-on-1s, Jarrett still just uses his brute strength to dominate people and he will need to develop more nuanced moves but he has all the tools to be someone really special in this recruiting class.
*****  
SMOTHERS IS VASTLY UNDERRATED
Daylan Smothers' nickname is "Hollywood" because when he was a freshman a coach told him when the lights come on, he brings the action. He was outstanding at the Rivals Camp in Charlotte and proved he could definitely be in the discussion for a significant move up in the 2023 rankings.
Currently the No. 10 running back and No. 231 overall in the 2023 class, Smothers was tough and physical during blocking drills where he stoned numerous linebackers and then smooth and crafty during one-on-ones where he shook defensive backs and linebackers for big gains throughout the camp.
I wouldn't say Smothers is in that Justice Haynes or Richard Young camp just yet in terms of pure star running backs but after that it would be fair to have the discussion open because the four-star is a tremendous playmaker who brings versatility to the field.
*****  
ROGERS COULD BE A DIFFERENCE-MAKER
Four-star receiver Noah Rogers made a lot of catches on Sunday but the play that stands out most is when the Rolesville, N.C., standout went deep, caught a pass in the back of the end zone and then his momentum carried him into a sand pit used for track and field with Rogers ending up tangled in a net. He held onto the ball the entire time.
Rogers has speed, size and playmaking ability, and that's a really nice combination as the four-star proved to be one of the top receivers in the 2023 class. How much room there is for him to move up in the position rankings is tough to predict because there is really good depth at the position. But he's a playmaker for sure and NC State could be the team to beat in his recruitment.
*****
YOUNG OFFENSIVE LINEMEN IMPRESS
There are some really special young offensive linemen in the Carolinas that could easily be some of the best nationally.
Dorchester (S.C.) Woodland's Kam Pringle leads the way as the 2024 four-star already has major offers, has filled out incredibly well over the last year and is playing with more confidence than ever.
Pringle was a known commodity heading into Sunday's camp and then the two others that really shined were 2024 four-star Josiah Thompson out of Dillon, S.C., and 2025 David Sanders Jr. from Charlotte (N.C.) Providence Day. Both moved really well, especially Sanders, who has incredible lateral movement. Once his body fills out even more could be one of the best nationally in his class.