NFL Draft: Comparing top CBs with current recruits
The NFL Draft begins on Thursday, so today we continue our final look at the top players by position, moving to cornerback, along with a comparison to a class of 2020 or 2021 prospect.
JEFF OKUDAH, Ohio State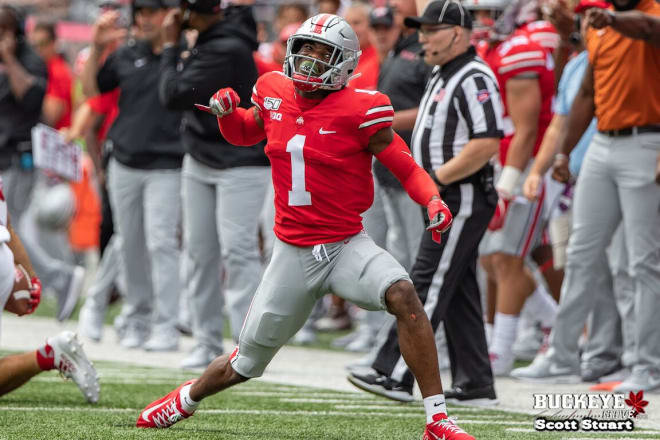 Recruiting: Okudah committed to Ohio State over Florida State, Oklahoma, Georgia and others at the Army All-American Bowl.
College stats: In three seasons, Okudah totaled 83 tackles, 18 pass deflections and three interceptions, all coming this past season, along with two fumble recoveries and a forced fumble.
Projection: The former five-star is expected to be picked early in the first round and should be a top-five selection.
Comparison: Jaylon Jones, 2020
Farrell's take: Okudah was ranked as a safety coming out of high school and Jones is ranked as a cornerback. Okudah obviously became a great corner but could have been an elite safety as well and Jones could play either at the next level.
SHARE YOUR THOUGHTS WITH OHIO STATE FANS AT BUCKEYEGROVE.COM
*****
C.J. HENDERSON, Florida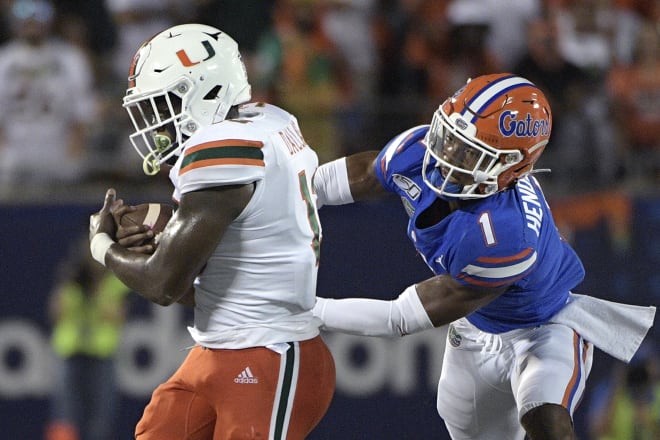 Recruiting: On National Signing Day, Henderson picked Florida over Miami but he was flip-flopping between both programs all the way up to his decision.
College stats: In three seasons, Henderson had 93 tackles and six interceptions, four in his freshman year but none this past season. He added 20 pass deflections and two forced fumbles.
Projection: Henderson is considered to be a mid-first round selection and his stock seems to be surging heading into the draft.
Comparison: Tony Grimes, 2021
Farrell's take: Grimes is a little more physical than Henderson at the same stage but both are smooth, fluid and can play on an island.
SHARE YOUR THOUGHTS WITH FLORIDA FANS AT GATORSTERRITORY.COM
*****
KRISTIAN FULTON, LSU
Recruiting: Fulton picked LSU over Arkansas and Florida on National Signing Day. He took a late visit to Gainesville and the Gators looked to be surging but he ended up picking the Tigers.
College stats: In 24 games over three season, Fulton finished with 56 tackles, two interceptions, 20 pass deflections and a forced fumble.
Projection: The former high four-star prospect is expected to be a late first-round pick.
Comparison: Jakalin Johnson, 2021
Farrell's take: Fulton was a skinny corner coming out with great feet and instincts. Johnson is the same way and could be even better down the line.
*****
AJ TERRELL, Clemson
Recruiting: The five-star committed to Clemson in the summer prior to his senior season, but Florida was a major player down the stretch and South Carolina was also involved. Auburn figured to be the early favorite.
College stats: Terrell totaled 101 tackles, six interceptions and two forced fumbles in three seasons. He added 13 pass deflections.
Projection: Terrell is still expected to be picked late in the first round even though he struggled in the national championship game. ESPN's Mel Kiper defended Terrell recently and said one game does not make a career.
Comparison: Kelee Ringo, 2020
Farrell's take: Both have good size and are speedy big corners who are a bit raw in space at times. Terrell has some big moments and will be a good NFL corner and Ringo has a chance to surpass that.
SHARE YOUR THOUGHTS WITH CLEMSON FANS AT TIGERILLUSTRATED.COM
*****
TREVON DIGGS, Alabama
Recruiting: Diggs' brother, Stefon, played at Maryland and it made a late push but Alabama beat out the Terrapins, LSU, Miami and others. He picked the Crimson Tide in November of his senior year.
College stats: In 44 games over four seasons, Diggs totaled 68 tackles and four interceptions, three coming this past year. He added 17 pass deflections, two forced fumbles and two fumble recoveries.
Projection: Diggs is a fringe first-round pick in many mock drafts or he might slip into the early second round.
Comparison: Fred Davis, 2020
Farrell's take: Diggs was raw in coverage coming out of high school and projected as a wide receiver for us. Davis is up and down with consistency but plays the ball like Diggs does now.