NFL Draft: Comparing top TEs with current recruits
The NFL Draft takes place next week, so today we continue our final look at the top players by position, moving to tight end, along with a comparison to a class of 2020 or 2021 prospect.
1. COLE KMET, Notre Dame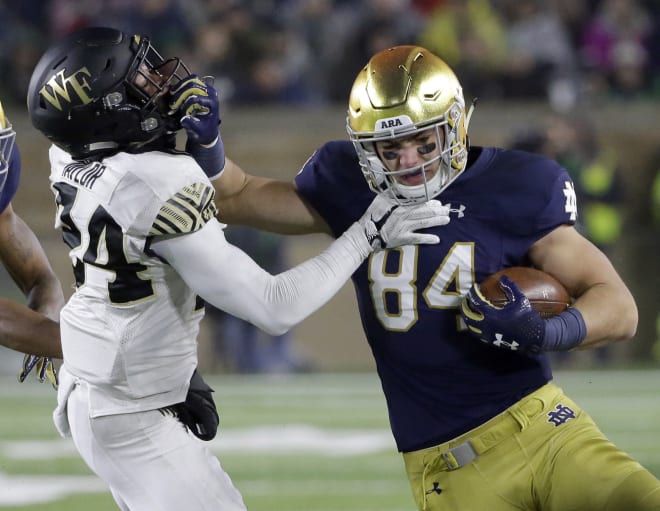 Recruiting: Notre Dame beat out Ohio State, Michigan and others for Kmet's commitment. The four-star tight end cited his visit to South Bend for the Irish's win over Texas as a big reason why they won out.
College stats: In 23 games over three seasons, Kmet totaled 60 catches for 691 yards and six touchdowns, all of which came in his junior year.
Projection: The former four-star prospect is expected to go somewhere in the second round.
Comparison: Michael Mayer, 2020
Farrell's take: Kmet is a huge but athletic tight end who could land in the first round of the NFL Draft. He was a solid pass-catcher out of high school who could stretch the field a bit. Mayer is also going to Notre Dame and has similar traits. He could have the same type of success as Kmet.
2. ADAM TRAUTMAN, Dayton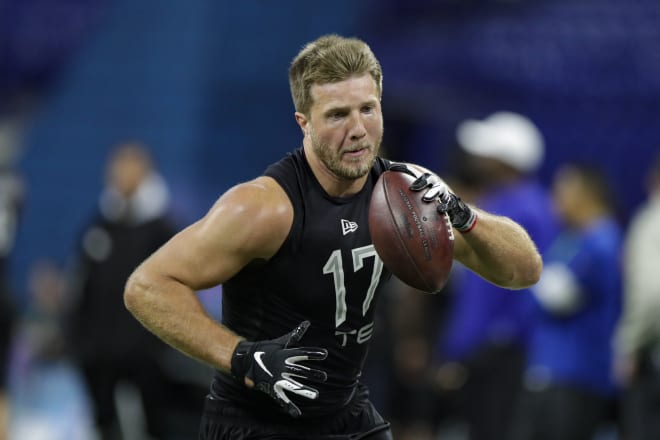 Recruiting: A high school quarterback who later switched to tight end, Michigan State offered Trautman a preferred walk-on spot, Toledo showed interest as did some Ivy League schools, but he eventually committed to play at Dayton.
College stats: This past season, Trautman finished with 70 receptions for 916 yards and 14 touchdowns. He was Dayton's top receiver in each of the last three seasons.
Projection: Trautman could be a fringe second-round pick but is expected to go somewhere in the third round.
Comparison: Theo Johnson, 2020
Farrell's take: Trautman was a converted quarterback out of high school who wasn't recruited heavily but had smarts and athleticism. Johnson is an athletic tight end and a big target who will be a mismatch at the next level. He didn't change positions the way Trautman did but he could end up having more overall success.
3. HUNTER BRYANT, Washington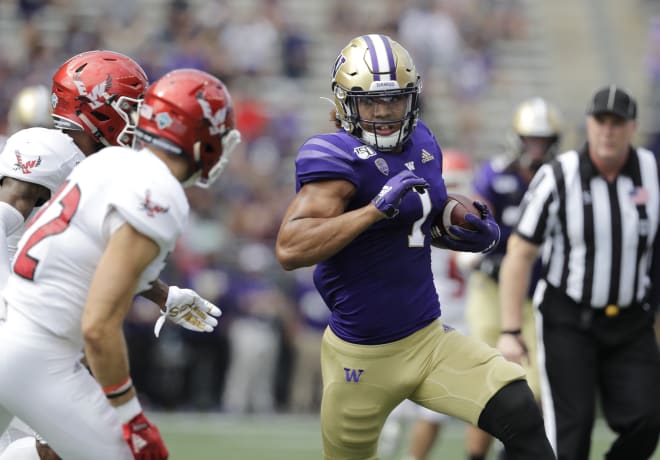 Recruiting: Washington was always considered the frontrunner for Bryant and in the spring of his junior year, he committed to the Huskies over UCLA, USC, Oklahoma and many others.
College stats: In 26 games over three seasons, Bryant had 85 receptions for 1,394 yards and five touchdowns, three coming this past year.
Projection: Bryant could go somewhere late in the second round but is more likely to be a third-round pick.
Comparison: Jermaine Terry, 2021
Farrell's take: Bryant is a very athletic player who didn't test as well as expected at the NFL Combine and his stock has slid as a result. Terry is an athletic pass catcher who should have a huge career in the Pac-12 and surpass Bryant's career numbers.
4. BRYCEN HOPKINS, Purdue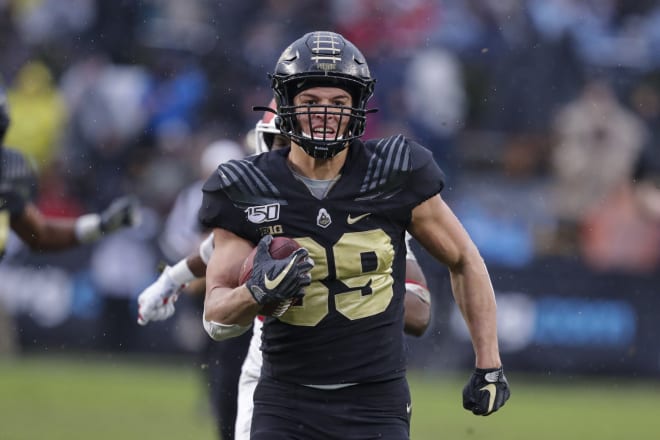 Recruiting: Hopkins committed to Purdue in mid-December of his senior season over Florida, his only other listed offer. Vanderbilt, Memphis and others were showing interest.
College stats: Hopkins played in 40 games at Purdue and caught 130 passes for 1,945 yards and 16 touchdowns. He had seven scores this past season.
Projection: Hopkins could be a fringe third-round selection but might fall into the fourth round.
Comparison: Thomas Fidone, 2021
Farrell's take: Hopkins was lightly-recruited and raw out of high school and the Florida offer was not committable. Purdue has done a great job developing him and he's a very athletic kid who can score from many places on the field. Fidone is a bit more athletic overall but he reminds me of Hopkins now.
5. ALBERT OKWUEGBUNAM, Missouri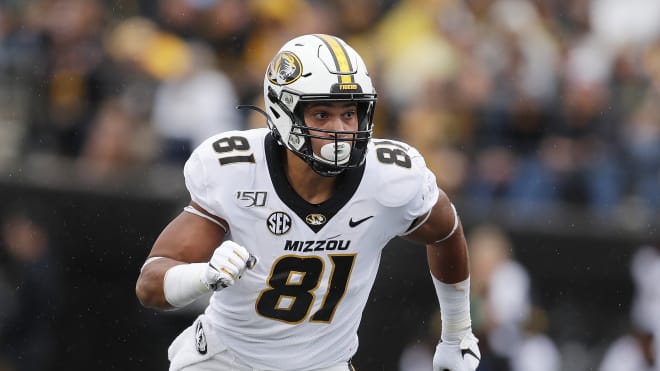 Recruiting: Early in his senior season, Okwuegbunam committed to Missouri. Nebraska and Indiana among others tried to flip the high three-star prospect but he stuck with the Tigers.
College stats: Over 27 games in three seasons, Okwuegbunam totaled 98 receptions for 1,187 yards and 23 touchdowns. He had 11 scores in his freshman season.
Projection: Okwuegbunam is expected to go somewhere in the third or fourth round.
Comparison: Arik Gilbert, 2020
Farrell's take: Okwuegbunam is a very athletic tight end who runs well which is why I compare him to Gilbert. Gilbert is obviously much more dangerous and polished at the same stage of development and could be a big wide receiver. Okwuegbunam could be one of the steals of the draft, which is why I liken him to a five-star.