NFL Draft: Comparing top QBs with current recruits
The NFL Draft begins next week, so today we start our final look at the top players by position, starting with quarterback, along with a comparison to a class of 2020 or 2021 prospect.
1. JOE BURROW, LSU
Recruiting: Burrow committed to Ohio State over West Virginia, Boston College, Iowa State and others in the spring prior to his senior season. The three-star prospect never won the starting job with the Buckeyes, transferred to LSU and this past season won the Heisman Trophy and a national championship.
College stats: This past season, Burrow completed more than 76 percent of his passes for 5,671 yards with 60 touchdowns and six interceptions. The Tigers averaged more than 48 points per game.
Projection: Burrow is expected to be the first player taken in the NFL Draft.
Comparison: Brock Vandagriff, 2021
Farrell's take: Burrow was a good-looking prospect out of high school who put up monster stats but was erratic in evaluations. He has obviously progressed greatly over the years. Vandagriff is more accomplished at the same stage of development but his arm strength, confidence and downfield accuracy remind me a bit of Burrow before he reached his elite level last season. Vandagriff has that No. 1 pick potential if he develops.
*****
2. JUSTIN HERBERT, Oregon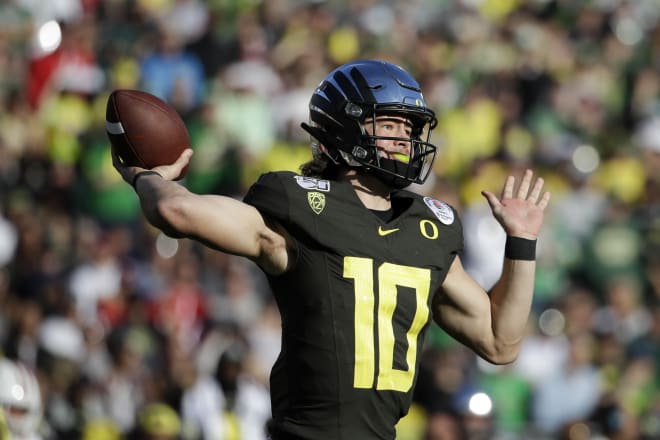 Recruiting: Herbert broke his leg during his junior season of high school and did not receive national exposure. Oregon, Montana State, Northern Arizona and Portland State were his only offers. Herbert was a season ticket holder for the Ducks who grew up in Eugene, so Oregon was always the school to beat in his recruitment.
College stats: Over four seasons as Oregon's quarterback, Herbert completed 64 percent of his passes for 10,541 yards with 95 touchdowns and 23 picks.
Projection: Some mock drafts have Herbert as the second quarterback taken and a top-five pick. Others have him behind Tua Tagovailoa.
Comparison: D.J. Uiagalelei, 2020
Farrell's take: This may seem like an odd comparison since Herbert was so raw coming out of high school but the size, arm strength and mobility are comparable to Uiagalelei. The difference? Uiagalelei's ceiling is similar to that of Cam Newton while Herbert's ceiling is Josh Allen from the Bills. But both are excellent prospects at different levels.
*****
3. TUA TAGOVAILOA, Alabama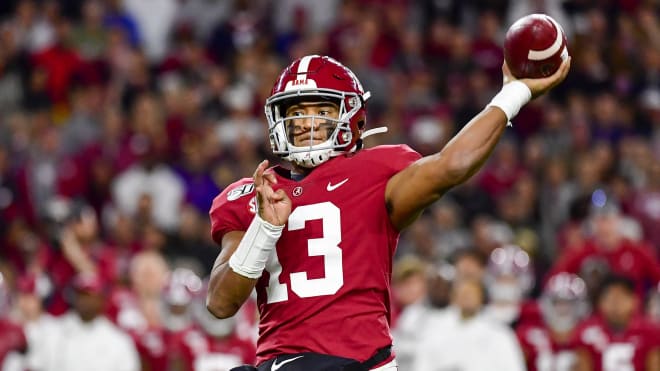 Recruiting: Oregon was considered the early frontrunner since Tagovailoa idolized Marcus Mariota but the Ducks fell off when USC and others emerged. Alabama, LSU, Ole Miss, Texas A&M and others entered the mix. He committed to the Crimson Tide in the spring before his senior season, about two months after Jake Fromm flipped from Alabama to Georgia.
College stats: In 32 games over three seasons at Alabama, Tagovailoa completed more than 69 percent of his passes for 7,442 yards with 87 touchdowns and 11 interceptions.
Projection: Tagovailoa's draft placement is all over the board from going second behind Burrow to being the fourth-best QB on some boards.
Comparison: Sam Huard, 2021
Farrell's take: Everyone knows I'm not big on lefties and I have concerns about Tagovailoa's durability. When he's healthy, though, he's super smooth. I like comparing lefty to lefty, so Huard is a great comparison here as a smooth quarterback with average size but excellent accuracy. People think I'm nuts for doubting Tagovaioloa, and I've been wrong before, but I can't move past my concerns about his durability.
*****
4. JORDAN LOVE, Utah State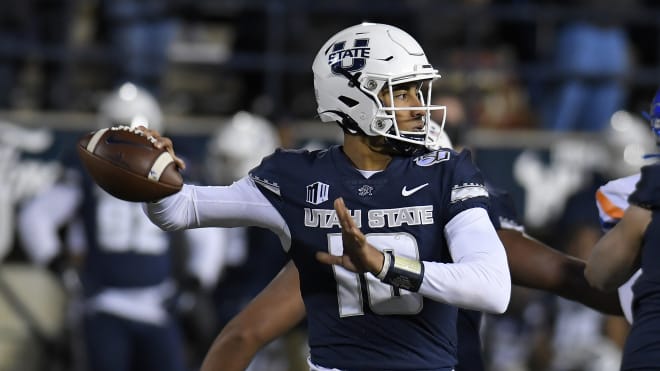 Recruiting: Love committed to Utah State in the summer before his senior season over Eastern Washington, Northern Arizona, Sacramento State and Northern Colorado, his only other offers.
College stats: In three seasons at Utah State, Love completed more than 61 percent of his passes for 8,600 yards with 60 touchdowns and 29 interceptions. His numbers were far better as a sophomore than this past season when he threw 20 TDs but 17 picks.
Projection: After impressing at the NFL Scouting Combine, Love could be a solid mid-first round draft selection.
Comparison: Caleb Williams, 2021
Farrell's take: This is an interesting comparison because Love was a two-star coming out of high school and Williams is a five-star but they are similar now. The big difference is that Love takes more chances but both can extend the play, throw on the run, scramble and are excellent pocket passers with time.
*****
5. JACOB EASON, Washington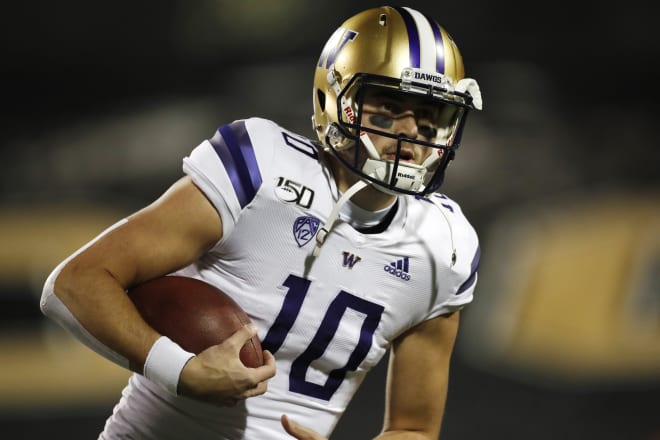 Recruiting: Eason committed to Georgia, but then seriously considered other schools, especially Florida, after then-coach Mark Richt was fired. UGA coach Kirby Smart made Eason a priority and he ended up sticking with the Bulldogs. After losing the starting job to Fromm, Eason transferred to Washington.
College stats: In one season at Washington, Eason completed more than 64 percent of his passes for 3,132 yards with 23 touchdowns and eight picks.
Projection: Eason is considered a fringe first-round draft selection.
Comparison: Harrison Bailey, 2020
Farrell's take: OK, Bailey doesn't have the arm of Eason but the two are similar in many other ways. They can fit the ball into tight windows and are tough to stop when in a rhythm. And Bailey is ready to play early in college as Eason was.