NFL Draft: Comparing top RBs with current recruits
The NFL Draft takes place next week, so today we continue our final look at the top players by position, moving to running back, along with a comparison to a class of 2020 or 2021 prospect.
1. JONATHAN TAYLOR, Wisconsin
Recruiting: Taylor committed to Rutgers but then flipped his commitment to Wisconsin after taking his official visit there for the Badgers' game against Ohio State.
College stats: Taylor rushed for 6,174 yards and 50 touchdowns but it was on 926 carries, by far the most touches for any high-end running back in this draft class.
Projection: Taylor is considered a fringe first-round selection.
Comparison: Marshawn Lloyd, 2020
Farrell's take: Everyone seems to have a different running back at the top of their board this year but I'm going with production. Taylor is faster than many think, cuts very smoothly and gets upfield quickly. Out of high school he was very good — four-star good — but he has gained a ton of burst in college. Lloyd has similar size and the same cutting ability and agility, and will be a good one for South Carolina.
*****
2. J.K. DOBBINS, Ohio State
Recruiting: Shortly after being offered by Ohio State, Dobbins committed to the Buckeyes and stuck with the pledge although Texas and Oklahoma were considered the early frontrunners.
College stats: On 725 carries over three seasons, Dobbins totaled 4,459 yards and 38 touchdowns. The former four-star averaged more than six yards per touch.
Projection: Dobbins is a fringe first-round pick but probably is picked early in the second round.
Comparison: Jase McClellan, 2020
Farrell's take: Dobbins is a tough comparison because he can do so much and runs equally well inside or outside. I can see McClellan doing many of the same things for Alabama down the line. Dobbins was a Rivals100 prospect out of high school even after an injury ended his senior season early. He was that special.
*****
3. D'ANDRE SWIFT, Georgia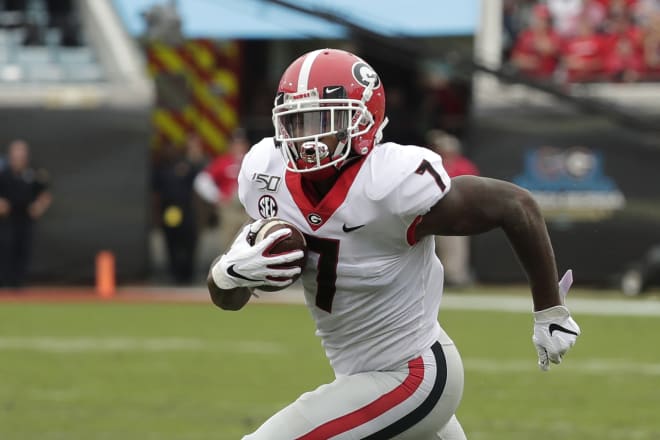 Recruiting: Penn State, Clemson, Florida State and Alabama were all high on Swift's list but once Georgia offered the Bulldogs emerged as the frontrunner. Once Swift committed he did not seriously consider any other program.
College stats: In three seasons at Georgia, Swift carried the ball 440 times for 2,885 yards with 20 touchdowns. The former four-star also caught 73 passes for 666 yards and five more scores.
Projection: There is a chance Swift goes in the first round but is more likely to be a second-round pick.
Comparison: Demarckus Bowman, 2020
Farrell's take: Swift and Bowman are very comparable to me as guys who run with great leverage, can bounce off tackles and have an elite burst. Swift was very good out of high school and probably should have been a five-star, especially with his receiving ability.
*****
4. CLYDE EDWARDS-HELAIRE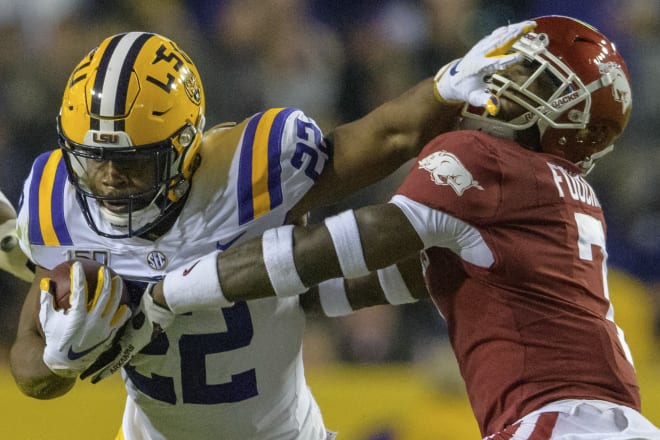 Recruiting: Edwards-Helaire committed to LSU early on but said he was considering other programs after a period where he didn't have much communication with the Tigers' staff. Once coach Ed Orgeron made Edwards-Helaire a bigger priority, the standout running back stuck with his pledge. He had no other SEC offers.
College stats: The former high three-star rushed for 2,103 yards and 23 touchdowns on 370 carries, a majority of them coming this past season as he helped lead LSU to the national championship. Edwards-Helaire also caught 69 passes for 595 yards but only one score.
Projection: Edwards-Helaire is likely a second-round pick.
Comparison: Henry Parrish, 2020
Farrell's take: This is a really hard comparison to make and, I'll admit, Parrish is a reach. There are few backs like Edwards-Helaire who are so short and low to the ground but can power off defenders and even be part of the passing game. Parrish isn't as squat or powerful but he is sneaky strong and will play eventually at 200 pounds.
*****
5. CAM AKERS, Florida State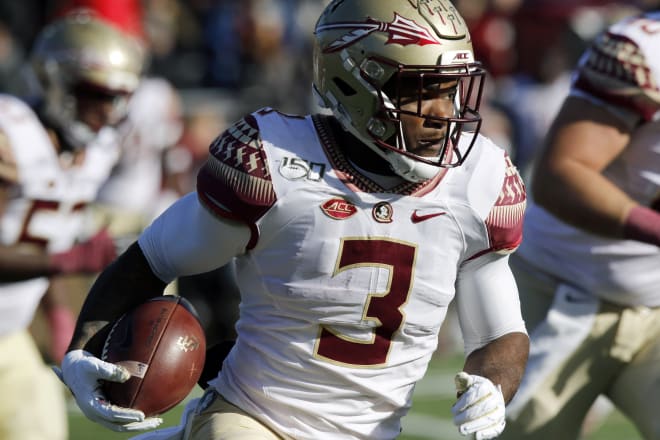 Recruiting: After being committed to Alabama for seven months, Akers backed off that pledge in the spring of his junior year. A dual-threat quarterback in high school, it looked like Ole Miss and Mississippi State emerged as the main contenders. Tennessee and Ohio State were also high but after numerous visits to Florida State, Akers picked the Seminoles in late December.
College stats: The former five-star had 586 carries over three seasons and he rushed for 2,875 yards and 27 touchdowns. Akers also caught 69 passes for 486 yards and seven scores out of the backfield.
Projection: It's likely Akers goes in the second round.
Comparison: Donovan Edwards, 2021
Farrell's take: Akers was an elite quarterback in high school known mainly for running the ball but Edwards reminds me a bit of his build and power. Akers could be one of the steals of the draft as his skill level is much higher than he was able to show at Florida State due to offensive line issues.