Midwest Spotlight: Superlatives for the region's top WRs
BEST HANDS: Kyan Berry-Johnson  
Berry-Johnson has gone viral for his circus catches on multiple occasions and is so consistent with securing the "uncatchable" ball that he makes it look routine. Whether it is a one-handed grab, an over-the-shoulder deep ball in traffic or a tightly contested 50/50 ball – if the Wisconsin commit can even get a finger on the pigskin he is coming down with it.
I have gone on record saying Berry-Johnson might have the best ball skills that I have seen in my 16 years of evaluating professionally – and I still stand by that today.
*****
BEST SIZE: Nicholas Marsh
Marsh isn't necessarily as big as Calvin Johnson, but there is a reason his nickname is Megatron as he is a commanding presence at the receiver position due to his incredible frame. One could easily mistake the Michigan State commit for a linebacker or defensive lineman until they see him split out and move like the elite caliber receiver that he is.
Marsh is physically developed beyond his years and from that standpoint he is college-ready right now despite having a full year of high school football in front of him. He isn't a one-trick pony either – Marsh combines his size with a great burst, speed, polished route running and the ball skills to match.
Michigan State is getting a player who has a chance to become something special.
*****
BEST SPEED: Ryan Wingo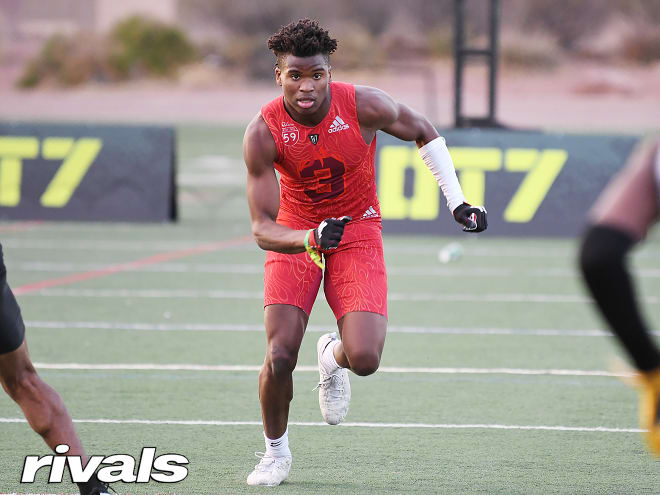 This is a tough call as the Midwest has an unusual amount of elite receiver talent right now, with legit speed being a staple of their game. Mylan Graham, Cam Williams, Ryan Wingo and I'Marion Stewart immediately come to mind when thinking of elite speedsters from the region, and each can make an argument for being the fastest.
Graham and Stewart take the cake when it comes to running a 40, while Williams and Wingo are bigger bodies with longer speed.
There isn't one right answer to this question, but I am going with Wingo as the overall fastest receiver in the region. The St. Louis University High standout ran a personal best of 10.50 in the 100 meters this past track season, and he has been clocked at 21.3 in the 200 meters. The verified track speed is enough for me to crown him the speed champ.
The five-star's recruitment remains open and he will not announce his decision until the early signing day. Texas, Georgia, Missouri, Tennessee, Texas A&M, Notre Dame, Miami and Michigan are among the schools competing for his signature.
*****
BEST ROUTE RUNNING: Jeremiah McClellan
I'Marion Stewart, Talyn Taylor and Kyan Berry-Johnson were all heavily considered here, but I'm going with Jeremiah McClellan because his ability to snap off routes, manipulate defenders' reactions during his routes and the skillful way of gaining separation at the catch point are three of his elite traits and what separate him from other receivers with similar skill sets.
Whether you have seen McClellan at a 7-on-7 tournament, camp or game the one consistency you will find during each showing is that he is always open. Combine that with his elite ability to get off the press and it becomes evident why McClellan gets the nod here.
The St. Louis Christian Brothers standout plans on announcing his decision next month and has a final five of Georgia, Ohio State, Missouri, LSU and Oregon.