UA Game: Team Phantom takeaways from Day 1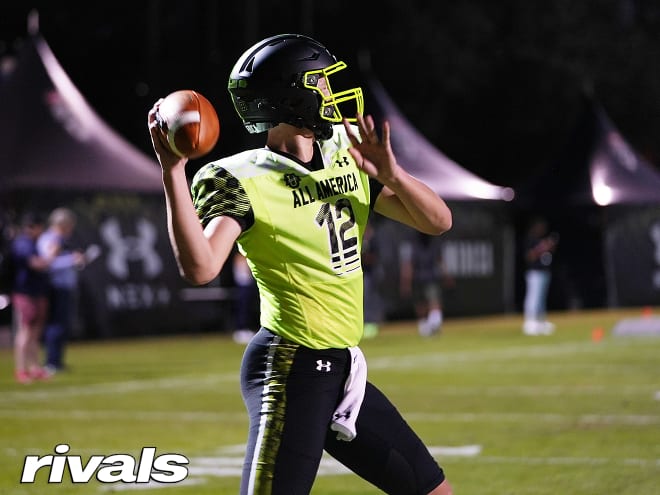 LAKE BUENA VISTA, Fla. -- The first practice ahead of the Under Armour Next All-America Game is over. The Phantom and Speed teams went through position drills and a lengthy walk-thru before having fun with a few skills challenges. Here are a few takeaways from the Phantom practice on Friday night.
JJ Kohl sharp early
It easy to see why the Iowa State quarterback signee was being pursued by other big time programs in the weeks leading up to the Early Signing Period. Kohl is a huge prospect and has a rocket arm. His throwing motion is smooth but can get a little long at times. He did a pretty good job of delivering the ball on time but if he was a little late pulling the trigger he had the arm strength to fit the ball into tight windows. It'll be interesting to see how he adjusts during the second practice and if Kansas State signee Avery Johnson can push him.
*****  
Linemen ready for the next level
This is an all-star event so of course there are physically impressive players all over the field but there are a few that stood out among the rest. Michigan State offensive line signee Stanton Ramil is listed at 6-foot-7 on the official roster but standing next to Zalance Heard didn't do him any favors. The LSU signee has the look of a future NFL lineman. He is listed at 6-foot-6, 300-pounds but at registration he said he weighed in at 330-pounds at last check. Despite that extra weight, Heard is very light on his feet. It will be great to watch him in pass protection drills over the next few days. Defensive linemen Jason Moore (Ohio State signee), David Hicks (Texas A&M signee) and Peter Woods (Clemson signee) have physical traits that would make them fit in with NFL players right now.
*****  
Short receivers standing out
Team Phantom has a well-rounded receiver corps but their smaller receivers have a ton of juice. When five-star Zachariah Branch, Rivals250 No. 30 overall Johntay Cook and No. 58 overall Makai Lemon are on the field they'll be really tough for any secondary to matchup with. Branch and Cook were regularly targeted by the Phantom quarterbacks and Lemon showed off his reliable hands by winning a post-practice catching competition. All three are so fast and elusive in the open field but they are also elite route runners who can shake even the most skilled defensive back.
*****  
Impressive defensive tackles
We're only one practice in but the combination of David Hicks, Peter Woods, Jason Moore, Xzavier McLeod and Sydir Mitchell on the interior of the defensive line could end up dominating the week of practice. Each of them have their own strengths but they're going to cause plenty of problems for the offensive linemen. Even though this practice was little more than a walk-thru while wearing helmets and shoulder pads, Hicks, Woods and Moore lived up to their reputations as elite prospects with their quick first steps and hand techniques. This group will draw a lot of attention as the week goes on.
*****
Defensive backs hitting the ground running
Not all of the defensive backs got off to a great start on Friday night but a few looked very natural under the lights. Texas signee Malik Muhammad had no problem through the drills portion of practice and he was rarely targeted during team drills. Georgia signee Joenel Aguero was quick to jump route thrown in front of him and was extremely competitive. Desmond Ricks, who reclassified from the 2024 class and signed with Alabama, was very smooth during position drills and used his height and length to deny passes thrown in his directions.