Tuesdays with Gorney: Rivals250 commitment predictions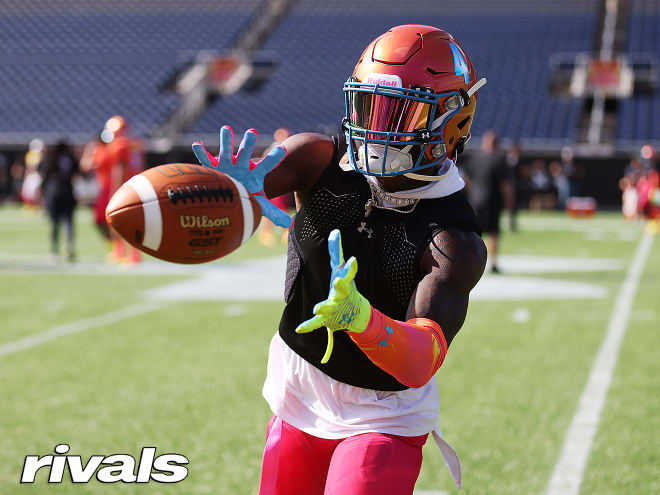 Overview: Texas and Oklahoma have been the final two for some time but this has felt like the Longhorns for a while. Campbell did not take visits during the month of January. He's had ample opportunities to pick Texas prior to the Late Signing Period and that could open the door for another team, but it's unlikely. Texas by a wide margin here.
Pick: Texas
*****  
Overview: The five-star safety was committed to LSU for about three months into the late summer but then backed off that pledge and seriously has considered Texas A&M and Florida throughout his recruitment. There were rumors Mathews wanted to commit to the Aggies at the Under Armour Game but held off. The addition of Corey Raymond to Florida's staff was huge and one of many reasons why the Gators still have a real shot. But the word is that Mathews' visit to LSU this past weekend went great and it's just so hard to pull top talent from the state of Louisiana.
Pick: LSU
*****  
Overview: This can still go one of two ways with Miami and Texas A&M leading the way. The five-star defensive end from Opa Locka (Fla.) Monsignor Pace has longstanding relationships with the A&M coaches and it looked like weeks ago that he was a near-lock to the Aggies. But new Miami coach Mario Cristobal and staff treated Stewart like a king on his visit this past weekend and made it clear he's the top priority to close out Miami's class. This is still a very tough call and I'm not sure Stewart is locked in yet.
Pick: Texas A&M
*****  
Overview: Conerly will not sign on Wednesday and will take visits through March to make his decision. Michigan, Oklahoma and Miami are the out-of-region schools involved with Washington, USC and Oregon as the Pac-12 programs in the mix.
*****  
Overview: For about three weeks in January, Perkins was committed to Texas A&M. The four-star linebacker made his pledge at the Under Armour Game but by the end of the month, Perkins was open again as Florida made a serious run at him and could still be a leading contender in his recruitment. From what I've heard, Perkins had an excellent visit to LSU this past weekend and the Tigers could be the team to beat now. He's originally from Louisiana and has said every time driving through Baton Rouge he's dreamed of playing in Tiger Stadium.
Pick: LSU
*****  
Overview: Georgia, Ohio State, Oregon and Florida A&M are the four in focus for the four-star defensive tackle from Ellenwood (Ga.) Cedar Grove. Miller had an excellent visit to Oregon in recent weeks and with former Georgia assistant coach Dan Lanning the head man in Eugene now there's a lot of familiarity. The Florida A&M visit went well but it feels like Miller took it to thank coach Willie Simmons for recruiting him. Ohio State is definitely still a major contender and the rumor weeks ago was that the Buckeyes were still the team to beat. But we have our eye on Georgia. The Bulldogs want him, Miller is close friends with five-star DL Mykel Williams and Miller told me at the All-American Bowl that it would be tough to say no to playing with Williams in the end.
Pick: Georgia
*****  
Overview: Citizen is probably the hardest prospect left in the Rivals250 for whom to make a prediction. Let's focus on three: Auburn, LSU and Florida. Citizen's relationship with Auburn position coach Cadillac Williams could go a long way and his tough, bruising style fits well with the Tigers. At Florida, Citizen has relationships with those coaches since many were at Louisiana-Lafayette and the four-star likes the vision for him in Gainesville. LSU is the wild card. Again, this is an in-state prospect who had already been committed to the Tigers and a late visit there could put the Tigers back on top. CItizen isn't saying much and this is the toughest call yet.
Pick: Auburn
*****  
Overview: Over the past few weeks, Clemson, Florida and Texas were named the front-runners for Dudley but the Gators have been slow with him and the four-star linebacker took his official visit to Clemson in the closing weekend before signing day. I asked Dudley if the Tigers were the leader before that visit and he said, "We shall see this weekend." The belief is everything went really well and that Clemson could be the team to beat for the former Oregon commitment who backed off his pledge in early December.
Pick: Clemson
*****
Overview: From July until Christmas Day, Iuli was committed to Oregon. It looked like a lock that the four-star offensive guard would stay committed to the Ducks if Mario Cristobal remained as the coach but that didn't happen and now there is a strong possibility that Iuli could follow him to Miami. The Puyallup, Wash., standout has talked highly of the Hurricanes and while Oregon and USC are still in the running - especially the Ducks - reuniting with Cristobal at his new home in South Florida could make the most sense.
Pick: Miami