Tuesdays with Gorney: Looking back at the QBs who have been No. 1 overall
There have now been seven QBs ranked No. 1 overall in the Rivals era dating back to 2002, as new Georgia commit Dylan Raiola becomes the latest in that line. In today's Tuesdays with Gorney, Rivals national recruiting director Adam Gorney breaks down each of the seven and offers his thoughts: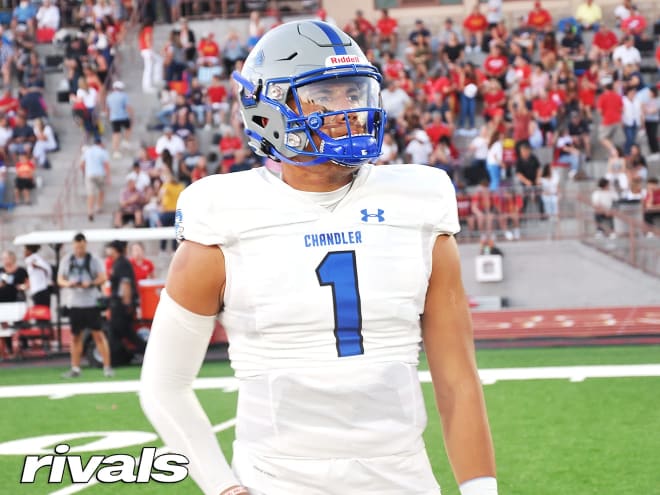 Raiola has done everything possible up to this point to become an elite quarterback not only at the highest level of college football but also beyond since the five-star possesses every quality imaginable to be a special player for years.
From outstanding leadership qualities, to physical gifts, to an incredible live arm, to seeing things and processing them quickly to an undying competitive nature, Raiola has an opportunity to be great in Georgia's offense. Off the wrong foot, Raiola threw the ball 68 yards at the Steve Clarkson QB Retreat last spring - before his junior year.
And we've written about this a lot already but Raiola has uncanny physical traits that compare almost to the exact inch and pound as Kansas City star QB Patrick Mahomes. The two even have a similar look.
There might be the slightest bit of concern about Raiola backing off a pledge to Ohio State and then picking Georgia and bouncing around high schools a little bit but it's probably a whole lot of nothing.
*****  
For the naysayers who claim Rivals rankings are favored to those who attend Rivals Camp Series events, here is the case of Manning, who didn't do any camps, hardly played 7-on-7, skipped the all-star events and was largely cloistered away from any evaluation opportunities of any kind. That undoubtedly made his evaluation that much harder - and it's really difficult to begin with.
Here's what we know about Manning though. When he was in the public eye, the five-star was fantastic. He outdueled some other elite quarterbacks throwing at Clemson and Texas two summers ago. He's more athletic than given credit for as Alabama coach Nick Saban and many others watched him play basketball. And his coaches - on the record and off - rave about his abilities and his upside.
Was there a predictable and inevitable overreaction to Manning's average spring game performance? Absolutely. The intention was never for Manning to step right in and take over the Longhorns' offense. Let's give him some time, some seasoning and his skill set should shine in coach Steve Sarkisian's offense. If not, it's a learning lesson that those who don't do national events don't for a reason.
*****  
Texas arguably has the deepest and most-talented quarterback room in America with Ewers, Maalik Murphy and Manning leading the way and it's also notable that three of the seven No. 1 quarterbacks in Rivals history chose the Longhorns as well. This is now Ewers' team and there ample reasons to believe he should have a breakout season.
Year 2 is also here for Ewers, who completed 58 percent of his passes for 2,177 yards with 15 touchdowns and six picks last season, fine numbers for a first-year starter but nothing that equates to No. 1 prospect stats just yet. Things are looking up, though, as a number of top pass-catchers return and some stats that were taken by elite running back Bijan Robinson could translate back over to the passing game.
At the Elite 11 a few summers ago, Ewers threw the ball like no one else. It popped off his hand, it looked so effortless and he threw on the run so well. There was a dynamism in his passing ability that no one else had. There are plenty of reasons to believe this season will be a breakout one for Ewers, if not only because he also cut his mullet.
*****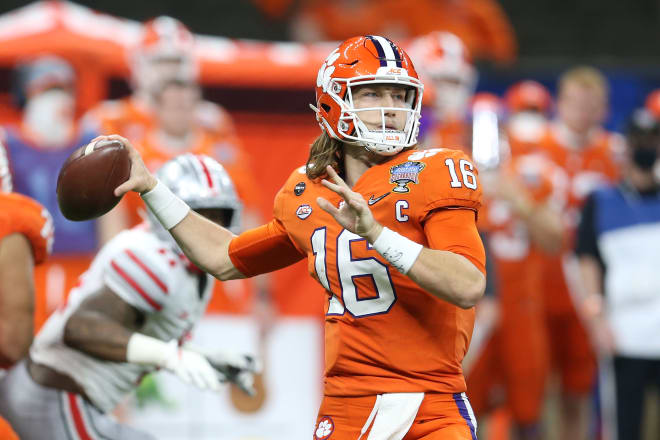 Lawrence is the epitome of what we're looking for in a No. 1 prospect, a No. 1 quarterback and it all proved perfectly well since the former five-star delivered at Clemson and then was the No. 1 pick in the 2021 NFL Draft. From our perspective, it cannot get much better as Lawrence was who we thought he was and now is leading an upstart Jacksonville Jaguars franchise.
In three seasons at Clemson, Lawrence completed more than 66 percent of his passes for 10,098 yards with 90 touchdowns and seven interceptions. He was then the first player drafted in 2021 with BYU QB Zach Wilson and North Dakota State's Trey Lance the next two two picks although neither might be a start this upcoming season. Ending second in the rankings behind Lawrence was Chicago Bears franchise QB Justin Fields, who went No. 11 overall in that draft class.
For years, Lawrence was more than available with his time for interviews and whatever else was needed on the recruiting scene. He had an up-and-down performance at the All-American Bowl following his senior year which at least opened up the discussion to make Fields No. 1 overall but that was shut down pretty quickly as we considered Lawrence's entire body of work.
*****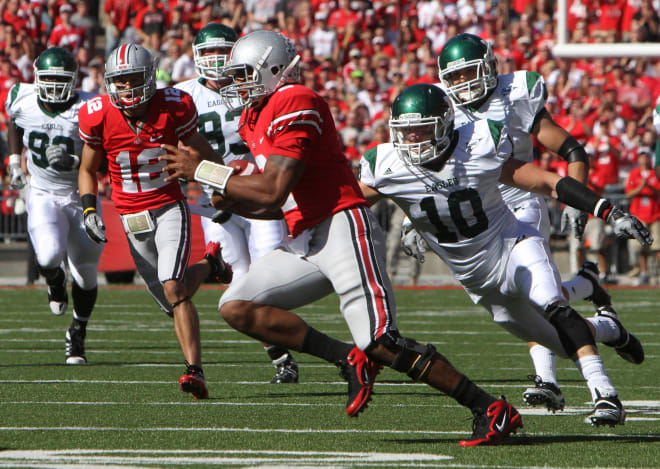 Pretty much from the beginning, drama followed Pryor, who finished ahead of Daquan Bowers, Mike Adams, Julio Jones and Patrick Peterson in the 2008 rankings.
Down to Ohio State and Michigan on signing day, the Western Pennsylvania five-star delayed his decision because he wanted to take another look at Penn State. He finally ended up with the Buckeyes and helped Ohio State to a Rose Bowl victory but he was involved in some NCAA infractions and left for the supplemental draft. In three seasons in Columbus, Pryor completed nearly 61 percent of his passes for 6,177 yards with 57 touchdowns and 26 picks. He also rushed for 2,164 yards with an additional 17 scores.
After being picked by the then-Oakland Raiders in the third round of the supplemental draft, Pryor failed to make his mark as an NFL quarterback and switched to receiver. He finished his NFL career with 115 catches for 1,563 yards and seven scores.
*****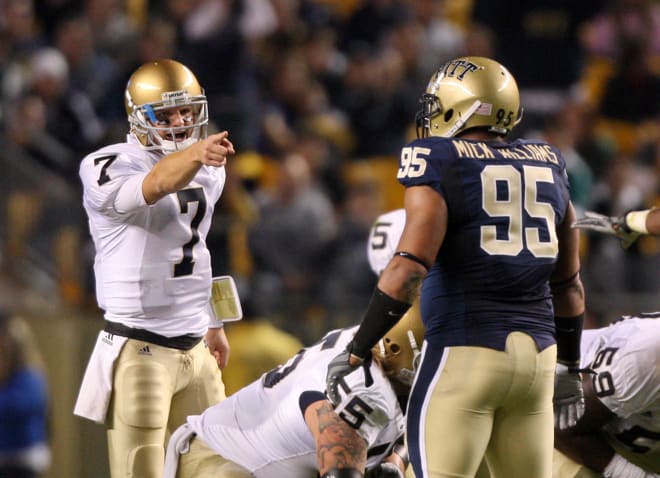 He was called the LeBron James of high school football and said to have the skills of Dan Marino. There was lofty praise of the Westlake Village (Calif.) Oaks Christian five-star quarterback and No. 1 player in the 2007 class but that's what happens when Sports Illustrated - especially back then - comes to your home to do a profile when you're a junior in high school.
Clausen went undefeated at Oaks Christian and threw for more than 10,000 yards in high school. He chose Notre Dame over USC and many others and finished his three-year career in South Bend completing more than 62 percent of his passes for 8,148 yards with 60 touchdowns and 27 interceptions, the bulk of his numbers coming in the last two seasons including a 28/4 TD-INT split as a junior. There was chatter Clausen could've ended up as the No. 1 NFL Draft pick that year.
Instead, Oklahoma's Sam Bradford went No. 1 overall and then Florida's Tim Tebow was the only other first-rounder in a late quarterback crop that saw Clausen fall to the second round. Clausen was picked by the Carolina Panthers and when he didn't catch on there, he was traded to Chicago and then Baltimore, with his NFL career lasting only about five seasons. Clausen threw for 2,520 yards with seven TDs and 14 interceptions in his pro career.
*****
The first No. 1 overall prospect in Rivals history, the Houston (Texas) Madison star quarterback chose Texas over a late rush from Miami and others and he had an historic career for the Longhorns capped off by a thrilling national title win over USC, arguably the best game in college football history.
Young finished his Texas career with 6,040 passing yards, 44 touchdowns and 28 interceptions and then was the third overall pick by the Tennessee Titans in the 2006 draft behind only NC State's Marion Williams and USC's Reggie Bush.
In the pros, things were mixed for Young, who in the end did not meet lofty expectations. He was the NFL offensive rookie of the year and a two-time Pro Bowler and while he finished his shortened pro career with 8,964 passing yards he also totaled 46 touchdowns and 51 picks.