Tuesdays with Gorney: A look at the top of 2023 position groups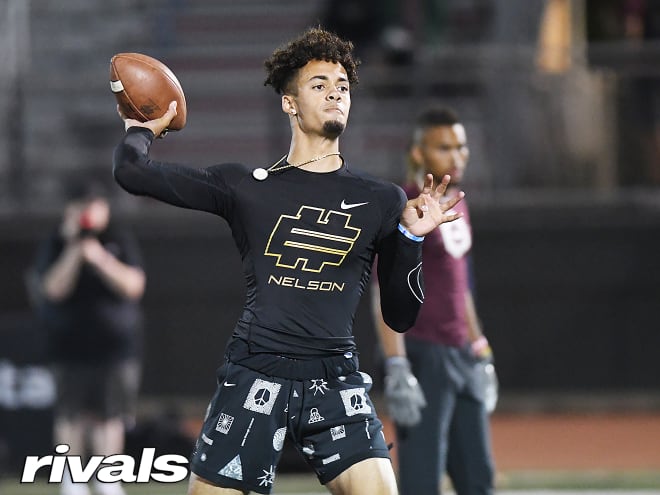 QUARTERBACK
The debate over whether Arch Manning stays at No. 1 will go on, and there might not be a perfect resolution in sight. He's probably not doing any national events or all-star games. Oregon commit Dante Moore was phenomenal at the OT7 event in Las Vegas and the Elite 11. USC pledge Malachi Nelson was terrific at the Elite 11. Tennessee commit Nico Iamaleava has been great at numerous events but didn't participate at Elite 11.
That's where the five-stars stand now, but this summer Oklahoma pledge Jackson Arnold was also outstanding and showed unique zip on his passes, Clemson pledge Christopher Vizzina was very solid and current Baylor recruit Austin Novosad looks super sharp as well. There will definitely be changes after seeing almost everybody over the last couple months. Well, everybody except Manning, but we know his ability as well.
At dual-threat, it could get interesting. Louisville commit Pierce Clarkson and Purdue pledge Rickie Collins had their moments but neither blew away the Elite 11. Kansas State commit Avery Johnson could have the most upside but he was hot and cold at that event as well.
I know one service moved Nelson over Manning in its latest rankings, but my question there is this: What did Nelson show this summer that we already didn't know? He's always been fantastic, and he was again over the last couple months.
*****
RUNNING BACK  
There is a debate at the top between Justice Haynes and Richard Young, but I'm sticking with Haynes because of his athletic ability and versatility. I like Young a lot, too, and it will be interesting to see if he plays with Haynes in Tuscaloosa or now looks elsewhere even harder, with Oregon, Georgia and others being possibilities.
Four-star Cedric Baxter is really special, and I don't think Daylan Smothers gets the respect he deserves, maybe because he's not this muscled-up freak show like the guys at the top. In terms of being a playmaker, though, the new Oklahoma commit is very talented.
Louisville pledge Rueben Owens II stays as the top all-purpose back, but he didn't necessarily do anything at the OT7 in my view to jump to five-star status. He's very good, but running backs as five-stars is just tough business.
*****
WIDE RECEIVER  
I am still wondering what the right call is at the top: Carnell Tate is amazingly talented, but Brandon Inniss catches everything and reminds me of Jaxon Smith-Njigba, who was arguably the best receiver at Ohio State last season, even with two first-round NFL Draft picks on the team.
Then there is Zachariah Branch, who blew people away at Future 50 and is the most dynamic of the five-stars by far. I still think Hykeem Williams has more to prove before he's in the No. 1 discussion at the position, although I love his game.
Two players on my radar to definitely move up: Oregon commit Jurrion Dickey and Ridgeland, Miss., product Ayden Williams. Dickey was so great at the OT7 that he was arguably the best receiver at the entire event, and now we've seen Williams numerous times and he has special abilities as well.
*****
TIGHT END  
What I liked most about Duce Robinson at the Elite 11 is that he took hundreds of reps and really came to work, not just sit around and collect a bag of clothes. He still looks great and Georgia commit Pearce Spurlin is right behind him, especially as he's added more bulk to his frame.
New LSU commit Jaxon Howard will move out of the position rankings since he's supposed to play defense in Baton Rouge. Two guys on my radar to move up are Tennessee commit Ethan Davis, who's one of the best-looking players at that position, and new Ohio State commit Jelani Thurman, who had good showings this offseason.
*****
OFFENSIVE LINE  
*****
DEFENSIVE LINE  
The defensive end position - both at strong-side and weak-side - is absolutely loaded, but there could be some movement. I'm excited to see how new Miami commit Jayden Wayne performs at Bradenton (Fla.) IMG Academy, and from all accounts, Venice, Fla., four-star Damon Wilson should be higher in the rankings, but there's no guarantee on that yet. This is a loaded group with a lot of depth.
Weak-side could be even stronger. Samuel M'Pemba is one of the best-looking kids in the entire class, and Keon Keeley's length and athleticism still stand out so much. Matayo Uiagalelei has not done much this summer as he recovers from a lower-leg injury, but his versatility is off the charts. Tennessee commit Chandavian Bradley might be a touch too high, especially with FSU commit Keldric Faulk, Jaquavious Russaw and new Oklahoma pledge Adepoju Adebawore behind him. There is an immense amount of talent at the defensive end spots.
Defensive tackle is in a down year so far. Georgia commit and four-star James Smith could push more toward the top in a spot that's currently held by new Ohio State commit Jason Moore, who's a different kind of defensive tackle than the other two.
*****
LINEBACKER  
There could still be a lot of movement at the linebacker spots, especially outside, as that position feels especially unsettled. Four-star Malik Bryant was supposed to commit this past weekend, with Florida and Miami as his top schools, but he decided to postpone. I don't have a good read on which school that helps or hurts, but I still think the Hurricanes are in the best spot there. However, the guys who really stand out a ton to me are Texas four-stars Braylan Shelby and Derion Gullette. Hopefully, we'll see more of them in person at the all-star events.
Inside, five-star Anthony Hill leads the way, and that's unquestionable. He's so talented, and Texas A&M and Texas are battling it out for him. USC scored big when it beat Ohio State and Wisconsin for Tackett Curtis, and Georgia is loading up with four-stars Troy Bowles and Raylen Wilson, who flipped from Michigan.
*****
DEFENSIVE BACK
Maybe five-star cornerback Cormani McClain struggled a little bit at Future 50, but he's still the best corner in this class and it might not be all that close. His resume is exceptional and one bad event won't deter us in his ranking. But five-star Javien Toviano is also an incredible player, whether at corner or safety over the long term. Others will definitely be pushing and my bet is that Texas commit Malik Muhammad is not getting the respect he deserves.
At safety, Georgia is getting a good one - and a physical hitter - in Joenel Aguero. Notre Dame commit Peyton Bowen is definitely interesting, and the conversation will continue to address whether No. 1 Caleb Downs is a five-star or not.
*****
ATHLETE
Nyckoles Harbor is such a rare athlete - on the football field and on the track - that we might be forced to make him a top-five player because of his special abilities. He's still learning the defensive end spot, but his athleticism is incredible. Another outstanding player is Malachi Coleman, who could be a five-star but we need to see more of him in person. Someone who is 6-foot-5 and around 200 pounds should not be able to move as fluidly as the Lincoln (Neb.) East standout and that's why it's so important for the Huskers to keep him home. Jakeem Jackson and Ronan Hanafin are two athletes who could be better than their current rankings.