Three-Point Stance: NIL scapegoat, underrated commits, New England
Rivals national recruiting analyst Adam Friedman has thoughts on Name, Image, and Likeness, committed prospects who should be rated higher and a region of the country that doesn't get enough attention.
1. NIL IS A CONVENIENT SCAPEGOAT
Programs missing on prospects they've prioritized is nothing new in the recruiting world but the excuses for why players choose to go elsewhere now include everybody's favorite new scapegoat - name, image and likeness.
Players are able to monetize their NIL and are actively doing so during the recruiting process and it's helping them choose which school they want to attend. While, many college coaches will say they're all for players earning some extra money, those same coaches are really upset that, even though a player is presented an NIL offer from their school's collective, they end up choosing a different offer.
It used to be college coaches would say quietly that a player "was not a take" when that player chose a different school but now the excuse that is commonly heard is about how a competing school's collective offered an astronomical NIL number that their school's collective just couldn't match. This type of scapegoating seems a little transparent given how flimsy almost all of the rumored NIL contracts seem to be.
So many of these coaches that use the NIL excuse do so in a way that it feels like they are bad-mouthing these players and their rival schools because they feel like a player is just taking the highest offer on the table. In many cases it seems more like a player has narrowed his list down to two or three schools that they would be happy to play at and then the highest NIL offer wins if all else is equal.
Why should a player not use this tactic? Some may say it's shortsighted and they should pick the school that will help them get to the NFL. That's certainly solid advice but why can't the players have their cake and eat it too? Why can't they pick a school that's going to help develop them and get them ready for the NFL if it's also the school that offers the highest NIL amount?
So many of us within the industry would chuckle to ourselves, when we heard the "he's not a take" excuse and now the NIL excuse is almost getting the same treatment.
*****  
2. UNDERRATED COMMITS
"Commit season" is just around the corner but there are nearly 100 players in the East who are already committed. Many of these players have incomplete evaluations at this point in the rankings process.
Here are five commits who have recently been re-evaluated and look at bit underrated.
The Maryland linebacker commit has good size and plenty of speed in the open field. His mobility in coverage, in addition to the downhill speed he shows on film, help give him a very high ceiling. Maryland already has a very solid linebacker corps and the Terps are hoping to add Reddick to the fold next year.
SHARE YOUR THOUGHTS WITH MARYLAND FANS AT TERRAPINSPORTSREPORT.COM
*****
Beigel is still very new to football but his athletic profile alone warrants a higher ranking. Around 6-foot-4, 285-pounds, the Michigan commit moves very for his size and plays with outstanding strength. He can play a little out of control at times and his techniques need to be refined but he has the size, strength and speed to be rated higher in the next rankings update.
SHARE YOUR THOUGHTS WITH MICHIGAN FANS AT MAIZEANDBLUEREVIEW.COM
*****
Penn State has done a great job recruiting elite tight ends over the years and it looks like Reynolds is another gem for the Nittany Lions. He is an outstanding athlete and brings a basketball background to the field. Reynolds has shown significant physical development over the last few years and has a frame he can still add weight to. He showed off his impressive catching abilities on Monday and does a great job catching the ball at its highest point.
SHARE YOUR THOUGHTS WITH PENN STATE FANS AT HAPPYVALLEYINSIDER.COM
*****
Norwood isn't a massive offensive lineman and he needs to physically mature but he has very strong hands and does a great job in pass protection. The North Carolina commit has shown good athleticism on film playing both sides of the ball and that should help him become a multi-year contributor at the next level.
SHARE YOUR THOUGHTS WITH UNC FANS AT TARHEELILLUSTRATED.COM
*****
The sheer size of Williams should give South Carolina fans a lot of confidence about his ability to contribute to their offensive line down the road. He is every bit of 6-foot-6 and is probably bigger than the 315-pounds he is listed but carries it well. Williams has impressive quickness for his size and has outstanding playing strength is pass protection is he's able to set his feet.
SHARE YOUR THOUGHTS WITH SOUTH CAROLINA FANS AT GAMECOCKSCOOP.COM
*****
3. NEW ENGLAND IS NOT GETTING ENOUGH CREDIT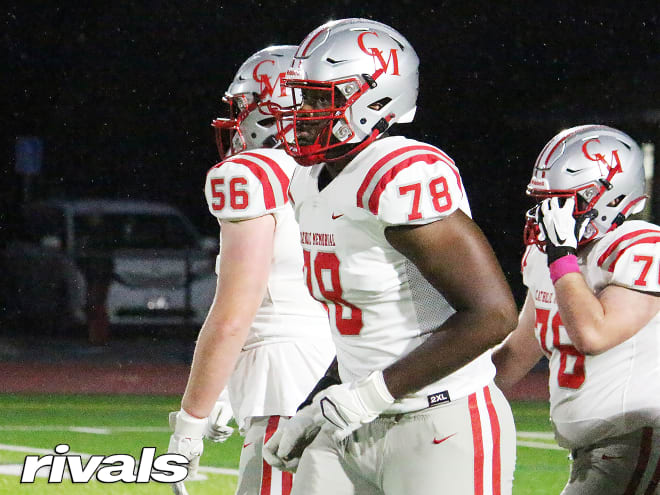 On Monday and Tuesday, 16 high schools throughout Connecticut and Massachusetts are hosting what they call the "Show Days." This is a series of coordinated workouts organized in such a way that college coaches, scouts and reporters can go from one school to the next, hitting as many of them as possible while seeing as many major prospects as they possibly can.
This has been going on for a couple of years, but this year it seems like college programs are really paying attention. On Monday, there were nine schools on the schedule and more than 60 college coaches were in attendance at the very first stop at 6:30 a.m. Around 20 of those coaches happened to be from Power Five programs.
Over the last few recruiting cycles, dozens of players from Connecticut and Massachusetts, and throughout the rest of New England, have signed with Power Five schools, and it seems like much of that exposure is due, in part, to the efforts of their high school programs to coordinate for these Show Days.
That being said, it looks like the public is still slow to understand how important this area of the country is, even if the coaches of their favorite team do.