Three-Point Stance: Dylan Raiola, Chris Marshall, Miami
Rivals national recruiting director Adam Gorney has thoughts on what Dylan Raiola's commitment means to Georgia's recruiting, the sad case of Chris Marshall and how Miami should feel good after another big recruiting weekend.
RAIOLA'S IMPORTANCE BEYOND COMMITMENT
Five-star quarterback Dylan Raiola committed to Georgia on Monday. It doesn't need to be said how big of a commitment it is since the Phoenix (Ariz.) Pinnacle prospect is the current No. 1 prospect in the country.
Georgia just won back-to-back national titles with someone who might have been the right guy at the right time in Stetson Bennett but he was a former walk-on who then went to JUCO, back to Georgia and then was a backup to Jake Fromm, D'Wan Mathis and JT Daniels before earning the starting job and winning two national championships.
Raiola has a completely different pedigree as his father, Dominic, snapped to Matthew Stafford with the Detroit Lions and for years the five-star quarterback looked destined for big-time success first as an Ohio State commit and now with Georgia.
Something that stands out most about Raiola - other than his uncanny physical comparison and playing style to Patrick Mahomes - is that he's going to be a phenomenal recruiter for the Bulldogs.
Numerous top prospects have already told me Raiola's pledge could alter their plans. Four-star receiver Dre'Lon Miller said his upcoming decision just got a lot harder. Five-star receiver Ryan Wingo said it was a "pretty good pickup" and "only time will tell" if it helps the Bulldogs land him.
No. 1 2025 running back Jordon Davison said he's talked to Raiola "for months" about this decision and that playing together would definitely be appealing.
Big-time 2025 Alabama receiver commit Ryan Williams called it a "very big commitment" and that he'd love to play with someone of his caliber. The top player in the state of Tennessee for the 2025 class, Cameron Sparks, said Raiola's commitment "puts thoughts in my head," about his own recruitment.
Getting Raiola was huge. His reputation and recruiting prowess will only help Georgia even more on the recruiting trail. Like the Bulldogs even need it.
*****
MARSHALL KICKED OUT OF SECOND PROGRAM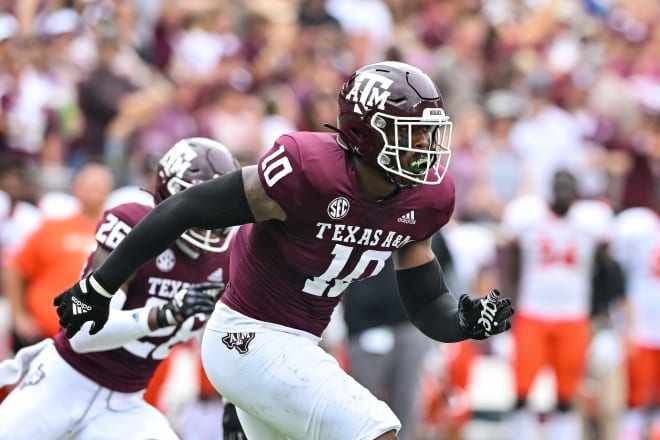 Chris Marshall ended up as the eighth-ranked receiver and No. 48 overall prospect in the 2022 Rivals250. The Missouri City (Texas) Fort Bend Marshall standout was under five-star consideration especially after he performed so well at the Under Armour Game and it looked like Marshall was destined for big things at Texas A&M.
Marshall was big but also a sleek route runner who had great hands. There was so much promise to his game but now he's been kicked out of his second college already and it's unclear what's going to happen to the former four-star receiver now.
Sadly, it was trouble from the beginning with Marshall, another case like Demond Demas and others before him who had great talent on the field but couldn't control themselves off it.
In his freshman season at Texas A&M, he was suspended for the third game of the season against Miami. He was then suspended again the following month when there was a "locker room incident" at South Carolina and God knows what was going on there, the rumors were pretty wild.
Marshall ended up playing in six games and had 11 catches on the season. On Christmas Day, he transferred and picked Ole Miss over TCU and was the top-rated transfer player for the Rebels. He showed promise in the Rebels' spring game with four catches for 89 yards but there were rumors that Marshall was having trouble adjusting to coach Lane Kiffin's system.
Spare me. Marshall was given every opportunity to excel at Texas A&M and then Ole Miss. There have been character issues before and they'll be again but not learning your lesson in College Station and then getting booted from Ole Miss after being there for only a few months?
It's sad. Marshall is a talented kid who could be setting himself for life if he could just stay out of trouble and listen. He unfortunately hasn't shown those abilities yet.
*****
MIAMI HAS TO BE FEELING PRETTY GOOD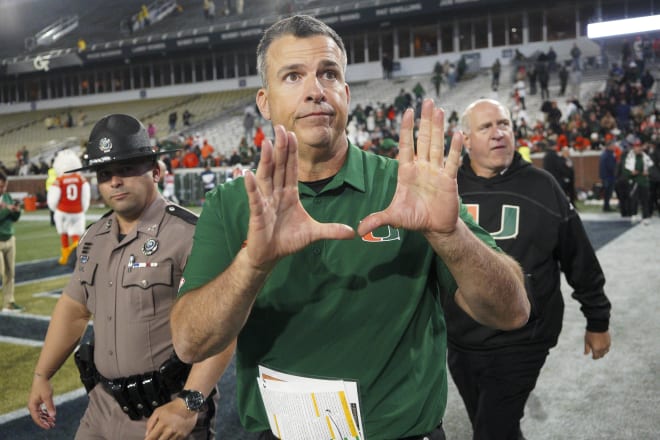 In coach Mario Cristobal's first season at Miami, the Hurricanes endured their worst year since 2007 with some bad losses including to Middle Tennessee State and giving up 45 points each to Duke and Florida State in embarrassing blowouts. The season ended with getting clobbered by Clemson and Pitt.
This turnaround was never going to be easy and it was not going to be fast. Cristobal knew that and in much the same way Oregon started slipping in the last year of Mark Helfrich and then to Willie Taggart, Cristobal took over that job and rebuilt things - and recruited so well along the way.
That recruiting prowess - and let's be honest, you need elite players to win big games - is starting to show itself at Miami as well. There is a whole lot to sell from history and tradition, the entire South Florida scene and an opportunity to see the field early.
Returns have been promising. The 2023 recruiting class finished seventh nationally led by five-stars Francis Mauigoa and Samson Okunlola and elite four-star defensive lineman Rueben Bain.
In this recruiting cycle, Georgia DB commit Ellis Robinson (arguably the top corner nationally) is telling people Miami would be the biggest threat to the Dawgs. Five-star defensive lineman David Stone keeps visiting. Four-star DB Ricky Knight has the Canes high on his list. Elite four-star Zaquan Patterson has Miami very high on the list.
It was an ugly start for the new coaching staff at Miami but Cristobal is getting players in and that means a turnaround back to national relevancy is coming.