Temperature check: What do recruits think of Longhorns?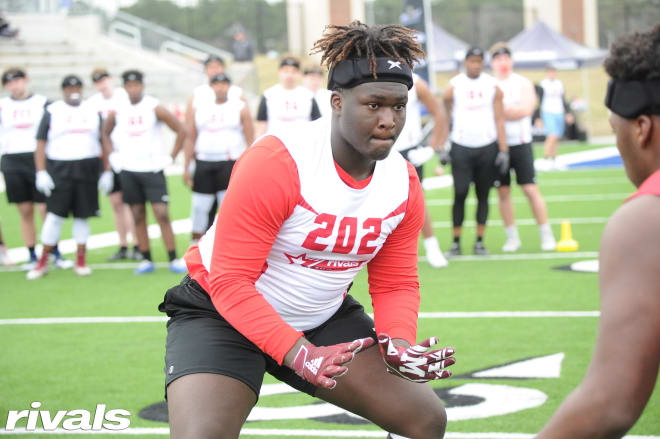 *****
Harris has been committed to Texas for months and elected to stick with the Longhorns even after the turnover on the defensive staff.
On Herman: "I'm fully confident in Coach Herman and everybody there because with him, the communication has always been there and he's honest about what they need to do to keep getting better."
On the staff changes: "I've been talking to the linebackers coach a lot, almost every day, and we've been talking about a lot of things. We are working on getting my official visit set up and everything. It's still good. I'm glad when all the changes happened I didn't rush and make a decision I would regret and I waited, and I'm happy I did. It's all come together and I feel like this staff has more energy and it's going to help the program."
*****
One of the top players in the state and the nation for the class of 2022, Dewberry is a priority for several schools, including Texas.
On Herman: "I think Coach Herman can be the right guy to turn things around, but I feel like this year is his make-or-break year. If he can't get it turned around this year then I don't think they'll be able to keep him around anymore."
On the staff changes: "Change isn't always good, but I feel like this change was good, just to get some new faces in there and some new ideas."
*****
Conner was an early priority for Texas and he made his commitment last summer and has stuck with the Longhorns ever since. He continues to be an asset for the program in recruiting other prospects as well.
On Herman: "I really like Coach Herman, I like him a lot. I've met a lot of head coaches and he's probably the most dynamic. He can be laid back, but he can also get on you if you need it. I really think he has the leadership qualities to get Texas back to where they used to be. I trust him."
On the staff changes: "I think it's going to be a very positive impact. I met Coach (offensive coordinator Mike) Yurcich. He's a pretty wacky guy, but he's pretty cool. I think all the changes that they made to coach staff are really going to benefit us in the future."
*****
A prospect whose stock is on the rise, Texas recently entered the mix for Wykoff and is battling Texas A&M, Texas Tech and several others for his commitment.
On Herman: "I think Coach Herman is a great coach. I think he's the guy to do it. He has the players there and he brought in some great assistants and I think he's going to do great things."
On the staff changes: "Coach (Herb) Hand is still there and he's the offensive line coach and we talk quite a bit. They wanted to see me bulk up and get bigger and I have and that's why they offered me. I know the new coaches will have some changes, but Coach Hand will be handling the offensive line and he's a great coach."
*****
Another new target for the Longhorns, King just landed an offer from Texas, but has quickly put the school high on his list and is expected to visit campus soon.
On Herman: "I really think that he ... made some good decisions on his staff. I really believe that they can turn the program around."
On the staff changes: "I really think some of the new coaches, it's a step in the right direction, especially with Coach (Jay) Boulware, the tight ends coach. He kind of jumped on me early. As soon as he got the job, he came down to come see me. That made a big impression on me. The stuff he was doing at Oklahoma and the new offensive coordinator, the stuff he was doing at Ohio State, I liked that a lot, too."
*****
Owens just finished his freshman year, but he is already a national-level recruit and Texas is already heavily involved in his recruitment.
On Herman: "When I got the offer from Texas and I talked to Coach Herman, he told me he will still be the coach by the time I get to college. I think he can get Texas back to the top as long as they keep working."
On staff changes: "My dad told me that they fired a bunch of the assistant coaches, but I hadn't really gotten to know those guys yet. Now I'm going to get to know the new guys."