Woody's World: Best of Rivals Camp Houston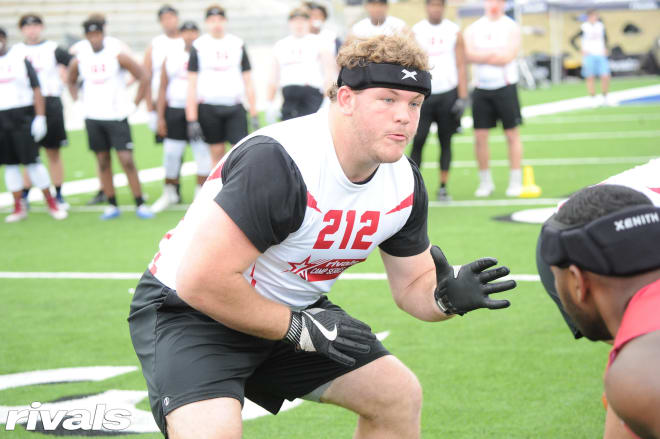 The Rivals Camp Series shifted to Texas over the weekend for a stop in Houston and several of the Lone Star State's top talents came out to compete. Each week following a camp weekend, Rivals.com's Woody Wommack will share his best social media moments from the camp, complete with thoughts and observations.
MORE HOUSTON RCS: Awards | Combine | Full Rivals Camp Series schedule and coverage
PLAY OF THE DAY 
The play speaks for itself as Friend made a spectacular interception. The 2022 prospect was personally recommended by former NFL cornerback Antonio Cromartie. Friend let his play do the talking and should be a name that coaches become familiar with in the coming months.
*****
BEST LINEMAN DEBATE IN TEXAS JUST GETTING STARTED
Five-star offensive guard Bryce Foster walked away with MVP honors on Sunday, but it was a fairly debated decision among myself, Chad Simmons and Josh Helmholdt for who should get the award between he and Ohio State commitment Donovan Jackson. Ultimately, the tie-breaking vote was cast by the coaching staff and Foster walked away with the hardware.
But after seeing them side-by-side for the third time in the past year, I wonder if the gap between the two prospects it closing. With five-star Dallas area tackle Tommy Brockermeyer right behind Foster in the overall rankings and Jackson not far behind, there will be plenty of debates in the months to come.
*****
WIDE RECEIVERS AND DEFENSIVE BACKS ARE LIKE OIL AND WATER
The two position groups are often the most vocal and always seem to clash, as evidenced by the clip below. The exchange was all in good fun (even if holding/pass interference/sack Twitter posters didn't get the joke) and perfectly sums up the jawing between the two side in games and in camps.
*****
FORMER REALITY STAR WINS MVP
When the show Friday Night Tykes debuted back in 2014, it wasn't exactly met with critical acclaim. The series focused on youth football in Texas and put a spotlight on poor behavior by coaches involved in the games as well. The show ran for four years and ended in 2017 but its legacy continues, as evidenced by our quarterback MVP at Saturday's camp, Lucas Coley.
During his time on the show, which began in the first season, Coley turned heads for his arm strength and athletic ability. That same thing happened at the camp and it's notable that none of the Rivals' staff in attendance knew of Coley's celebrity status until posters on social media made us aware. While his reality show background will always be part of his story, his talent is the reason he won the award and has the attention of several college programs.
*****
RIVALS ALUM OF THE WEEK 
This is usually a spot to mention a former Rivals Camper who came out to the camp but instead this week's mention goes to New York Giants wide receiver and former five-star Russell Shepard. It's been more than a decade since Shepard was a five-star quarterback in the class of 2009 and the Rivals Camp Series hadn't yet begun when he was playing in high school.
Nevertheless, he reached out on his own and wanted to see the camp in person and brought his son along as well. Given his interest in the event, it wouldn't be surprising to see him get into coaching once his playing days are over.