Sting Factor: The biggest decommitments of April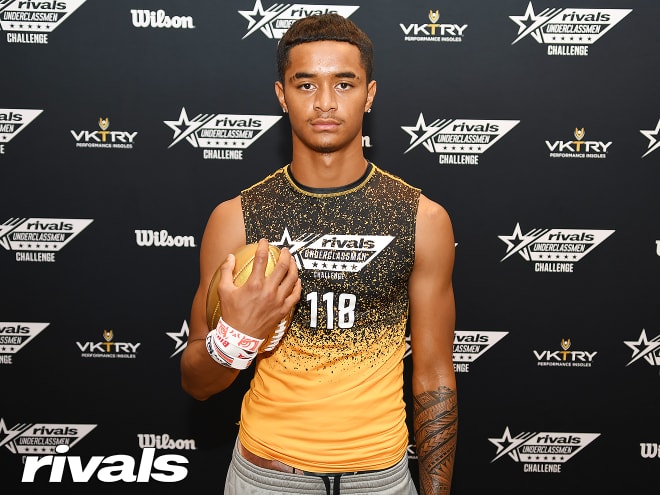 De-commitments have slowed down in recent months following the second signing day but there were still a significant amount of players who backed off their pledges in April. Here's a list of them, as Rivals national recruiting director Adam Gorney assigns a Sting Factor to each as well.
Landen Thomas, Georgia
An early Florida State commit, Thomas backed off that pledge and committed to Georgia. It looked like – once again – the Bulldogs were going to get one of the top players in the class and the current No. 1 tight end.
But after multiple visits back to Tallahassee, the Moultrie (Ga.) Colquitt County standout decided Florida State was the right place for him and in mid-April he flipped back to the Seminoles.
While it was not totally unexpected since he visited FSU so often, this one still hurts.
Sting Factor: 8
SHARE YOUR THOUGHTS WITH GEORGIA FANS AT UGASPORTS.COM
*****
Tionne Gray, Missouri
*****
Ju'Juan Johnson, Colorado
Colorado coach Deion Sanders has revamped his entire roster mainly by utilizing the transfer portal but Johnson was a key piece to the 2024 recruiting class. He was a huge win for the Buffaloes as the mid-level four-star chose Colorado in February over many other offers.
But after a recent visit to Boulder and increased interest from LSU, Florida and others, Johnson backed off his pledge. It especially stings since Colorado needs as much elite talent as it can get after going 1-11 last season.
Sting Factor: 7
SHARE YOUR THOUGHTS WITH COLORADO FANS AT CUSPORTSREPORT.COM
*****
Eric Karner, Purdue
This is a big loss for Purdue but it was also a commitment that did not last long so the Boilermakers will have plenty of time to fill the spot. Karner committed to Purdue in early March when his recruitment did not completely explode yet and by mid-April he was back on the market as Alabama, Texas A&M, Auburn, Florida and many others have now offered.
The team to watch, though, is Iowa because Karner had an excellent visit there over the weekend and the Hawkeyes are now the favorite, which could hurt Purdue further.
Sting Factor: 7
*****
Kingston Lopa, Arizona
It looked like Arizona got a real steal in the Sacramento (Calif.) Grant standout who plays safety but could grow into an outside linebacker. Lopa is long, physical and very, very active on defense.
But after committing in late January to the Wildcats, Lopa was back on the market by early April as Texas and Notre Dame have offered. Tennessee, Oregon, Washington and others are chasing him.
Sting Factor: 7
*****
Aaron Philo, Minnesota
Minnesota only threw 12 passing touchdowns last season so getting a big-time playmaker such as Philo was huge because he threw for 4,598 yards with 54 touchdowns and eight interceptions, and ran for another eight scores in his junior season.
The Bogart (Ga.) Prince Avenue Christian three-star quarterback committed in early March but only a few weeks later he backed off his pledge as Georgia Tech, North Carolina, Duke and others have gotten involved.
There's still time to get a quarterback in the class for Minnesota and the transfer portal makes this easier, but Philo would have been a nice addition.
Sting Factor: 7
SHARE YOUR THOUGHTS WITH MINNESOTA FANS AT THEGOPHERREPORT.COM
*****
Jordan Pride, Florida State
Pride made a commitment to Florida State in July 2021 and it made so much sense. He lives only about an hour away in Blountstown, Fla. He has been there multiple times and likes what the staff is doing to make the Seminoles a top contender again. And the four-star defensive back is talented enough inside the Rivals250 to make an impact there.
But in recent weeks, Pride backed off his long-term commitment and it now looks Florida is nearly a lock to land his pledge.
Sting Factor: 7
*****
Jamir Benjamin, Stanford
The high three-star cornerback from West Bloomfield, Mich., was Stanford's first commitment for the 2024 class way back in November but so much has changed with the program since then that Benjamin reopened his recruitment. Coach David Shaw is gone and while Benjamin did take a recent visit back, it was not the same and so he decided to back off his pledge.
Michigan and Penn State will be in the running among others and Stanford might not completely give up, either.
Sting Factor: 6
SHARE YOUR THOUGHTS WITH STANFORD FANS AT CARDINALSPORTSREPORT.COM
*****
Johann Cardenas, Texas Tech
In mid-January, Texas Tech scored big by going into Houston (Texas) St. Thomas Catholic and landing a high three-star running back who rushed for more than 1,000 yards last season and would have had much more if he didn't split carries with another back.
But Cardenas backed off his pledge to the Red Raiders later in April and it does leave a hole in the backfield for this recruiting class. Lots of teams are involved as Cardenas resets things in his recruitment.
Sting Factor: 6
SHARE YOUR THOUGHTS WITH TEXAS TECH FANS AT REDRAIDERSPORTS.COM
*****
Justin Terrell, Wake Forest
Having Terrell in Wake Forest's class would have been a really nice addition for numerous reasons including the defensive tackle is big and athletic, can move inside and attacks the ball carrier. Plus, he's from Rome, Ga., and the Demon Deacons need to keep dipping into that state for more talent.
But Wake's defensive line recruiting, especially on the edge, and then the recent addition of Ameir Glenn – also from Georgia – soothes things a little.
This one will sting more if Terrell ends up elsewhere in the ACC as NC State, Virginia and others are involved but he was committed for less than two months.
Sting Factor: 5
SHARE YOUR THOUGHTS WITH WAKE FOREST FANS AT DEACONSILLUSTRATED.COM