{{ timeAgo('2023-03-01 06:40:03 -0600') }}
football
Edit
Sting Factor: February's biggest recruiting burns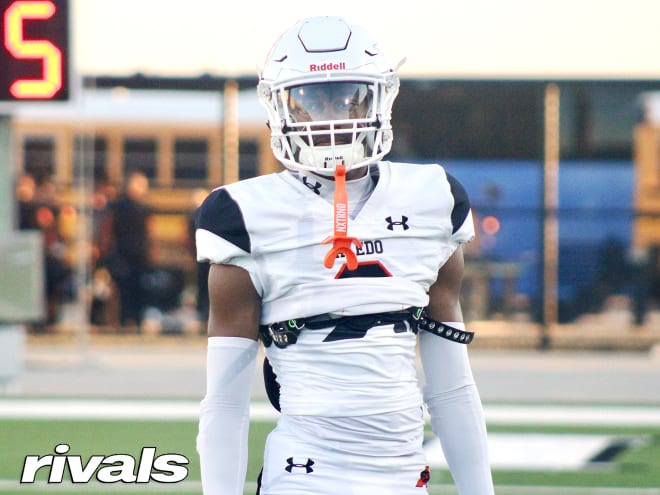 Jaden Allen - Texas to uncommitted  
Overview: Even in mid-January, Allen was talking about how much he loved the family feel, the coaches and everything else at Texas, how his focus was bringing back winning to the Longhorns and it looked like his commitment was strong. But only a few weeks later, the Aledo, Texas, cornerback who had been committed to the Longhorns since since late December 2021 backed off his pledge. LSU, Alabama and USC are now the schools to watch.
Sting Factor: 7
*****
Cameron Brandt - Stanford to Michigan  
Overview: The Chatsworth (Calif.) Sierra Canyon three-star defensive end committed to Stanford over the summer and weathered the Cardinal's bad season, but when coach David Shaw resigned it started the wheels turning that another program might be the right fit. Michigan emerged as a contender and it was basically down to Brandt choosing to stick with the new Stanford staff or head to Ann Arbor. He chose the latter.
Sting Factor: 6
*****
Israel Carter - Arizona State to South Florida  
Overview: The three-star quarterback from Corona (Calif.) Centennial committed to Arizona State in April, but from that time until February's signing day a whole lot changed in Tempe, including a new coaching staff coming in. When that happened and the Sun Devils made runs at other quarterbacks, Carter took a visit to South Florida and loved what he heard from new coach Alex Golesh. He ended up flipping to the Bulls.
Sting Factor: 6
*****
Martavious Collins - Alabama to uncommitted  
Overview: The high three-star tight end and Alabama parted ways as the Crimson Tide continue their search for a tight end in this recruiting class and they're going after some even bigger fish. South Carolina commit Michael Smith is being pressed by Alabama to visit in March, Trey'Dez Green is a top priority if he can be convinced to go somewhere other than LSU, and more offers are going out. Collins will find a home because he has talent, but it probably won't be in Tuscaloosa.
Sting Factor: 3
*****
Marcos Davila - TCU to uncommitted  
Overview: When Davila committed to TCU in late December he was planning to play not only for coach Sonny Dykes but also then-offensive coordinator Garrett Riley. However, Riley then left for Clemson after the Horned Frogs played for the national title and TCU hired Kendal Briles from Arkansas. The four-star quarterback from Midland (Texas) Legacy wanted to investigate his options. Purdue is a major player, but don't count out Miami and others.
Sting Factor: 7
*****
Kendrick Gilbert - Purdue to Kentucky  
Overview: For such a long time, the four-star defensive tackle from Indianapolis Cathedral flirted with Kentucky, showed interest in the Wildcats and that coaching staff continued to recruit him. But Gilbert stayed committed to Purdue – all the way up to the end. It would have been a huge win for the new Boilermakers coaching staff under Ryan Walters to keep the four-star who can play across the defensive line, but Gilbert decided to flip to Kentucky at the last minute.
Sting Factor: 7
*****
Zavion Hardy - South Carolina to JUCO  
Overview: Throughout his recruitment, Hardy has talked highly of South Carolina and talked about how he still planned to sign with the Gamecocks in the late period, but the paperwork never came because of what's believed to be an academic issue. So, like many others, the four-star defensive lineman is expected to go the junior college route with South Carolina still a very real player once he gets his grades in order.
Sting Factor: 6
*****
LJ Martin - Stanford to BYU  
Overview: Martin was committed to Texas Tech early before flipping to Stanford. After the coaching staff change at Stanford, Martin ended up at BYU. It might actually be the best fit for the 6-foot-2, 205-pound powerful running back who should carry the ball more traditionally behind that massive offensive line. Stanford could have used his talent, sure, but the Cardinal also signed four-star Sedrick Irvin and three-star Caleb Hampton in their backfield.
Sting Factor: 5
*****
Jason Robinson - USC to uncommitted  
Overview: The four-star receiver and USC parted ways as the Trojans re-evaluate everything into their 2024 class, and the Long Beach (Calif.) Poly standout wanted to see what else was out there as well. In coach Lincoln Riley's offense, Robinson could be a very nice addition because he's fast and great in space, but many other elite receivers could come onboard with the Trojans after Riley's successful first season.
Sting Factor: 5