Self-Scouting: Evaluating recent Rivals five-star QB rankings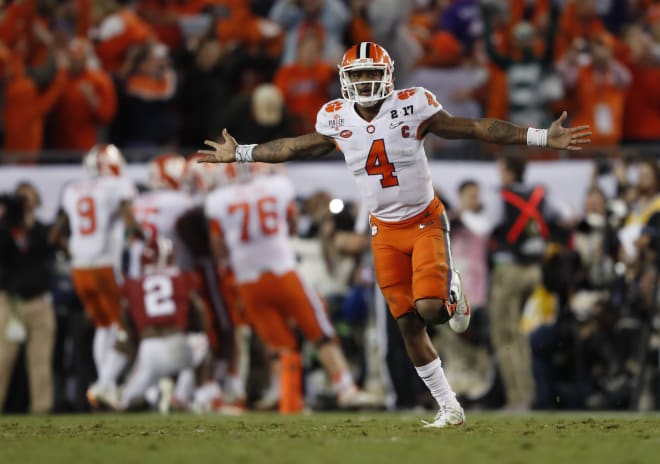 COMPARING TOP 2020 PROSPECTS TO RECENT STARS: QBs | RBs | WRs | TEs | OL | DEs | DTs | LBs | DBs | ATHs
Over the next two weeks, Rivals.com is taking a look at five-stars at each position from 2012 to 2015 (classes that are now nearly completely out of college football and off to the pros) and how they fared compared to our ranking to determine which spots we got right and which ones we got wrong. We start at quarterback.
FIVE-STAR QUARTERBACKS
OVERVIEW
From 2012-15, there were only seven five-star quarterbacks in the Rivals.com rankings and while there were some dynamic hits among that group, there were also some big-time misses.

First, the hits: Winston was the No. 1 overall pick in the 2015 NFL Draft, Watson was the No. 12 selection in the 2017 draft and Rosen was the No. 10 pick in the 2018 draft after all three had highly successful college careers.
Watson led the way among those three with 10,168 passing yards and 90 touchdowns at Clemson, Rosen totaled 9,340 yards and 59 touchdowns at UCLA and Winston had 7,964 yards and 65 touchdowns in two seasons at Florida State.
But there were also some misses along the way. Allen was having a successful career at Texas A&M but then he transferred to Houston, left after a year and was picked up by the Carolina Panthers as an undrafted free agent.
Hackenberg put up impressive numbers during his Penn State career although he did throw a high number of interceptions and he became a second-round draft pick of the New York Jets. But after struggling there and then bouncing around to some other teams, he played for the Memphis Express of the AAF but also lost the starting job there.
The two biggest misses were Browne, who was a backup at USC and then earned the starting job but quickly lost it to Sam Darnold. He transferred to Pitt but never got much traction there and is not playing anywhere professionally. Kiel backed off pledges to Indiana and LSU to end up at Notre Dame but ended up transferring to Cincinnati. He is now a sales representative for a wholesale distribution company in Tennessee.
FARRELL'S TAKE
We did a solid job overall evaluating quarterbacks despite the two big misses because we had three first-rounders and a No. 1 overall pick and that's hard to do at this position.
We liked Winston a lot of out of high school for obvious reasons, but he made his impact even earlier than expected. Watson overcame injury and, like Winston, led his team to a national title. Both were no-brainer five-stars for us. Rosen was the best of the bunch out of high school but his career at UCLA was solid but not spectacular. However, being a top-10 NFL Draft pick shows the NFL saw his talent as well.
Allen is a tough one because if he stayed at A&M, he could have been a star and a high draft pick while Hackenberg was highly debated as a five-star and we decided to go on him despite his on-field decision-making issues.
As for Browne and Kiel, each failed for different reasons. Browne was a system quarterback who put up major numbers in high school but in hindsight had some issues we ignored. As for Kiel, it was mostly in his head as he had all the talents needed to be very good. But his flip-flopping in his recruiting process was a bit of a red flag that we ignored as he committed to Indiana, no-showed for early enrollment at LSU and instead started taking classes at Notre Dame. Then he transferred and the rest is history.
Quarterback is a very hard position to evaluate so we had some hits and some misses but I'm happy overall with the evals.