Comparing 2020 offensive linemen to recent college stars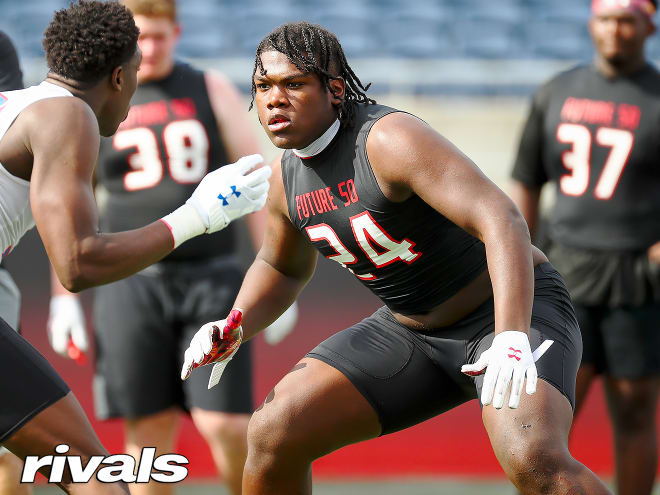 For the next two weeks, Rivals.com is publishing a series comparing the top five players at each position with current college players or those who were selected in the 2019 NFL Draft. We move on next to the offensive line.
RELATED: Comparisons for the top five 2020 QBs | RBs | WRs | TEs
1. Paris Johnson, Jr. 
Comparison: Mekhi Becton
Overview: The first thought when coming up with a comparison for Johnson was to go to Georgia's Andrew Thomas since he's leading the early offensive line lists for the 2020 NFL Draft, but Thomas is only 6-foot-5 and Johnson is already two inches taller. Becton makes a lot more sense because he's a massive 6-foot-7, 355-pound lineman who can dominate defensive ends with power and surprising foot quickness. Johnson might never get to that weight but his height is already there and he dominates in a similar fashion.
Farrell's take: I'm not sure Johnson Jr. will get as big as Becton but they are similar coming out of high school as tall, long linemen with good frames to add weight. Becton hit the ground running in college, and I think Johnson Jr. can do the same thing. Becton will be one of the top linemen for the NFL Draft next year and was a huge pull from Virginia for Louisville.
2. Justin Rogers
Comparison: Cody Ford
Overview: Who would be a good comparison for Rogers, who plays along the offensive line, the defensive line and played linebacker last season – even at 6-foot-4 and 314 pounds? It might be impossible to find a dead-on accurate one, but Ford makes the most sense since he's a powerful, massive and versatile offensive lineman. He can play guard or tackle and that's why he was so valuable in the NFL Draft, going in the second round. It will be really interesting to see which position Rogers ends up playing on the next level.
Farrell's take: Ford was a bit more raw than Rogers coming out of high school, but the lineman we see now headed to the NFL is what reminds us of the five-star from Michigan. He's versatile like Ford and has great feet and both have the mentality of a defensive player on offense.
3. Myles Hinton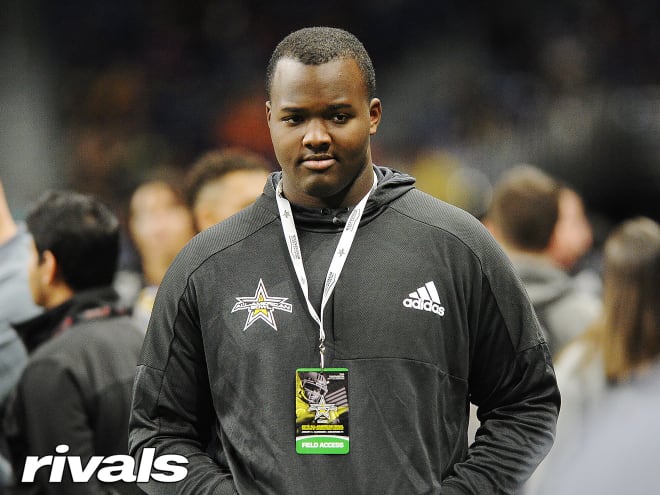 Comparison: Andre Dillard
Overview: The book on Dillard says he was the most athletic offensive tackle in the draft who had great feet and could move better than anybody else. With his size and athleticism the Washington State offensive tackle was a first-round selection. That fits Hinton well, as he's shown to be a prospect playing left tackle who can move really well and also give that shot of physical play when needed.
Farrell's take: Hinton is a very good athlete with good footwork who could play left or right tackle so he fits with the Dillard comparison. Dillard isn't known as the most physical lineman but he's so agile and athletic that he's tough to get around. Hinton is the same way right now and you know he'll end up more physical at Stanford.
4. Broderick Jones 
Comparison: Alex Leatherwood
Overview: Jones is an incredibly special prospect with awesome potential who dominates on both lines of scrimmage and looks like a million bucks doing it. The Georgia commit swallows up defensive linemen when he's playing offensive tackle and then on tape he looks like one of the best defensive ends in the country, too, chasing down people in the backfield at 6-foot-6 and 300 pounds. In high school, Leatherwood had that special blend of size and power and he should emerge as one of the best linemen at Alabama this season.
Farrell's take: Leatherwood was one of those linemen who looked great off the bus and lived up to that potential on the field. Jones is the same way, although he's more raw at the same stage. Both players have great frames and are enormous linemen who surprise you with their agility and light footwork. Jones could be a five-star before all is said and done.
5. Kevin Pyne 
Comparison: Kaleb McGary
Overview: Pyne is just so massive and so physically dominant that it's hard not to be impressed with his ability to dominate on the offensive line, and McGary was the same way in high school. McGary was also so special because of his athleticism at that size and Pyne has shown on film his ability to get to the second level and block downfield. Boston College has always been able to develop size, and Pyne has a whole lot of talent coming into Chestnut Hill as well.
Farrell's take: Pyne is more filled out at the same level and much more advanced, but when looking for a very tall and athletic offensive lineman to compare him with, McGary is the obvious choice. I like Pyne's nasty streak a bit better and BC is known for producing linemen, so he should have a great career in Chestnut Hill.