Comparing 2020 defensive ends to recent college stars
RELATED: Comparisons for the top five 2020 QBs | RBs | WRs | TEs | OL

Last week and into this week, Rivals.com is publishing a series comparing the top five players at each position with current college players or those who were selected in the 2019 NFL Draft. We move on next to defensive ends.
1. BRYAN BRESEE
Comparison: Nick Bosa
Overview: Bosa was a dominant force at Ohio State when healthy and basically did as he pleased at defensive end. Bresee could be a bigger version of that since he is already 6-foot-5 and 280 pounds and is committed to Clemson, which clearly knows how to develop defensive line talent. The five-star defensive end has power to dominate offensive linemen and surprising speed to the edge. He's special - just like Bosa was in high school - and it wouldn't be shocking to see him as a first-round draft pick down the line.
Farrell's take: Bresee is bigger than Bosa at the same stage but slightly less explosive. However, he's ranked higher because he can play defensive end or tackle at the next level. His motor is similar to Bosa's and he has excellent pass-rushing moves as well. It's hard to beat either Bosa, Joey or Nick, but Bresee has a chance to be as good.
2. SAV'ELL SMALLS
Comparison: Josh Allen
Overview: Smalls is one of the most-impressive prospects in this class because he is exactly what NFL teams are looking for now - hybrid athletes who could be used all over the field in different defenses and he's incredibly productive as well. The five-star defensive end is excellent and nearly unstoppable off the edge and this offseason for his 7-on-7 team, Smalls also played linebacker. He moves so fluidly and he's great in space. Allen put up huge numbers this past season at Kentucky to move into the early first round and Smalls has that capability as well.
Farrell's take: Smalls is a great comparison to Allen because he can play linebacker or defensive end at the college level. The difference? Allen was a wide receiver as a junior in high school. But Smalls could probably pull that off as well if he wanted to. Both are very athletic and agile and I expect Smalls to be a great hybrid down the line.
3. MYLES MURPHY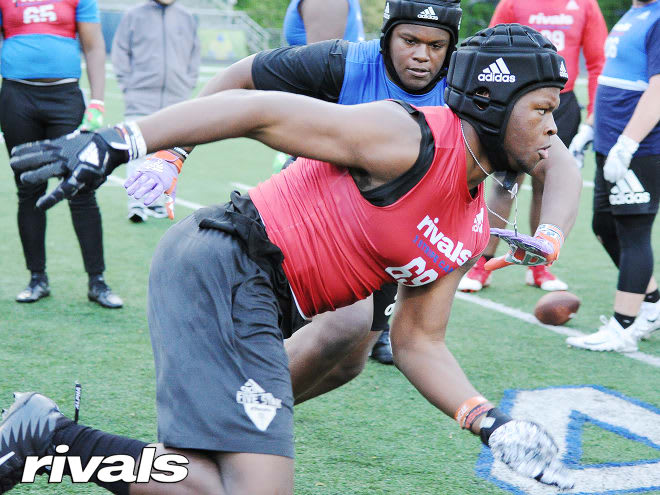 Comparison: Chase Young
Overview: Murphy was terrific at the Rivals100 Five-Star Challenge presented by adidas last summer, which was especially impressive since he was an underclassman at the event. It didn't matter. The five-star has an excellent frame where he could probably still add weight, he's quick to the inside, quick to the edge and can win reps basically however he wants. Young plays in a similar way where he's fast and aggressive off the edge and that's why he led Ohio State with 10.5 sacks last season. Murphy, who has Clemson, Georgia and Auburn on top, could be special at the next level.
Farrell's take: Murphy is a little more advanced as a pass rusher at the same level but Young was a little more athletic. This is a great comparison because Murphy could easily hit college and become a star at a young age. Young should be a first-rounder when he comes out and it wouldn't surprise me if Murphy did the same down the line.
4. JORDAN BURCH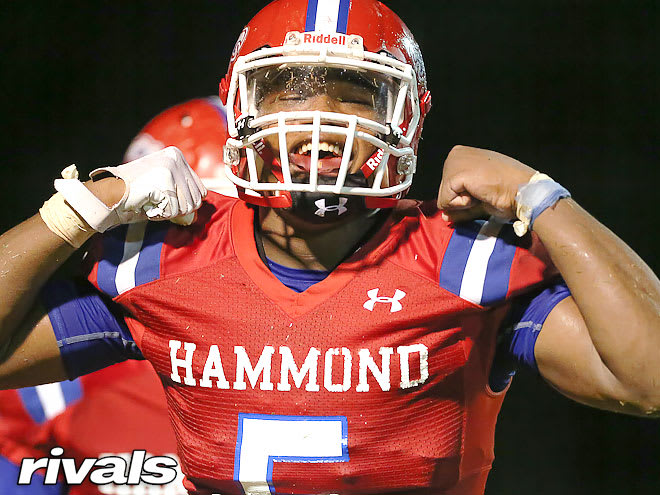 Comparison: Montez Sweat
Overview: There is a possibility the more we see Burch throughout this recruiting cycle that he could move up in the rankings if he performs well because players like him don't come around very often. He's 6-foot-6 and 255 pounds, almost a carbon copy of what Sweat measured at the NFL Combine and the five-star also has tremendous athleticism, just like the former Mississippi State standout. Again, Burch is exactly what elite colleges and NFL teams now want - long, rangy, athletic players who can do a lot all over the defense.
Farrell's take: I'm a huge fan of Burch and think he's the one guy ranked outside the top 10 right now who could end up being No. 1 — his ceiling is that high. Sweat was a two-star tight end coming out of high school and then a three-star defensive end out of JUCO, so it took him longer to develop but they are very similar athletically.
5. DESMOND EVANS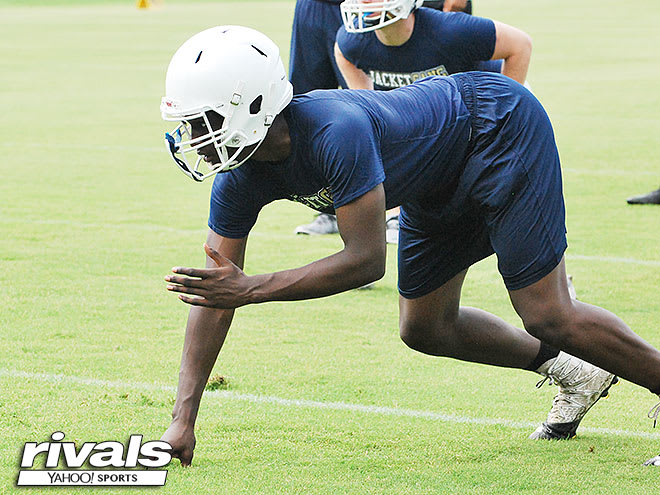 Comparison: Yetur Gross-Matos
Overview: Evans is so dominant on film that sometimes there are two or three players trying to block him and he just barrels through them to make plays in the backfield. The four-star has tremendous length and athleticism who is also used on special teams to make plays because of his speed off the edge. Evans, who has North Carolina, NC State, South Carolina and others in his top 10, is a lot like Gross-Matos, who had 20 tackles for loss and eight sacks last season for Penn State. Evans is unstoppable on the high school level and could be special as he continues to develop in college.
Farrell's take: Evans reminds us of Gross-Matos because both are excellent working off of contact and getting the job done. Gross-Matos was a guy who really rose late in our rankings while Evans is much higher ranked at the same stage, but they have similar qualities.