Rivals250 OL Josiah Thompson commits to South Carolina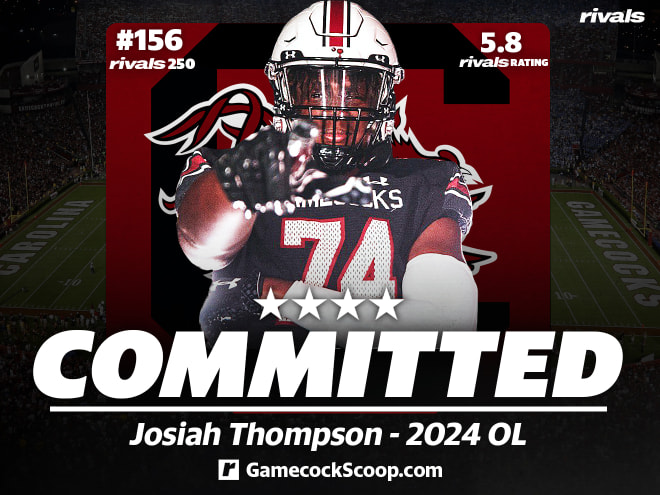 IN HIS OWN WORDS
"Freshman year, South Carolina was my first offer," Thompson said. "I've been there for unofficial visits, practices, games and I just started to get more and more comfortable. Eric Wolford was a great coach but he went to Kentucky and is now at Alabama so I had to get to know the new staff. Coach Adkins, coach Lonnie, and coach Shane Beamer are amazing coaches and they're fun to be around. I can talk to them about anything. They take time out of their day just to check up on me and my family. Going there on visits for spring practices and games, I get more and more comfortable being around there. I just knew that was the right choice for me.
"Coach Adkins and coach Teasley are both great coaches," he said. "I didn't talk to coach Lonnie all that much before he became the offensive line coach. Since then, I've been having more conversations with both of them and getting to know them more and being around them more. They're both really amazing coaches.
"Me, Kam, and Blake have a close connection," said Thompson. "I remember when I first met Kam at a photoshoot. We connected on social media and going through freshman and sophomore year we got closer and closer. We're all three really cool with each other and we know that if we all go to South Carolina we can work hard together and achieve something great.
"This recruiting class is going to be great," he said. "Kam, Blake, Mazeo (Bennett), Dante (Reno), and all of us, we can really do something together if we work hard. There's definitely a great future at South Carolina."
RIVALS' REACTION
South Carolina continues to recruit at an elite level and Thompson is a major piece to the puzzle. Pairing him with Kam Pringle and Blake Franks should give the coaching staff and fans a lot of confidence in the future of the South Carolina offensive line. Thompson brings outstanding athletic traits to the field. He has impressive quickness for a player who measures in at 6-foot-7. As he's gotten older, Thompson has gotten stronger and it shows on film. Along with that newly acquired strength and height, Thompson nearly 6-foot-11 wingspan and 36-inch arms make it difficult for defensive linemen to get by him. Thompson is refining his technique when it comes to run and pass blocking but we've seen solid improvement. It will be good to see how much progress he has made this offseason before the next rankings update.