Rivals100 Five-Star Challenge: Who has the most to prove?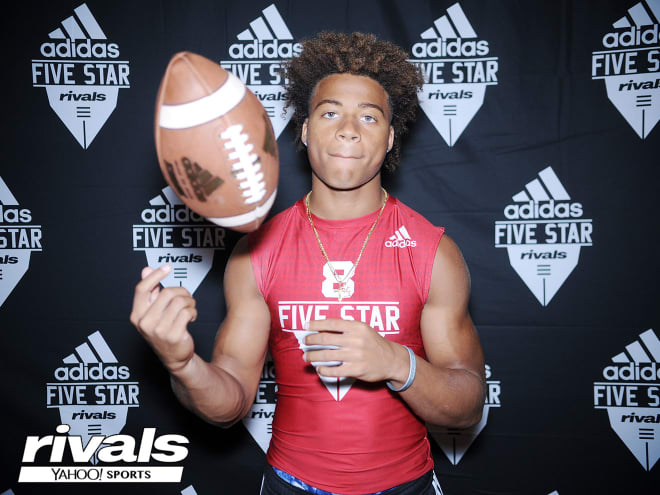 ROB CASSIDY: TE'CORY COUCH
As an undersized player that has already been committed to three schools, Te'Cory Couch is under a lot of different microscopes. Add in the fact that he carries a lofty ranking and he'll be asked to do plenty to back up his reputation. Couch is great coverage but will need to be elite if he is to overcome is lack of size this week.
MIKE FARRELL: DEREK STINGLEY JR.
Derek Stingley Jr. has the most to prove since he's our new No. 1 and the first cornerback to be named No. 1 in Rivals.com history. Everyone will be gunning for him and out to bring their best and if he has an off day, you can bet some will question that ranking. The pressure is on, but that's what comes with such a lofty ranking.

ADAM FRIEDMAN: 2019 QUARTERBACKS
It has been talked about over and over again how this 2019 quarterback class isn't very good. The quarterbacks at the Five-Star Challenge have the most to prove with their performances on Thursday. Can one of them emerge as a potential five-star? Bo Nix is the closest in the current Rivals100 but Ryan Hilinski, Sam Howell, and Graham Mertz have a chance to really boost their stock.
ADAM GORNEY: THEO WEASE
Theo Wease is a highly talented receiver who could absolutely come to the Five-Star Challenge, dominate the event and solidify his spot as the No. 1 receiver in this class. But the 2019 class at that position is loaded and fellow five-star receiver Jadon Haselwood has been spectacular this offseason and is definitely pushing Wease for the No. 1 spot.

There are other receivers in the class as well with talent to make them tops at the position but if Wease comes in and takes over the event then that would be a big statement moving forward.
JOSH HELMHOLDT: CAM COLEMAN
We have always been fans of wide receiver Cam Coleman's game, but his season at IMG did not do his recruitment any favors and things have more or less stalled as summer starts. A noteworthy performance on this stage could do wonders for his recruiting momentum as Coleman prepares to play out his senior year back in his hometown of St.Louis.
NICK KRUEGER: JOSH SANGUINETTI
I have said in previous stories since the most recent rankings release that Josh Sanguinetti might have taken a bit of an undue drop based on what we saw in our camp in Miami earlier this spring. I am clinging to what I remember seeing from him in the Future 50 and his length, athleticism and instincts really impressing me.

Though I have a pretty limited sample size in watching him play, his stock could certainly still swing either way pretty significantly. He could really help himself on a big stage this week.
CHAD SIMMONS: GARMON RANDOLPH
It is hard to say that any one prospect has the most to prove at this event because they have already earned their invite. With that said, one interesting prospect I really want to see more of is tight end Garmon Randolph. He is a long athlete who can run with a great catch radius. Can he create separation, can he make that tough catch in coverage and can he shine with other elite prospects around him? I know he is talented, but is he ranked properly? He is one I will really be watching closely.
WOODY WOMMACK: DREW PYNE
While Drew Pyne has been on the scene for several years and he's already committed to Notre Dame, he comes into the event as one of the youngest prospects and he will be in the spotlight, mainly because of his position. With only eight quarterbacks at the event, each one will receive their own share of scrutiny. Competing side-by-side against other top 2020 quarterbacks Harrison Bailey and Bryce Young will give Pyne a chance to prove he belongs among the nation's elite.