Rivals Rankings Week: Roundtable on 2023 class
The initial Rivals100 was released for the 2023 class this week, and with any of our rankings, it featured plenty of debates and tough decisions. Our national recruiting analysts – Adam Friedman, Adam Gorney, Josh Helmholdt and Sam Spiegelman – weigh in on some of those decisions.
1. Who might be too high?
Friedman: Richard Young is an outstanding back and deserves the attention he is getting but Trey Holly, to me, looks like the more explosive and well-rounded back. Young is a big workhorse that does a good job running between the tackles but doesn't show the speed to turn the corner like Holly does. Young is certainly one of the top backs in the nation and should be highly ranked but I like Holly a little bit better.
Gorney: I love that Miles McVay shows up at every event possible, he's highly competitive and he is a physical offensive lineman that battles to the very end. I'm just not sure he's a top-15 player in the 2023 class and I'm not sure if he's a long-term tackle or will move inside. At 6-foot-7 and more than 350 pounds there's no question McVay is massive but at that size can he move well enough to stop elite edge rushers in college and beyond?
Helmholdt: I have yet to see Tennessee receiver Adarius Redmond in-person, but what I have seen of him on film does not suggest Rivals100 level to me. I am not even sure he would not be better at the next level as a defensive back. Hopefully we can see more of Redmond this off-season and get a clearer evaluation.
Spiegelman: There could be an argument that Austin (Texas) Westlake tight end Jaden Greathouse is slotted high, especially for a pass-catching tight end. However, the 2023 class is looking to be very strong at the tight end position, particularly with athletic, flex options that can be used as mismatches in the passing game or simply as bigger, difficult covers out wide. Greathouse plays receiver for Westlake and was the first freshman to start for the storied high school program.
*****
2. Who might we have too low?
Friedman: Alex Birchmeier is one that I'm really excited to learn more about. The offensive lineman out of Virginia is a state champion wrestler and could play guard or tackle in college. Once we get a better look at him and his physical development Birchmeier could see rise up the rankings.
Gorney: I don't know if Jalen Brown is the best receiver in Florida because Brandon Inniss is pretty special as an early five-star and there are some others we really like. But No. 74 nationally for the Miami (Fla.) Gulliver Prep recruit seems a little low to me. Time and again, I see clips of Brown either dominating 7-on-7 tournaments or making highlight-reel catches look easy and I wonder just how good he is going to be in the coming years. If it was completely up to me, Brown would easily be in the top 50 and could push even higher. He's that good.
Helmholdt: Orlando offensive tackle Payton Kirkland is far from a finished product, but all the tools are there. In fact, there may not be an offensive tackle with a higher ceiling in this class than Kirkland. We are not yet halfway through his high school career and offensive linemen are one of the last to develop. I expect he ends up ranked higher when the final Rivals100 is published.
Spiegelman: Kyle Kasper has turned heads this offseason on the 7-on-7 circuit. He measures in at 6-foot-5 and just shy of 200 pounds and runs the field like a wide receiver with equally impressive hands and range as a pass-catcher. Kasper's father played receiver at Iowa and it's very easy to see Kasper developing into an extreme mismatch at either receiver or even as a tight end.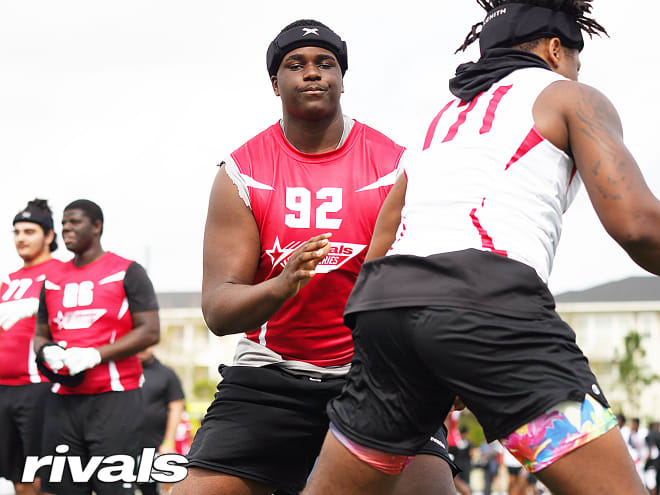 *****
3. Who did you go to bat for that will make you look smart?
Friedman: I'm going with Nyckoles Harbor. The athlete out of Washington D.C. is an outstanding physical specimen, standing at 6-foot-5, 220 pounds, and is a star on the track. He clocked a 6.47-second in the 55-meters as a freshman and this past August he popped a 10.65-second 100-meter time. Those are incredible times for a player his size and he'll blow up with offers once things really start to click for him on the football field.
Gorney: There were a lot of questions about Francis Mauigoa and rightfully so. Is he an offensive tackle? Is he a defensive end? Is he a defensive tackle? Originally from American Samoa, Mauigoa was at San Bernardino (Calif.) Aquinas last year but didn't play because of the pandemic, returned to American Samoa and now lands at Bradenton (Fla.) IMG Academy. And by all accounts he's been a monster there. Mauigoa is huge, he's versatile and his upside is tremendous. The next question should be whether he proves to be a five-star or not.
Helmholdt: Pickerington (Ohio) Central ATH Alex "Sonny" Styles missed his entire freshman season with injury. The buzz about him was already building before his sophomore season, though, and teams that were paying attention were quick with offers when the results matched the hype. Styles starts higher in the Rivals100 than his brother, 2021 wide receiver Lorenzo Styles Jr., finished, and I have no issue with that. He's an elite talent.
Spiegelman: As we evaluate talent in 2021, it's important to recognize trends in all levels of football from the NFL down to high school. One of the biggest is positionless football. Jaiden Ausberry, one of the nation's top athletes in this first Rivals100 for 2023, could play multiple positions on defense, from middle linebacker to an off-the-ball linebacker. He can also cover like a safety and put pressure on the quarterback, which he does routinely. Ausberry's father, Verge, played linebacker for LSU and his older brother, Austin, is a four-star defensive back. Jaiden has a chance to be a dynamic piece on a college defense.