Rivals Rankings Week: Breaking down the 2024 RBs
NO. 1 AT THE POSITION: Jerrick Gibson 
From late last July until mid-February, Jerrick Gibson was committed to Florida, and now with a new coaching staff in place and an entirely new situation in Gainesville the No. 1 running back in the 2024 class is serious about the Gators again.
But there is going to be serious competition for Gibson, who is now playing at Bradenton (Fla.) IMG Academy. Georgia has targeted him, along with Florida State and many other national programs.
On the field, Gibson is someone who can run between the tackles, not get touched in a phone booth and use his speed to beat defenders to the edge and run by them.
*****
TWO TEAMS TO WATCH: Florida, Georgia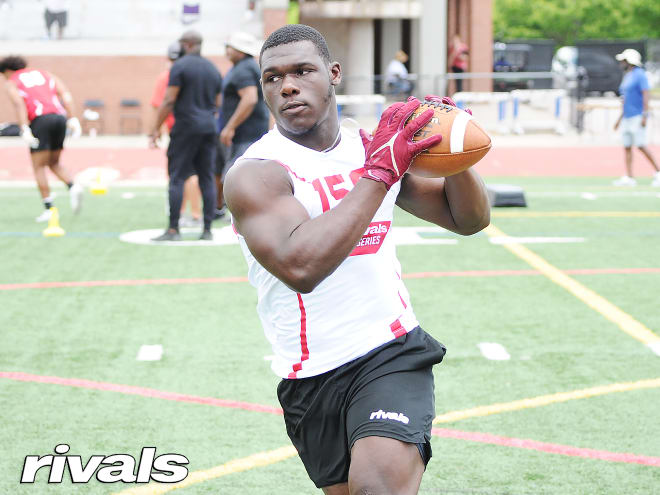 The Gators really should be in prime position to strike it rich with running backs in the 2024 class. Coach Billy Napier has breathed life back into the Florida program along with position coach Jabbar Juluke. And geographically there is an advantage, too.
Three of the top six running backs in the 2024 class play in the state of Florida and then Stacy Gage used to be at Bradenton (Fla.) IMG Academy and Tovani Mizell is from South Florida but has moved to Hyattsville (Md.) Dematha for his junior season. Florida should be able to strike.
Georgia could really make things interesting as well. The national champion Bulldogs are clearly in the running for Gibson and recently had Florida State commit Kameron Davis and his teammates on campus for a 7on7.
Coach Kirby Smart, position coach Dell McGee and that entire staff have recruited so well, especially at running back, that it's nearly unfathomable that the Bulldogs won't land at least one elite player at that position in 2024.
*****
THREE PROSPECTS TO WATCH: Kameron Davis, Stacy Gage and Ronnie Royal
Committed to Florida State since February 2021, Davis has given no serious indications of flipping to another program or rethinking his pledge to the Seminoles. And while no running back is like Cam Akers, Davis does have the same running style and body frame, so envisioning that kind of success not only in Tallahassee but also in the pros could be in Davis' mind. Georgia is trying hard to flip the Albany (Ga.) Dougherty prospect, and Florida just offered him. Davis is holding firm, but FSU fans should expect a battle to the end to keep Davis in the class.
Gage has Oklahoma and Ohio State high on his list, and those two programs could be considered the frontrunners at this point. He's originally from the state of Oklahoma and might play his junior season there, which could help the Sooners, but the Buckeyes are convincing as well. The four-star worked out with Ohio State position coach Tony Alford in recent days, and that program is not only leaving an impression on Gage but is recruiting at an extraordinary level right now.
Royal, the new No. 1 all-purpose back in the 2024 class, emerged after the recent Rivals Underclassmen Challenge: The Gulf Shores, Ala., standout was ranked solely as a running back, but after catching passes so easily out of the backfield and from the slot and showing off those skills he was moved to all-purpose. Arkansas just offered and then Florida State, Mississippi State and many others are in the mix.