Rivals Rankings Week: Breaking down the 2023 defensive linemen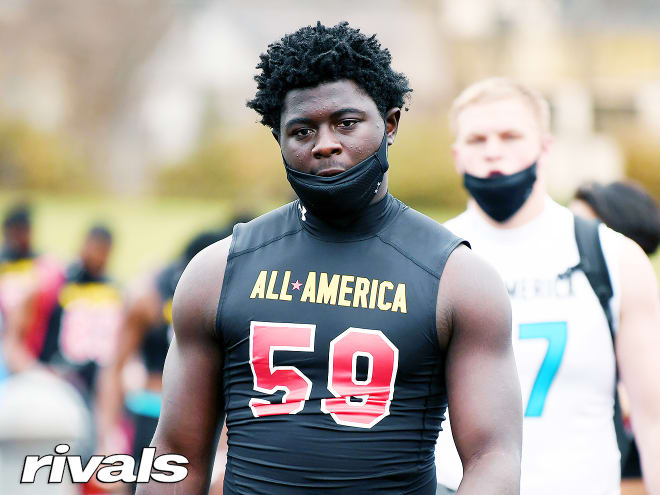 1. The No. 1 defensive lineman: David Hicks Jr.  
Along with being the top-ranked strongside defensive end, Hicks remained No. 2 in the Rivals250. The versatile defensive lineman out of Texas can do everything asked of him at a high level. Hicks can get to the quarterback using a variety of techniques wherever he lines up on the defensive line. He can beat offensive linemen with a speed move or power move, and still has room to improve. Hicks is plenty strong and doesn't have any problems holding up at the point of attack.
It will be a busy spring and summer full of visits for Hicks as he tries to figure out his recruitment. Texas A&M, his first offer, and Oklahoma are at the forefront of his recruitment. Both of them received visits in January. Visits to Notre Dame, Texas, LSU, SMU, Alabama and Miami will likely occur in the next two or three months as well. With no set date to announce a commitment, Hick's recruitment could go on for a while.
*****
2. Two teams to watch: Alabama and Georgia 
The two teams that met in the national championship game would not have gotten there without their dominant defensive linemen, and both programs are in line for impressive hauls upfront in this cycle. Starting with the national champion, Georgia is in the thick of James Smith's recruitment, but the defensive lineman out of Alabama isn't the only top 50 prospect Georgia is involved with. In-state prospect Victor Burley is a priority for the Georgia staff and it has made good headway in his recruitment. Watch out for Georgia in the recruitment of five-star Jayden Wayne, Kelby Collins, Tomarrion Parker, Gabriel Harris, Stephiylan Green, Zavion Hardy and others.
The Crimson Tide and Georgia have many of the same targets. Alabama has prioritized Smith, Collins, Peter Woods and Jaquavious Russaw. They are all in-state prospects and ranked in the top 75 of the Rivals250. The Crimson Tide are also pushing for players like Wayne, Damon Wilson and Jason Moore.
*****
3. Three players in the spotlight: Chandavian Bradley, James Smith, Damon Wilson
There is so much to like about Chandavian Bradley's skill set and many teams around the country are taking notice. The defensive end also stars on the basketball court and has expressed interest in playing both sports at the next level. Iowa State is the only school that got Bradley on campus in January, but he'll be making the rounds this spring. Expect there to be plenty of headlines about Bradley after he visits Miami, South Carolina, Clemson and others.
James Smith is being recruited by the top programs in the nation, but his recruitment has been pretty drama free so far. Right now Smith is scheme-versatile, but he could be trending more toward being a defensive tackle at the next level, which could impact the teams he views as a good fit. Georgia and Alabama are among the schools that are battling for his commitment and it wouldn't be surprising to see one of these two end up with him.
Damon Wilson was one of the big movers in the latest Rivals250, and at No. 52 he may not be done moving up. He is a punishing defensive end with the athleticism to play in space and chase down ball carriers when they run to the opposite side of the field. Wilson's recruitment may not be all that complicated. Alabama looks like the leader right now, but the Tide were also his most recent visit. Florida State has hosted the in-state prospect, but look for Texas, Penn State, Clemson, Miami and USC to be among the schools he takes a closer look at this spring.